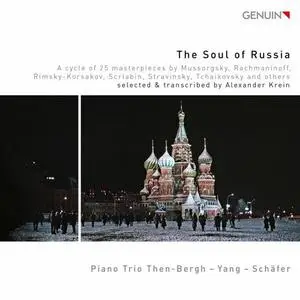 Piano Trio Then-Bergh, Wen-Sinn Yang, Michael Schäfer - The Soul of Russia (2021)
FLAC tracks +booklet | 69:19 | 270Mb
Genre: Classical / Label: Genuin
The Trio Then-Bergh (violin), Wen-Sinn Yang (cello), and Michael Schäfer (piano) provide a cross-section of the golden age of Russian music in their new Genuin recording. These three exceptional musicians play masterpieces compiled and arranged by the composer Alexander Krein in the first half of the 20th century. Krein is a masterful arranger who makes the soul of each piece shine in the trio version. Works by Tchaikovsky (for example, from his String Serenade and The Seasons) and Rimsky-Korsakov (from The Golden Cockerel) are presented here, as well as wonderfully sentimental salon music from Glière to Tcherepnin.
Track List:
01. Balakirev: When the Yellow Cornfield Waves (Arr. A. Krein for Piano Trio) (2:34)
02. Borodin: My Songs Are Filled with Poison (Arr. A. Krein for Piano Trio) (1:07)
03. Rimsky-Korsakov: 4 Romances, Op. 2: No. 2, Eastern Song (The Nightingale Enslaved by the Rose) [Arr. A. Krein for Piano Trio] (2:45)
04. Rimsky-Korsakov: The Golden Cockerel: With the Queen of Shemakhâ (Arr. A. Krein for Piano Trio) (2:07)
05. Mussorgsky: Une larme (Arr. A. Krein for Piano Trio) (2:42)
06. Tchaikovsky: Serenade for Strings in C Major, Op. 48, TH 48 (Excerpts Arr. A. Krein for Piano Trio): III. Élégie (7:14)
07. Tchaikovsky: Serenade for Strings in C Major, Op. 48, TH 48 (Excerpts Arr. A. Krein for Piano Trio): II. Valse (3:48)
08. Tchaikovsky: 6 Duets, Op. 46, TH 102: No. 3, Tears (Arr. A. Krein for Piano Trio) (2:42)
09. Tchaikovsky: 6 Romances, Op. 6, TH 93: No. 2, Not a Word, O My Friend (Arr. A. Krein for Piano Trio) (2:28)
10. Tchaikovsky: The Seasons, Op. 37a, TH 135: No. 3, March (Song of the Lark) [Arr. A. Krein for Piano Trio] (2:09)
11. Arensky: 4 Morceaux, Op. 30: No. 2, Sérénade (Arr. A. Krein for Piano Trio) (2:15)
12. Rachmaninoff: 6 Moments musicaux, Op. 16: No. 3, Andante cantabile (Arr. A. Krein for Piano Trio) (4:01)
13. Rebikov: The Christmas Tree, Op. 21: Waltz (Arr. A. Krein for Piano Trio) (2:18)
14. Tcherepnin: 5 Romances, Op. 22: No. 1, Mélodie (Arr. A. Krein for Piano Trio) (1:45)
15. Glière: 12 Pièces enfantines, Op. 31: No. 2, Nocturne (Arr. A. Krein for Piano Trio) (1:50)
16. Engel: 2 Romances, Op. 2: No. 2, Do Not Love Me Just for Beauty Alone (Arr. A. Krein for Piano Trio) (2:46)
17. Nikolayev: 2 Romances After Tyutchev, Op. 4: No. 1, On a Quiet Night [Arr. A. Krein for Piano Trio] (1:12)
18. Pachulski: 4 Preludes, Op. 21: No. 3, Andantino (Arr. A. Krein for Piano Trio) (2:03)
19. Catoire: 3 Morceaux, Op. 2: No. 1, Chant intime (Arr. A. Krein for Piano Trio) (1:38)
20. Medtner: 3 Tales, Op. 9: No. 2, Allegro alla serenata, con alcuna licenza (Arr. A. Krein for Piano Trio) (2:13)
21. Sabaneyev: 2 Compositions, Op. 5: No. 2, Prélude (Arr. A. Krein for Piano Trio) (1:40)
22. Stravinsky: The Firebird (Excerpts Arr. A. Krein for Piano Trio): No. 4, Berceuse (2:34)
23. Stravinsky: The Firebird (Excerpts Arr. A. Krein for Piano Trio): No. 2, The Princesses' Khorovod (3:53)
24. Scriabin: 3 Morceaux, Op. 2: No. 1, Étude (Arr. A. Krein for Piano Trio) (2:35)
25. Scriabin: 2 Nocturnes, Op. 5: No. 2, Allegretto (Arr. A. Krein for Piano Trio) (3:14
ANALYZER: auCDtect: CD records authenticity detector, version 0.8.2
Copyright © 2004 Oleg Berngardt. All rights reserved.
Copyright © 2004 Alexander Djourik. All rights reserved.


FILE: 01. Balakirev When the Yellow Cornfield Waves (Arr. A. Krein for Piano Trio).flac
Size: 11381699 Hash: F6E29C936880A0FFD8E7FCD775DC57D3 Accuracy: -m40
Conclusion: CDDA 100%
Signature: BC0ED75FF41EF5B4A8F63C9B5B9D62185A200AFF
FILE: 02. Borodin My Songs Are Filled with Poison (Arr. A. Krein for Piano Trio).flac
Size: 4970009 Hash: 33C3018E0BFFA06C2693FF9D2F2F54BC Accuracy: -m40
Conclusion: CDDA 100%
Signature: 37D46845888B01E98C5C02941B36CF41F851A123
FILE: 03. Rimsky-Korsakov 4 Romances, Op. 2 No. 2, Eastern Song (The Nightingale Enslaved by the Rose) [Arr. A. Krein for Piano Trio].flac
Size: 10483771 Hash: 7035E92A712341A2688BAD54F7973FF4 Accuracy: -m40
Conclusion: CDDA 100%
Signature: 49CD989F4B9E80B5B68E1B8C1532CCE86E2AD58C
FILE: 04. Rimsky-Korsakov The Golden Cockerel With the Queen of Shemakhâ (Arr. A. Krein for Piano Trio).flac
Size: 8597024 Hash: 35A0623BB45F1CD45C8CCD82337B05B1 Accuracy: -m40
Conclusion: CDDA 99%
Signature: B0F3AB08033622D0B3E7297A288D664896A4D4CB
FILE: 05. Mussorgsky Une larme (Arr. A. Krein for Piano Trio).flac
Size: 10375856 Hash: E8E228EC151CAC176EEB34C90AE24F40 Accuracy: -m40
Conclusion: CDDA 100%
Signature: 244C45F92DAE51DA2209C80D20CCFA78B6E3D849
FILE: 06. Tchaikovsky Serenade for Strings in C Major, Op. 48, TH 48 (Excerpts Arr. A. Krein for Piano Trio) III. Élégie.flac
Size: 33216464 Hash: 295B15659A649EE710924C12F67EE205 Accuracy: -m40
Conclusion: CDDA 100%
Signature: 7927BECE81362300A5C6868ACD49FE81E4C1D196
FILE: 07. Tchaikovsky Serenade for Strings in C Major, Op. 48, TH 48 (Excerpts Arr. A. Krein for Piano Trio) II. Valse.flac
Size: 18776415 Hash: 831A6E75E983B9261733AC29B5348112 Accuracy: -m40
Conclusion: CDDA 100%
Signature: 198FAE010E48CFFC2AAEDDA1BC47A3F8C40100C8
FILE: 08. Tchaikovsky 6 Duets, Op. 46, TH 102 No. 3, Tears (Arr. A. Krein for Piano Trio).flac
Size: 10226947 Hash: 0F1D4B29564E7F89E43125FFD7ACB388 Accuracy: -m40
Conclusion: CDDA 100%
Signature: 180EA3D9FF2167B9D10946F09F65D24A938C9DD3
FILE: 09. Tchaikovsky 6 Romances, Op. 6, TH 93 No. 2, Not a Word, O My Friend (Arr. A. Krein for Piano Trio).flac
Size: 9312198 Hash: E5B2A94A188422132307FC4D88646B80 Accuracy: -m40
Conclusion: CDDA 100%
Signature: E80DBC1060D1C5734E9360E20BAFAEC44078765E
FILE: 10. Tchaikovsky The Seasons, Op. 37a, TH 135 No. 3, March (Song of the Lark) [Arr. A. Krein for Piano Trio].flac
Size: 8763677 Hash: 01F7D530B6ED6D94C9AA58AA419C5CF9 Accuracy: -m40
Conclusion: CDDA 100%
Signature: 37DD0CB54F799164DC854DDA021799C227E96C23
FILE: 11. Arensky 4 Morceaux, Op. 30 No. 2, Sérénade (Arr. A. Krein for Piano Trio).flac
Size: 9905114 Hash: 67C680B0CB6D74E7E0EF93669F45535A Accuracy: -m40
Conclusion: CDDA 99%
Signature: F864141E1B791D7A44C595C881C6CCFB5D8EAAD3
FILE: 12. Rachmaninoff 6 Moments musicaux, Op. 16 No. 3, Andante cantabile (Arr. A. Krein for Piano Trio).flac
Size: 17341047 Hash: 3F5BB8991879D77E21F22AB7B37BF2DD Accuracy: -m40
Conclusion: CDDA 99%
Signature: 777F237A9C8468B686537993075E49C107C1573A
FILE: 13. Rebikov The Christmas Tree, Op. 21 Waltz (Arr. A. Krein for Piano Trio).flac
Size: 9863106 Hash: EFE06FEB08441EBCF0793ED0357A2A48 Accuracy: -m40
Conclusion: CDDA 100%
Signature: D8E2034C8E3FA73AFAD709A1A785BE9DE6F45D10
FILE: 14. Tcherepnin 5 Romances, Op. 22 No. 1, Mélodie (Arr. A. Krein for Piano Trio).flac
Size: 8073284 Hash: 79048430A49FBF8D7388C0904EECC863 Accuracy: -m40
Conclusion: CDDA 100%
Signature: F2D5E780CAA2940A22F3DC6ECF053D6165DC49FD
FILE: 15. Glière 12 Pièces enfantines, Op. 31 No. 2, Nocturne (Arr. A. Krein for Piano Trio).flac
Size: 8244972 Hash: D374F1E3B899D310C5481C330652975B Accuracy: -m40
Conclusion: CDDA 99%
Signature: A1DA6CC3AECD97B75954EC45E26B01933FEE6B5D
FILE: 16. Engel 2 Romances, Op. 2 No. 2, Do Not Love Me Just for Beauty Alone (Arr. A. Krein for Piano Trio).flac
Size: 12561624 Hash: 3923225CF1F2684AB07DF9E456BE3223 Accuracy: -m40
Conclusion: CDDA 100%
Signature: EB11A77D4D3ABE338C78415DB699C4E3F88D15A1
FILE: 17. Nikolayev 2 Romances After Tyutchev, Op. 4 No. 1, On a Quiet Night [Arr. A. Krein for Piano Trio].flac
Size: 4585876 Hash: D4E01C432EB5855E8C95ED6C0F1F2393 Accuracy: -m40
Conclusion: CDDA 100%
Signature: 59D1FBDBC771F23E4464D0EA8BAB2D19E6BD47B2
FILE: 18. Pachulski 4 Preludes, Op. 21 No. 3, Andantino (Arr. A. Krein for Piano Trio).flac
Size: 9010827 Hash: DEA3D023BCFF13EA94D914BFE20BE8B3 Accuracy: -m40
Conclusion: CDDA 100%
Signature: 5F06EF5DF897ACD198F88FD7C15598D90E3D91FF
FILE: 19. Catoire 3 Morceaux, Op. 2 No. 1, Chant intime (Arr. A. Krein for Piano Trio).flac
Size: 7092403 Hash: FD49CF1EF62A089D5FFB9633C1908464 Accuracy: -m40
Conclusion: CDDA 100%
Signature: 82AC7505C3C7CEEA53C191D095B7EB63146DF68E
FILE: 20. Medtner 3 Tales, Op. 9 No. 2, Allegro alla serenata, con alcuna licenza (Arr. A. Krein for Piano Trio).flac
Size: 9950049 Hash: B8AD50EBE4D06629C3ECEB5AE580EFEE Accuracy: -m40
Conclusion: CDDA 99%
Signature: F30D4DBEEEAC25385F564755A0F192E58AECAC81
FILE: 21. Sabaneyev 2 Compositions, Op. 5 No. 2, Prélude (Arr. A. Krein for Piano Trio).flac
Size: 7844949 Hash: BB373FCFC1D5C0C58060D4FD15CDB9F7 Accuracy: -m40
Conclusion: CDDA 100%
Signature: 43754F2ADB7C0862863DFC78A075E72461B39E31
FILE: 22. Stravinsky The Firebird (Excerpts Arr. A. Krein for Piano Trio) No. 4, Berceuse.flac
Size: 10094737 Hash: F024CCDD0F97E6C1B3594109FD71E0E9 Accuracy: -m40
Conclusion: CDDA 99%
Signature: 3A7E1EA170AFCDF1034F566E777863666AD8DB6F
FILE: 23. Stravinsky The Firebird (Excerpts Arr. A. Krein for Piano Trio) No. 2, The Princesses' Khorovod.flac
Size: 16727957 Hash: 672D70C1FC21EA3D9BDD3B01C5AD5E54 Accuracy: -m40
Conclusion: CDDA 99%
Signature: 16B97651D86E722138D0F5E0EC3740AC3DECDCCB
FILE: 24. Scriabin 3 Morceaux, Op. 2 No. 1, Étude (Arr. A. Krein for Piano Trio).flac
Size: 11187288 Hash: 7BD3FAA0C0C22DC7013A1E7685A3506A Accuracy: -m40
Conclusion: CDDA 100%
Signature: BEDE94B3C1CDE2D66F379B81413CB4C4F8032835
FILE: 25. Scriabin 2 Nocturnes, Op. 5 No. 2, Allegretto (Arr. A. Krein for Piano Trio).flac
Size: 14150688 Hash: 1849586262D264313ABC6955BAE72A90 Accuracy: -m40
Conclusion: CDDA 99%
Signature: DC0C9BE92A0FD9632B0B538D66C5897AF951F29F