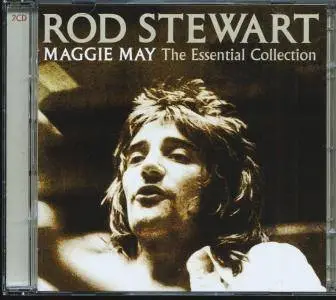 Rod Stewart - Maggie May: The Essential Collection (2012) 2CD
EAC Rip | FLAC: Image+Cue+Log | MP3 CBR 320 kbps | Scans
470/449 Mb | 171/156 Mb | 46 Mb | Time: 01:13:51/01:07:16
Universal Music/Spectrum Music | SPECXX2083
Classic Rock, Soft Rock, Blues Rock, Hard Rock
With over 100 million worldwide record sales and a place in the Rock N Roll Hall of Fame, Rod Stewart is the sort of star who needs no introduction and remains one of the UK's greatest ever singers and performers. This two-disc collection takes 36 of the finest recordings Rod Stewart released in the period where he first went solo during his time with the Faces for Mercury and Decca. Included are the two early '70s #1 hits 'Maggie May' and 'You Wear It Well' and a host of other top offerings from several of Rod's chart-topping albums, namely Every Picture Tells a Story, Never a Dull Moment, Sing It Again Rod and Smiler.

CD.01
01. Good Morning Little Schoolgirl (02:09)
02. I'm Gonna Move To The Outskirts Of Town (02:55)
03. Dirty Old Town (03:41)
04. Man Of Constant Sorrow (02:32)
05. Every Picture Tells A Story (05:54)
06. Handbags & Gladrags (04:25)
07. Street Fighting Man (05:06)
08. Gasoline Alley (04:03)
09. It's All Over Now (Single Version) (03:36)
10. Lady Day (04:00)
11. My Way Of Giving (03:57)
12. Only A Hobo (04:14)
13. Maggie May (05:15)
14. Mandolin Wind (05:33)
15. Tomorrow Is A Long Time (03:45)
16. (I Know) I'm Losing You (Single Version) (03:41)
17. Italian Girls (04:55)
18. Reason To Believe (04:10)
CD.02
01. True Blue (03:34)
02. Angel (04:04)
03. Lost Paraguayos (03:57)
04. You Wear It Well (04:22)
05. I'd Rather Go Blind (03:52)
06. Twistin' The Night Away (03:15)
07. Oh! No Not My Baby (Single Version) (03:39)
08. Sweet Little Rock 'N' Roller (03:44)
09. Girl From The North Country (03:52)
10. Dixie Toot (03:27)
11. (You Make Me Feel Like) A Natural Man (03:54)
12. Farewell (04:34)
13. Pinball Wizard (03:09)
14. Crying Laughing Loving Lying (02:51)
15. So Tired (03:40)
16. You Put Something Better Inside Me (03:48)
17. Missed You (03:58)
18. Every Time We Say Goodbye (03:35)
Exact Audio Copy V1.0 beta 3 from 29. August 2011

Отчёт EAC об извлечении, выполненном 8. февраля 2013, 17:11

Rod Stewart / Maggie May: The Essential Collection

Дисковод: TSSTcorpCDDVDW TS-L633J Adapter: 0 ID: 1

Режим чтения : Достоверность
Использование точного потока : Да
Отключение кэша аудио : Да
Использование указателей C2 : Нет

Коррекция смещения при чтении : 6
Способность читать области Lead-in и Lead-out : Нет
Заполнение пропущенных сэмплов тишиной : Да
Удаление блоков с тишиной в начале и конце : Нет
При вычислениях CRC использовались нулевые сэмплы : Да
Интерфейс : Встроенный Win32-интерфейс для Win NT/2000

Выходной формат : Пользовательский кодировщик
Выбранный битрейт : 1024 kBit/s
Качество : Высокий
Добавление ID3-тега : Нет
Утилита сжатия : C:\Program Files (x86)\Exact Audio Copy\FLAC\FLAC.EXE
Дополнительные параметры : -8 -V -T "ARTIST=%artist%" -T "TITLE=%title%" -T "ALBUM=%albumtitle%" -T "DATE=%year%" -T "TRACKNUMBER=%tracknr%" -T "GENRE=%genre%" -T "COMMENT=%comment%" -T "BAND=%albuminterpret%" -T "ALBUMARTIST=%albuminterpret%" -T "COMPOSER=%composer%" %haslyrics%–tag-from-file=LYRICS="%lyricsfile%"%haslyrics% -T "DISCNUMBER=%cdnumber%" -T "TOTALDISCS=%totalcds%" -T "TOTALTRACKS=%numtracks%" %hascover%–picture="%coverfile%"%hascover% %source% -o %dest%


TOC извлечённого CD

Трек | Старт | Длительность | Начальный сектор | Конечный сектор
––––––––––––––––––––––––––––––––––-
1 | 0:00.00 | 2:08.48 | 0 | 9647
2 | 2:08.48 | 2:55.06 | 9648 | 22778
3 | 5:03.54 | 3:41.10 | 22779 | 39363
4 | 8:44.64 | 2:32.06 | 39364 | 50769
5 | 11:16.70 | 5:54.06 | 50770 | 77325
6 | 17:11.01 | 4:25.12 | 77326 | 97212
7 | 21:36.13 | 5:06.10 | 97213 | 120172
8 | 26:42.23 | 4:02.46 | 120173 | 138368
9 | 30:44.69 | 3:35.32 | 138369 | 154525
10 | 34:20.26 | 3:59.63 | 154526 | 172513
11 | 38:20.14 | 3:57.25 | 172514 | 190313
12 | 42:17.39 | 4:13.54 | 190314 | 209342
13 | 46:31.18 | 5:15.29 | 209343 | 232996
14 | 51:46.47 | 5:32.42 | 232997 | 257938
15 | 57:19.14 | 3:44.46 | 257939 | 274784
16 | 61:03.60 | 3:40.37 | 274785 | 291321
17 | 64:44.22 | 4:54.53 | 291322 | 313424
18 | 69:39.00 | 4:10.21 | 313425 | 332195


Характеристики диапазона извлечения и сообщения об ошибках

Выбранный диапазон

Имя файла D:\Rod Stewart - Maggie May,2012\CD1\Rod Stewart - Maggie May- The Essential Collection.wav

Пиковый уровень 99.7 %
Скорость извлечения 3.3 X
Качество диапазона 100.0 %
CRC теста 4CACCAA9
CRC копии 4CACCAA9
Копирование… OK

Ошибок не произошло


AccurateRip: сводка

Трек 1 отсутствует в базе данных
Трек 2 отсутствует в базе данных
Трек 3 отсутствует в базе данных
Трек 4 отсутствует в базе данных
Трек 5 отсутствует в базе данных
Трек 6 отсутствует в базе данных
Трек 7 отсутствует в базе данных
Трек 8 отсутствует в базе данных
Трек 9 отсутствует в базе данных
Трек 10 отсутствует в базе данных
Трек 11 отсутствует в базе данных
Трек 12 отсутствует в базе данных
Трек 13 отсутствует в базе данных
Трек 14 отсутствует в базе данных
Трек 15 отсутствует в базе данных
Трек 16 отсутствует в базе данных
Трек 17 отсутствует в базе данных
Трек 18 отсутствует в базе данных

Ни одного трека нет в базе AccurateRip

Конец отчёта

==== Контрольная сумма отчёта B5565CA20CC14429B8C829A224BD6E04FB3D6D413ACA249F668CC48FE6C57BED ====
Exact Audio Copy V1.0 beta 3 from 29. August 2011

Отчёт EAC об извлечении, выполненном 8. февраля 2013, 18:19

Rod Stewart / Maggie May The Essential Collection 2cd

Дисковод: TSSTcorpCDDVDW TS-L633J Adapter: 0 ID: 1

Режим чтения : Достоверность
Использование точного потока : Да
Отключение кэша аудио : Да
Использование указателей C2 : Нет

Коррекция смещения при чтении : 6
Способность читать области Lead-in и Lead-out : Нет
Заполнение пропущенных сэмплов тишиной : Да
Удаление блоков с тишиной в начале и конце : Нет
При вычислениях CRC использовались нулевые сэмплы : Да
Интерфейс : Встроенный Win32-интерфейс для Win NT/2000

Выходной формат : Пользовательский кодировщик
Выбранный битрейт : 1024 kBit/s
Качество : Высокий
Добавление ID3-тега : Нет
Утилита сжатия : C:\Program Files (x86)\Exact Audio Copy\FLAC\FLAC.EXE
Дополнительные параметры : -8 -V -T "ARTIST=%artist%" -T "TITLE=%title%" -T "ALBUM=%albumtitle%" -T "DATE=%year%" -T "TRACKNUMBER=%tracknr%" -T "GENRE=%genre%" -T "COMMENT=%comment%" -T "BAND=%albuminterpret%" -T "ALBUMARTIST=%albuminterpret%" -T "COMPOSER=%composer%" %haslyrics%–tag-from-file=LYRICS="%lyricsfile%"%haslyrics% -T "DISCNUMBER=%cdnumber%" -T "TOTALDISCS=%totalcds%" -T "TOTALTRACKS=%numtracks%" %hascover%–picture="%coverfile%"%hascover% %source% -o %dest%


TOC извлечённого CD

Трек | Старт | Длительность | Начальный сектор | Конечный сектор
––––––––––––––––––––––––––––––––––-
1 | 0:00.00 | 3:33.55 | 0 | 16029
2 | 3:33.55 | 4:04.26 | 16030 | 34355
3 | 7:38.06 | 3:57.11 | 34356 | 52141
4 | 11:35.17 | 4:21.52 | 52142 | 71768
5 | 15:56.69 | 3:52.29 | 71769 | 89197
6 | 19:49.23 | 3:15.25 | 89198 | 103847
7 | 23:04.48 | 3:39.05 | 103848 | 120277
8 | 26:43.53 | 3:43.42 | 120278 | 137044
9 | 30:27.20 | 3:52.27 | 137045 | 154471
10 | 34:19.47 | 3:26.74 | 154472 | 169995
11 | 37:46.46 | 3:54.26 | 169996 | 187571
12 | 41:40.72 | 4:33.51 | 187572 | 208097
13 | 46:14.48 | 3:09.22 | 208098 | 222294
14 | 49:23.70 | 2:50.61 | 222295 | 235105
15 | 52:14.56 | 3:39.47 | 235106 | 251577
16 | 55:54.28 | 3:47.70 | 251578 | 268672
17 | 59:42.23 | 3:57.47 | 268673 | 286494
18 | 63:39.70 | 3:34.43 | 286495 | 302587


Характеристики диапазона извлечения и сообщения об ошибках

Выбранный диапазон

Имя файла D:\Rod Stewart - Maggie May,2012\CD2\Rod Stewart - Maggie May The Essential Collection 2cd.wav

Пиковый уровень 98.8 %
Скорость извлечения 3.2 X
Качество диапазона 100.0 %
CRC теста C582BEFB
CRC копии C582BEFB
Копирование… OK

Ошибок не произошло


AccurateRip: сводка

Трек 1 отсутствует в базе данных
Трек 2 отсутствует в базе данных
Трек 3 отсутствует в базе данных
Трек 4 отсутствует в базе данных
Трек 5 отсутствует в базе данных
Трек 6 отсутствует в базе данных
Трек 7 отсутствует в базе данных
Трек 8 отсутствует в базе данных
Трек 9 отсутствует в базе данных
Трек 10 отсутствует в базе данных
Трек 11 отсутствует в базе данных
Трек 12 отсутствует в базе данных
Трек 13 отсутствует в базе данных
Трек 14 отсутствует в базе данных
Трек 15 отсутствует в базе данных
Трек 16 отсутствует в базе данных
Трек 17 отсутствует в базе данных
Трек 18 отсутствует в базе данных

Ни одного трека нет в базе AccurateRip

Конец отчёта

==== Контрольная сумма отчёта 9331E8905840CC1DBC362C3467807D929677302B414C90E7B11340D613EF373C ====
Many thanks to the original uploader: Ready.zp
Password: pass