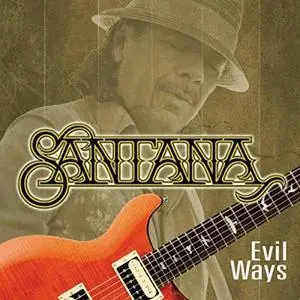 Santana - Evil Ways (2018)
FLAC (tracks) | 1:21:40 | 412 Mb
Genre: Pop, Rock / Label: Ammr
In the late 1960s, when acid rock reigned and the British Invasion was still raging, Carlos Santana and his band introduced a Latin-based rock sound featuring an Afro-Cuban beat. Carlos Santana was a fourth-generation musician and the son of a violinist who played mariachi music. His father tried for many years to teach him violin, but at age eight, Santana discovered the guitar and started listening to the electric blues of B.B. King and John Lee Hooker and that was the end of it. During his long-lasting career, Carlos Santana's name has become synonymous with some of the most important genres of music today - jazz, Latin, salsa, blues and rock.
Track List:
1 Soul Sacrifice 04:52
2 Jingo 09:48
3 Evil Ways (Live) 07:54
4 Fried Neckbones and Homefries 10:35
5 Persuasion 05:12
6 As the Years Go By 03:49
7 Coconut Grove 02:23
8 Acapulco Sunrise 02:29
9 El Corazón Manda 11:43
10 Everyday I Have the Blues 07:05
11 Latin Tropical 11:21
12 With a Little Help from My Friends 03:59
ANALYZER: auCDtect: CD records authenticity detector, version 0.8.2
Copyright © 2004 Oleg Berngardt. All rights reserved.
Copyright © 2004 Alexander Djourik. All rights reserved.


FILE: 1 Soul Sacrifice.flac
Size: 30444531 Hash: A3766BB90D91CBC41589AA46A82CEA20 Accuracy: -m40
Conclusion: MPEG 95%
Signature: B48081E05C027F40308BEA1948E4C8E22D22CE75
FILE: 10 Everyday I Have the Blues.flac
Size: 39139866 Hash: 004A9DBC5F59C49162165CA6B91690F5 Accuracy: -m40
Conclusion: CDDA 87%
Signature: 8E6CCC43600AA68C8C79D42D907CF3645D9FB441
FILE: 11 Latin Tropical.flac
Size: 64709567 Hash: CB19AF95A555210A61CB31C8B41014A0 Accuracy: -m40
Conclusion: CDDA 100%
Signature: 700411B0E22908DC87745DB8A6058251A647657E
FILE: 12 With a Little Help from My Friends.flac
Size: 20280518 Hash: 6064F8EC569387401BBCBD4077C0A542 Accuracy: -m40
Conclusion: CDDA 42%
Signature: 65AAF79910E6348CCC74B61A6E18CB8F590FC67C
FILE: 2 Jingo.flac
Size: 49427271 Hash: 7516CAA645A5F8229A394A15D6938D44 Accuracy: -m40
Conclusion: CDDA 100%
Signature: 3E6F87A7AF378857BAECBF7BB90B1B0AF4D6DB51
FILE: 3 Evil Ways (Live).flac
Size: 41536910 Hash: EF569E3253467262AB8FCBF0D3F40C77 Accuracy: -m40
Conclusion: CDDA 100%
Signature: 4B9921A64543E6457E29E296ADB40DCE7188379C
FILE: 4 Fried Neckbones and Homefries.flac
Size: 58427300 Hash: B87235C69CA6DD64667F123B714D1941 Accuracy: -m40
Conclusion: CDDA 100%
Signature: 63B3DA232E4B3704573FE9B36A5BE52BBA9CFA97
FILE: 5 Persuasion.flac
Size: 27457054 Hash: DD958EADBCC522B3027C89C9D2DCB05F Accuracy: -m40
Conclusion: MPEG 93%
Signature: BEE46951806E715D072BEF20159358446EC5A034
FILE: 6 As the Years Go By.flac
Size: 14541466 Hash: 062F27977FE2859E5715623AF96C3DDF Accuracy: -m40
Conclusion: CDDA 100%
Signature: 77B9FAD0C34A24016EE72A29EA73B349F03107F0
FILE: 7 Coconut Grove.flac
Size: 13555029 Hash: B847F11887926823FC01ED38D32D0171 Accuracy: -m40
Conclusion: CDDA 76%
Signature: C0C297CFDE40A08039C4440550788BF5B63BB7AD
FILE: 8 Acapulco Sunrise.flac
Size: 12405942 Hash: 308553D63B50C4C52F57DF0D19FD2E6F Accuracy: -m40
Conclusion: CDDA 99%
Signature: 82D4492F1A09AD64654D4C38967E28B1E209D10B
FILE: 9 El Corazón Manda.flac
Size: 60349161 Hash: 6B4D1274F64175406E35C92574D4228C Accuracy: -m40
Conclusion: CDDA 100%
Signature: 33E5330177F749C3E6F8CB154C9D50B0A62A3429