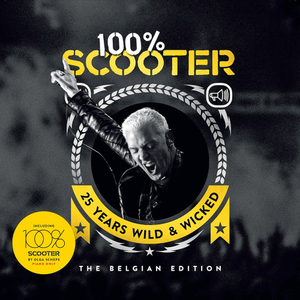 Scooter - 100% Scooter, 25 Years Wild And Wicked, The Belgian Edition (2018)
MP3 CBR 320 kbps | 03:10:23 | 435 Mb
Genre: House, Electro, Trance, Dance, Techno, Hard / Label: Kontor Records
For fans, scooters have come up with something very special, because the album will be available in three different versions. A quarter of a century of superlatives Countless platinum and gold records, followed by high-profile music awards and sold out tours and stadium shows worldwide. Making Top Top 23 Top Ten Placements Scooters become the most successful German band since the charts were introduced The fact that only the Beatles and Depeche Mode achieved more top 10 placements in the German charts shows once again what the focus is on Germanys exceptional act scooter, On the occasion of this special anniversary. With tracks including all hit singles as well as a brand new version of the Single In Rave We Trust!
Track List:
01. Scooter - The Logical Song 3:54
02. Scooter - How Much Is The Fish? 3:46
03. Scooter - One (Always Hardcore) 3:50
04. Scooter - Move Your Ass! 3:55
05. Scooter - Friends 3:48
06. Scooter - Hyper Hyper 3:32
07. Scooter - Call Me Manana 3:40
08. Scooter - Fuck The Millennium 4:11
09. Scooter - Back In The U.K. 3:24
10. Scooter - The Age Of Love 3:50
11. Scooter - J'adore Hardcore 3:48
12. Scooter - Lass Uns Tanzen 3:43
13. Scooter - Endless Summer 3:45
14. Scooter - 4 Am 3:18
15. Scooter - I'm Lonely 3:31
16. Scooter - Army Of Hardcore 2:57
17. Scooter - Bora! Bora! Bora! 3:12
18. Scooter - Radiate (Spy Version) 3:04
19. Scooter - Can't Stop The Hardcore 2:45
20. Scooter - Vallee De Larmes 4:35
21. Scooter - Rhapsody In E 6:08
22. Scooter - Nessaja 3:29
23. Scooter - Maria (I Like It Loud) 3:42
24. Scooter - The Question Is What Is The Question? 3:46
25. Scooter - Weekend! 3:36
26. Scooter - Faster Harder Scooter 3:48
27. Scooter - I'm Raving 3:36
28. Scooter - Posse (I Need You On The Floor) 3:51
29. Scooter - Mary Got No Lamb 3:27
30. Scooter - Bigroom Blitz 3:07
31. Scooter - The Sound Above My Hair 3:35
32. Scooter Feat. Vicky Leandros - C'est Bleu 3:11
33. Scooter - Hello! (Good To Be Back) 3:29
34. Scooter - Today 3:27
35. Scooter - Jump That Rock (Whatever You Want) 3:23
36. Scooter - Friends Turbo (Movie Version) 3:21
37. Scooter - Break It Up 3:38
38. Scooter - Shake That! 3:17
39. Scooter - Suavemente 3:37
40. Scooter - The Only One 3:32
41. Scooter - My Gabber 2:54
42. Scooter - In Rave We Trust - Amateur Hour (Anthem Mix) 3:25
43. Olga Scheps - 4 Am (100% Scooter Piano Only) 3:03
44. Olga Scheps - One (Always Hardcore) (100% Scooter Piano Only) 3:54
45. Olga Scheps - Friends (100% Scooter Piano Only) 2:17
46. Olga Scheps - How Much Is The Fish? (100% Scooter Piano Only) 3:36
47. Olga Scheps - I'm Lonely (100% Scooter Piano Only) 4:48
48. Olga Scheps - The Logical Song (100% Scooter Piano Only) 5:03
49. Olga Scheps - Nessaja (100% Scooter Piano Only) 4:32
50. Olga Scheps - Weekend! (100% Scooter Piano Only) 3:44
51. Olga Scheps - Mary Got No Lamb (100% Scooter Piano Only) 3:39
52. Olga Scheps - Maria (I Like It Loud) (100% Scooter Piano Only) 2:05
53. Olga Scheps - Bigroom Blitz (100% Scooter Piano Only) 1:58