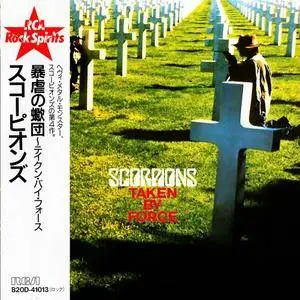 Scorpions - Taken By Force (1977) [Japanese Ed. 1989]
EAC Rip | FLAC: Image+Cue+Log | MP3 CBR 320 kbps | Scans
256 Mb | 92 Mb | 36 Mb | Time: 39:21
RCA/BMG Victor Inc. | B20D-41013
Hard Rock, Heavy Metal
Taken By Force is the fifth studio album by German band Scorpions, released by RCA Records in 1977. This was the first Scorpions album to feature drummer Herman Rarebell and the final studio album to feature guitarist Uli Jon Roth. Roth left the band in 1978 following the end of the album's tour, and was eventually replaced by Matthias Jabs. Like their previous two albums, Taken By Force caused controversy with its cover art which again resulted in the artwork being replaced in most markets with an alternative cover using photographs of the band members.

Track Listing
01. Steamrock Fever (03:42)
02. We'll Burn The Sky (06:31)
03. I've Got To Be Free (04:04)
04. The Riot Of Your Time (04:14)
05. The Sails Of Charon (05:16)
06. Your Light (04:35)
07. He's A Woman-She's A Man (03:18)
08. Born To Touch Your Feeling (07:42)
Produced by
Dieter Dierks
The Band
• Klaus Meine - lead vocals
• Ulrich Roth - lead guitars, backing vocals
• Rudolf Schenker - rhythm guitars, backing vocals
• Francis Buchholz - bass guitar, backing vocals
• Herman Rarebell - drums, percussion, backing vocals
Notes
Series: RCA Rock Spirits
Japan second press CD
Exact Audio Copy V1.0 beta 3 from 29. August 2011

Отчёт EAC об извлечении, выполненном 10. октября 2014, 22:58

Scorpions / Taken By Force

Дисковод: PIONEER DVD-RW DVR-220L Adapter: 0 ID: 0

Режим чтения : Достоверность
Использование точного потока : Да
Отключение кэша аудио : Да
Использование указателей C2 : Нет

Коррекция смещения при чтении : 6
Способность читать области Lead-in и Lead-out : Нет
Заполнение пропущенных сэмплов тишиной : Да
Удаление блоков с тишиной в начале и конце : Нет
При вычислениях CRC использовались нулевые сэмплы : Да
Интерфейс : Встроенный Win32-интерфейс для Win NT/2000

Выходной формат : Внутренние WAV-операции
Формат сэмплов : 44.100 Гц; 16 бит; стерео


TOC извлечённого CD

Трек | Старт | Длительность | Начальный сектор | Конечный сектор
––––––––––––––––––––––––––––––––––-
1 | 0:00.37 | 3:41.38 | 37 | 16649
2 | 3:42.00 | 6:31.12 | 16650 | 45986
3 | 10:13.12 | 4:03.68 | 45987 | 64279
4 | 14:17.05 | 4:13.45 | 64280 | 83299
5 | 18:30.50 | 5:15.70 | 83300 | 106994
6 | 23:46.45 | 4:34.55 | 106995 | 127599
7 | 28:21.25 | 3:17.50 | 127600 | 142424
8 | 31:39.00 | 7:41.37 | 142425 | 177036


Характеристики диапазона извлечения и сообщения об ошибках

Выбранный диапазон

Имя файла D:\! Tracker\Music\Scorpions\Scorpions Collection by mewzik\1977 - Taken By Force\1977 - Taken By Force.wav

Пиковый уровень 99.6 %
Скорость извлечения 6.5 X
Качество диапазона 99.9 %
CRC теста 7C42DF5C
CRC копии 7C42DF5C
Копирование… OK

Ошибок не произошло


AccurateRip: сводка

Трек 1 : извлечено точно (доверие 6) [6AB12661] (AR v2)
Трек 2 : извлечено точно (доверие 6) [52ACA644] (AR v2)
Трек 3 : извлечено точно (доверие 6) [3266EA1D] (AR v2)
Трек 4 : извлечено точно (доверие 6) [17F90231] (AR v2)
Трек 5 : извлечено точно (доверие 6) [CDCD4E21] (AR v2)
Трек 6 : извлечено точно (доверие 6) [7CF24930] (AR v2)
Трек 7 : извлечено точно (доверие 6) [CE0CF499] (AR v2)
Трек 8 : извлечено точно (доверие 6) [700AA53A] (AR v2)

Все треки извлечены точно

Конец отчёта
Many thanks to the original uploader: mewzik
Password: pass