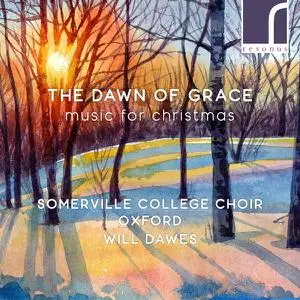 Somerville College Choir, Oxford - The Dawn of Grace: Music for Christmas (2022)
FLAC (tracks), Lossless | 1:05:45 | 222 Mb
Genre: Classical / Label: Resonus Classics
Oxford's Somerville College Choir under its director Will Dawes presents this compelling new programme of seasonal choral works solely by female composers from across the twentieth and twenty-first centuries, and including no fewer than eleven world premieres. This wide-ranging selection of repertoire reflects Somerville's unique role as the only non-denominational college chapel at Oxford, as well as remaining true to its founding principle of enabling women. Together these works tell a different story of the nativity but also of the times we live in, when diversity and equality capture the spirit not only of Christ, but Christmas itself.
Track List:
[04:00] 01. Somerville College Choir, Oxford - O Oriens
[04:02] 02. Somerville College Choir, Oxford - Behind the Clouds
[02:12] 03. Somerville College Choir, Oxford - Drop Down, Ye Heavens
[03:22] 04. Luca Morgante - On This Day, Earth Shall Ring: II. Veni, veni Emmanuel
[03:51] 05. Somerville College Choir, Oxford - There Is No Rose
[02:10] 06. Somerville College Choir, Oxford - A Tender Shoot
[03:36] 07. Somerville College Choir, Oxford - Ivy, Chief of Trees
[04:44] 08. Luca Morgante - The Dawn of Redeeming Grace
[04:30] 09. Somerville College Choir, Oxford - O magnum mysterium
[03:45] 10. Somerville College Choir, Oxford - Peace On Earth
[01:44] 11. Somerville College Choir, Oxford - In Bethlehem Above
[04:20] 12. Somerville College Choir, Oxford - Star of Rohini
[03:50] 13. Somerville College Choir, Oxford - This Endris Night
[02:32] 14. Luca Morgante - Adeste fideles
[03:11] 15. Somerville College Choir, Oxford - Noel: Verbum caro factum est
[02:23] 16. Somerville College Choir, Oxford - My Guardian Angel
[02:53] 17. Somerville College Choir, Oxford - Ding Dong Diggety! (Arr. for choir by Janet Wheeler)
[03:04] 18. Somerville College Choir, Oxford - The Holly and the Ivy (Arr. for choir and organ by June Nixon)
[01:42] 19. Somerville College Choir, Oxford - Alleluia! A New Work is Come On Hand
[03:44] 20. Somerville College Choir, Oxford - Gaude et laetare
ANALYZER: auCDtect: CD records authenticity detector, version 0.8.2
Copyright © 2004 Oleg Berngardt. All rights reserved.
Copyright © 2004 Alexander Djourik. All rights reserved.


FILE: 1. Somerville College Choir, Oxford - O Oriens.flac
Size: 14920727 Hash: 0281F37F9FF544AA8729B947625E84E2 Accuracy: -m40
Conclusion: CDDA 100%
Signature: A22013362581A9E1D46CCAE5D9E7B8D3EAACC0F1
FILE: 10. Somerville College Choir, Oxford - Peace On Earth.flac
Size: 10629495 Hash: 3E332CF4F2D8F3A4FF8D44ED203761DF Accuracy: -m40
Conclusion: CDDA 100%
Signature: FD86C8EF3E76503EA35054CA1531E0258AB8E23A
FILE: 11. Somerville College Choir, Oxford - In Bethlehem Above.flac
Size: 6798941 Hash: 3FB9218B7BCAA37FADDA2CC098E1B60B Accuracy: -m40
Conclusion: CDDA 100%
Signature: 50609889A8A73CBDB76576A4B31718964B44BFA2
FILE: 12. Somerville College Choir, Oxford - Star of Rohini.flac
Size: 15353880 Hash: FD30AE277E6A698BBC7768761AD5E134 Accuracy: -m40
Conclusion: CDDA 76%
Signature: 9B670E5211F46732A35BE9E9123E3F2DF3077A6E
FILE: 13. Somerville College Choir, Oxford - This Endris Night.flac
Size: 14897937 Hash: A1601A251D4E703125C819CD095321F6 Accuracy: -m40
Conclusion: CDDA 100%
Signature: B7E0BE8C9045DFF1564CF26A9049C20798DBBB12
FILE: 14. Luca Morgante - Adeste fideles.flac
Size: 7179047 Hash: F8AF26E0A70761E6363A3C5CFA62DC0B Accuracy: -m40
Conclusion: CDDA 42%
Signature: 6F104CD677FA469C33472C8EDBE5D37524E20229
FILE: 15. Somerville College Choir, Oxford - Noel꞉ Verbum caro factum est.flac
Size: 12069156 Hash: CA0E972173D347A019BF12DC2265505C Accuracy: -m40
Conclusion: CDDA 100%
Signature: 368F3EF69DA3518E8602910E36B818C020E062D2
FILE: 16. Somerville College Choir, Oxford - My Guardian Angel.flac
Size: 10456046 Hash: 82FA90FAD5D7FF09ED6FEC5A840A07B1 Accuracy: -m40
Conclusion: CDDA 100%
Signature: 0B4372281C5121ACF6636436E316EBCE73C63837
FILE: 17. Somerville College Choir, Oxford - Ding Dong Diggety! (Arr. for choir by Janet Wheeler).flac
Size: 13765309 Hash: B1A0BEC01A51CBBB5743F406DB399A05 Accuracy: -m40
Conclusion: CDDA 99%
Signature: F562C53E3E15941C1227F0FF422EAB4DF308C13C
FILE: 18. Somerville College Choir, Oxford - The Holly and the Ivy (Arr. for choir and organ by June Nixon).flac
Size: 12252769 Hash: CC3733F7B89F0E60EFA5282453F55949 Accuracy: -m40
Conclusion: CDDA 100%
Signature: 5D84213DA2A687CDEE973118470862E56EEAB06C
FILE: 19. Somerville College Choir, Oxford - Alleluia! A New Work is Come On Hand.flac
Size: 6901706 Hash: 80DCAD3DA662F299B428B24D4437FFD0 Accuracy: -m40
Conclusion: CDDA 100%
Signature: 9FEE15A28BB817219D7C296F657C24AF496A172E
FILE: 2. Somerville College Choir, Oxford - Behind the Clouds.flac
Size: 13256007 Hash: 5F40C0FCA68C9D60AD680A596AD447AA Accuracy: -m40
Conclusion: CDDA 92%
Signature: D45933A943E45A1823CDC3E8D03929F848131AF1
FILE: 20. Somerville College Choir, Oxford - Gaude et laetare.flac
Size: 16242447 Hash: 9FF73A2AD929C3C6F9B62E64DB553E6E Accuracy: -m40
Conclusion: CDDA 100%
Signature: 12329E7438C516696CF88F66C0E68CA68E35BFF2
FILE: 3. Somerville College Choir, Oxford - Drop Down, Ye Heavens.flac
Size: 7672636 Hash: CAF7C4DFC0E877DAC9F737D334587983 Accuracy: -m40
Conclusion: CDDA 100%
Signature: B0F55EAC51ABEB61B5341E01BC00A972FE32B92C
FILE: 4. Luca Morgante - On This Day, Earth Shall Ring꞉ II. Veni, veni Emmanuel.flac
Size: 9490326 Hash: 1CA9C803398A8A0B5DE4D05817C6C997 Accuracy: -m40
Conclusion: CDDA 99%
Signature: 97E2E8E72EE76E85301F94C7C5E9700CAB2EFCAF
FILE: 5. Somerville College Choir, Oxford - There Is No Rose.flac
Size: 13790091 Hash: 7F968AE1C73438BAB3E704490CF8CC37 Accuracy: -m40
Conclusion: CDDA 99%
Signature: 86EC6C404A92967E250ECE63505F56B6A98D598A
FILE: 6. Somerville College Choir, Oxford - A Tender Shoot.flac
Size: 7652134 Hash: F5EC8E3819855837263D3461C5DB25FA Accuracy: -m40
Conclusion: CDDA 100%
Signature: 06A9CF69B00C14F0C39AF49CD80BF966EFBAA950
FILE: 7. Somerville College Choir, Oxford - Ivy, Chief of Trees.flac
Size: 13157088 Hash: AB662C0C35D5D63C721D0CE81B4C3F6F Accuracy: -m40
Conclusion: CDDA 99%
Signature: D3EA6EA440E800CC5FD5CD0E3E6E1224E61C91F3
FILE: 8. Luca Morgante - The Dawn of Redeeming Grace.flac
Size: 11319979 Hash: AC980B544E2265DBECC11C16F333BFDB Accuracy: -m40
Conclusion: CDDA 100%
Signature: 56079D8437EEE6F88727C1AA02614D27F04FF8C5
FILE: 9. Somerville College Choir, Oxford - O magnum mysterium.flac
Size: 16528822 Hash: E7F216699B896637ABDBB0F79B777707 Accuracy: -m40
Conclusion: CDDA 99%
Signature: E4AB096C97D1B4B15A9FF57C5A0369DB5E8FA90E