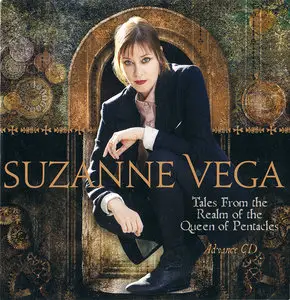 Suzanne Vega - Tales From The Realm Of The Queen Of Pentacles (2014) [US Promo]
XLD | FLAC | Image (Cue&Log) ~ 240 Mb | Mp3 (CBR320) ~ 97 Mb | Scans included
Label: Amanuensis Productions | # AMAN2510PR | Time: 00:36:44
Singer/Songwriter, Adult Alternative Pop/Rock, Folk-Rock
2014 release, the first studio album of new material in seven years from the singer/songwriter. Tales From The Realm… features 10 new songs, each telling a story that has to do with the material world and the world of the spirit and how they intersect. Suzanne spent the past few years writing and recording these new gems on the road, recording portions in Chicago, London, Prague, LA and New York City, and Kyserike Station, an old train station in upstate New York. Tracking for the album took place mostly at the Clubhouse Studios in Rhinebeck, and the album was mixed by Kevin Killen, who has worked with Peter Gabriel and Kate Bush.
The four volumes in Suzanne Vega's Close-Up series revisited her catalog thematically with stripped-down charts. It appealed to her base of fans who patiently waited seven years for new material. The ten songs on Tales from the Realm of the Queen of Pentacles fits that bill. The set was produced by longtime associate and co-writer Gerry Leonard, and played by a weighty studio cast. The album isn't so much a change of musical direction as it is a classy revisioning of Vega's trademark sound. These tracks address many of humanity's big themes through Vega's canny, detailed gaze, sometimes with the added weight of the metaphorical wisdom from the tarot. "Crack in the Wall" is a Buddhist reflection on awareness with the songwriter's signature tight lines and vivid physical descriptions. Its martial snare and painterly electric guitars are countered by Larry Campbell's mandolin and banjo. "I Never Wear White" is a punchy rocker with Leonard's big fuzzy guitars up front, a whomping bassline by Tony Levin, and the loud drums of Jay Bellerose. Its lyric reveals Vega has lost none of her wry sense of humor. "Don't Uncork What You Can't Contain" samples 50 Cent's "Candy Shop" in an allegorical tale about caution, with Pandora as one of its muses. "Song of the Stoic" updates "Luka," in a sense. Written from a drifting, hardworking male's point of view, it uncovers the emotional cost that physical abuse can take on an adult life. Its musical vehicle is angular rockist Americana, with the Smichov Chamber Orchestra Prague providing windswept accompaniment, making the lyric's emotional impression indelible. "Laying on of Hands/Stoic 2" discusses the cost of repression – physical and psychological – with Mother Teresa and Epictetus its referent examples. The rumbling bassline and slippery backbeat feeds Vega's sung cadences as a psych-tinged six-string fills lines and codas; both feature the powerful backing vocals of Catherine Russell. Not everything here works, though. "Portrait of the Knight of Wands," despite its attractive melody, is marred by a very clunky refrain, and "Jacob and the Angel" feels more like a demo than a finished track. Closer "Horizon (There Is a Road)" is dedicated to Václav Havel's memory. It's a gentle acoustic rocker with an elegant trumpet solo in the bridge. It's the one place here where Vega's trademark detachment doesn't reign. Tales from the Realm of the Queen of Pentacles is a welcome return by an artist who has remained stubbornly true to herself and only records when she has something new to say.



Review by Thom Jurek, Allmusic.com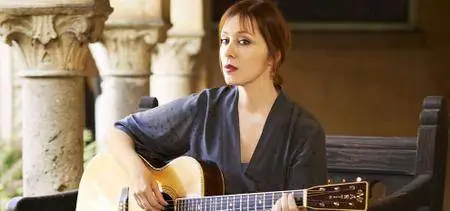 Tracklist:
01. Crack in the Wall (04:22)
02. Fool's Complaint (02:38)
03. I Never Wear White (03:08)
04. Portrait of the Knight of Wands (04:16)
05. Don't Uncork What You Can't Contain (03:29)
06. Jacob and the Angel (04:03)
07. Silver Bridge (03:46)
08. Song of the Stoic (04:03)
09. Laying on of Hands / Stoic 2 (03:52)
10. Horizon (There Is a Road) (02:51)
X Lossless Decoder version 20140504 (147.0)

XLD extraction logfile from 2014-07-11 12:11:46 +0400

Suzanne Vega / Tales From the Realm of the Queen of Pentacles

Used drive : HL-DT-ST DVDRAM GE20NU11 (revision CN01)
Media type : Pressed CD

Ripper mode : XLD Secure Ripper
Disable audio cache : OK for the drive with a cache less than 1375KiB
Make use of C2 pointers : NO
Read offset correction : 667
Max retry count : 20
Gap status : Analyzed, Appended

TOC of the extracted CD
Track | Start | Length | Start sector | End sector
––––––––––––––––––––––––––––-
1 | 00:00:00 | 04:24:19 | 0 | 19818
2 | 04:24:19 | 02:39:65 | 19819 | 31808
3 | 07:04:09 | 03:08:18 | 31809 | 45926
4 | 10:12:27 | 04:18:66 | 45927 | 65342
5 | 14:31:18 | 03:31:19 | 65343 | 81186
6 | 18:02:37 | 04:05:14 | 81187 | 99575
7 | 22:07:51 | 03:47:33 | 99576 | 116633
8 | 25:55:09 | 04:05:12 | 116634 | 135020
9 | 30:00:21 | 03:52:56 | 135021 | 152476
10 | 33:53:02 | 02:51:44 | 152477 | 165345

List of alternate offset correction values
# | Absolute | Relative | Confidence
–––––––––––––––––––––
1 | 655 | -12 | 25
2 | 21 | -646 | 3

AccurateRip Summary (DiscID: 000deef3-006fb788-7c089c0a)
Track 01 : OK (v1+v2, confidence 74/101)
Track 02 : OK (v1+v2, confidence 81/108)
Track 03 : OK (v1+v2, confidence 81/109)
Track 04 : OK (v1+v2, confidence 81/109)
Track 05 : OK (v1+v2, confidence 81/108)
Track 06 : OK (v1+v2, confidence 81/108)
Track 07 : OK (v1+v2, confidence 81/108)
Track 08 : OK (v1+v2, confidence 81/108)
Track 09 : OK (v1+v2, confidence 81/108)
Track 10 : OK (v1+v2, confidence 81/107)
->All tracks accurately ripped.

All Tracks
Filename : /OdW/Suzanne Vega (2013) Tales From the Realm of the Queen of Pentacles [Promo]/Suzanne Vega - Tales From the Realm of the Queen of Pentacles.flac
Album gain : -8.52 dB
Peak : 1.000000
CRC32 hash (test run) : A861C200
CRC32 hash : A861C200
CRC32 hash (skip zero) : 7C24B97C
Statistics
Read error : 0
Jitter error (maybe fixed) : 0
Retry sector count : 0
Damaged sector count : 0

Track 01
Pre-gap length : 00:02:00

Track gain : -6.09 dB
Peak : 0.997864
CRC32 hash (test run) : 5244A33A
CRC32 hash : 5244A33A
CRC32 hash (skip zero) : F1BF48D9
AccurateRip v1 signature : D8AAADBA
AccurateRip v2 signature : 1A881FE8
->Accurately ripped (v1+v2, confidence 6+68/101)
Statistics
Read error : 0
Jitter error (maybe fixed) : 0
Retry sector count : 0
Damaged sector count : 0

Track 02
Pre-gap length : 00:01:74

Track gain : -8.32 dB
Peak : 1.000000
CRC32 hash (test run) : E5465F73
CRC32 hash : E5465F73
CRC32 hash (skip zero) : 9325D4F1
AccurateRip v1 signature : 501FF102
AccurateRip v2 signature : 4DAF6F45
->Accurately ripped (v1+v2, confidence 6+75/108)
Statistics
Read error : 0
Jitter error (maybe fixed) : 0
Retry sector count : 0
Damaged sector count : 0

Track 03
Pre-gap length : 00:01:16

Track gain : -7.65 dB
Peak : 0.999969
CRC32 hash (test run) : DBDD056C
CRC32 hash : DBDD056C
CRC32 hash (skip zero) : 5C93743E
AccurateRip v1 signature : 2657183C
AccurateRip v2 signature : 3D4B7945
->Accurately ripped (v1+v2, confidence 6+75/109)
Statistics
Read error : 0
Jitter error (maybe fixed) : 0
Retry sector count : 0
Damaged sector count : 0

Track 04

Track gain : -6.07 dB
Peak : 0.996521
CRC32 hash (test run) : 8DFD549E
CRC32 hash : 8DFD549E
CRC32 hash (skip zero) : 623C172B
AccurateRip v1 signature : C68BC6B3
AccurateRip v2 signature : E990A66C
->Accurately ripped (v1+v2, confidence 6+75/109)
Statistics
Read error : 0
Jitter error (maybe fixed) : 0
Retry sector count : 0
Damaged sector count : 0

Track 05
Pre-gap length : 00:02:59

Track gain : -8.50 dB
Peak : 1.000000
CRC32 hash (test run) : 76764F23
CRC32 hash : 76764F23
CRC32 hash (skip zero) : C08B63E2
AccurateRip v1 signature : 63C6EEAC
AccurateRip v2 signature : FAD217A5
->Accurately ripped (v1+v2, confidence 6+75/108)
Statistics
Read error : 0
Jitter error (maybe fixed) : 0
Retry sector count : 0
Damaged sector count : 0

Track 06
Pre-gap length : 00:01:35

Track gain : -9.63 dB
Peak : 1.000000
CRC32 hash (test run) : 6E6052ED
CRC32 hash : 6E6052ED
CRC32 hash (skip zero) : 60A7559D
AccurateRip v1 signature : E122A275
AccurateRip v2 signature : E9900B04
->Accurately ripped (v1+v2, confidence 6+75/108)
Statistics
Read error : 0
Jitter error (maybe fixed) : 0
Retry sector count : 0
Damaged sector count : 0

Track 07
Pre-gap length : 00:01:65

Track gain : -6.29 dB
Peak : 1.000000
CRC32 hash (test run) : 95DD4A5B
CRC32 hash : 95DD4A5B
CRC32 hash (skip zero) : CA16AA5D
AccurateRip v1 signature : 41EC1736
AccurateRip v2 signature : 0098E54E
->Accurately ripped (v1+v2, confidence 6+75/108)
Statistics
Read error : 0
Jitter error (maybe fixed) : 0
Retry sector count : 0
Damaged sector count : 0

Track 08
Pre-gap length : 00:00:72

Track gain : -9.01 dB
Peak : 0.997009
CRC32 hash (test run) : D269AE21
CRC32 hash : D269AE21
CRC32 hash (skip zero) : 16B5701E
AccurateRip v1 signature : 3DAE404B
AccurateRip v2 signature : 167E1F18
->Accurately ripped (v1+v2, confidence 6+75/108)
Statistics
Read error : 0
Jitter error (maybe fixed) : 0
Retry sector count : 0
Damaged sector count : 0

Track 09
Pre-gap length : 00:01:47

Track gain : -9.11 dB
Peak : 1.000000
CRC32 hash (test run) : C4EA7EC9
CRC32 hash : C4EA7EC9
CRC32 hash (skip zero) : 69AE9BE0
AccurateRip v1 signature : 4BD7C213
AccurateRip v2 signature : E1880AF0
->Accurately ripped (v1+v2, confidence 6+75/108)
Statistics
Read error : 0
Jitter error (maybe fixed) : 0
Retry sector count : 0
Damaged sector count : 0

Track 10

Track gain : -8.92 dB
Peak : 1.000000
CRC32 hash (test run) : C7899058
CRC32 hash : C7899058
CRC32 hash (skip zero) : AFB7130B
AccurateRip v1 signature : F7A5CD07
AccurateRip v2 signature : 6A6C2FA4
->Accurately ripped (v1+v2, confidence 6+75/107)
Statistics
Read error : 0
Jitter error (maybe fixed) : 0
Retry sector count : 0
Damaged sector count : 0

No errors occurred

End of status report

––-BEGIN XLD SIGNATURE––-
rE.xyq3oWPWGapmCkwFelN.R73hloJZ1QLxWNjWrQ9iidfcL4vc9Tqf9jTWwRNoNtBE4G50zgsDCQqGM96iGd6O5mG0rEw9GzY8oRNW
––-END XLD SIGNATURE––-
foobar2000 1.2 / Dynamic Range Meter 1.1.1
log date: 2014-07-12 01:44:09

––––––––––––––––––––––––––––––––––––––––
Analyzed: Suzanne Vega / Tales From the Realm of the Queen of Pentacles
––––––––––––––––––––––––––––––––––––––––

DR Peak RMS Duration Track
––––––––––––––––––––––––––––––––––––––––
DR9 -0.02 dB -11.47 dB 4:24 01-Crack in the Wall
DR8 0.00 dB -9.54 dB 2:40 02-Fool's Complaint
DR7 0.00 dB -8.60 dB 3:08 03-I Never Wear White
DR9 -0.03 dB -13.14 dB 4:19 04-Portrait of the Knight of Wands
DR7 0.00 dB -8.41 dB 3:31 05-Don't Uncork What You Can't Contain
DR6 0.00 dB -8.91 dB 4:05 06-Jacob and the Angel
DR11 0.00 dB -12.72 dB 3:47 07-Silver Bridge
DR7 -0.03 dB -9.15 dB 4:05 08-Song of the Stoic
DR6 0.00 dB -8.59 dB 3:53 09-Laying on of Hands / Stoic 2
DR7 0.00 dB -9.42 dB 2:52 10-Horizon (There Is a Road)
––––––––––––––––––––––––––––––––––––––––

Number of tracks: 10
Official DR value: DR8

Samplerate: 44100 Hz
Channels: 2
Bits per sample: 16
Bitrate: 862 kbps
Codec: FLAC
================================================================================