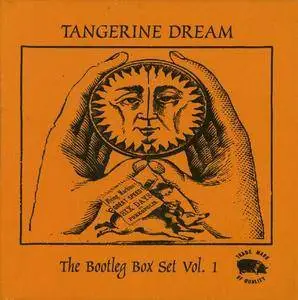 Tangerine Dream - The Bootleg Box Set Vol. 1 [7CD] (2003)
EAC Rip | FLAC (image+.cue+log) - 2,12 GB | MP3 CBR 320 kbps (LAME 3.93) - 836 MB | Covers - 20 MB
Genre: Electronic, Berlin School | RAR 3% Rec. | Label: Castle Music (CMXBX770)
The most surprising release of 2003 for every Tangerine Dream fan was most probably The Bootleg Box Set Vol. 1. Sanctuary Music, well known for their numerous re-releases of TD material of the Pink and the Blue Years era, had been very successful with a series of bootleg boxes by ELP and approached Tangerine Dream for the same type of thing. Since they wanted old material and were pressing to get these boxes into the pipeline as swiftly as possible, TD could not go into the process of scanning their own archives and restoring old tapes. So they chose to use readily available bootleg sources for the first two planned sets. One of the best and easiest sources was the Tangerine Tree fan project, hence Edgar Froese and Jerome Froese selected ten shows from the first two tree sets, which Jerome Froese then cleaned up and mastered with DQC without any overdubbing.
So The Bootleg Box Set Vol. 1 includes five concerts from the years 1974 to 1976, four of them with the line-up Froese/Franke/Baumann and one featuring Michael Hoenig instead of Peter Baumann. The sound quality is indeed even slightly better than the very good quality of the Tangerine Tree volumes, considering that these are no professional recordings but mostly fan audience tapes of the mid seventies.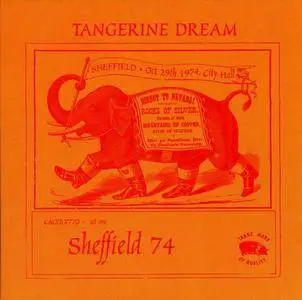 Set 1: Sheffield, Oct 29th 1974, City Hall
EAC Rip | FLAC (image+.cue+log) - 225 MB | MP3 CBR 320 kbps (LAME 3.93) - 103 MB
Genre: Electronic, Berlin School | RAR 3% Rec. | Label: Castle Music (CMXBX770)
Tracklist:
01. Sheffield 74
Total time:
43:52
Exact Audio Copy V0.99 prebeta 4 from 23. January 2008

Отчёт EAC об извлечении, выполненном 21. декабря 2008, 6:49

Tangerine Dream / Bootleg Box Set: Sheffield 74

Дисковод: Optiarc DVD RW AD-7191A Adapter: 0 ID: 0

Режим чтения : Достоверность
Использование точного потока : Да
Отключение кэша аудио : Да
Использование указателей C2 : Нет

Коррекция смещения при чтении : 6
Способность читать области Lead-in и Lead-out : Нет
Заполнение пропущенных сэмплов тишиной : Да
Удаление блоков с тишиной в начале и конце : Нет
При вычислениях CRC использовались нулевые сэмплы : Да
Интерфейс : Установленный внешний ASPI-интерфейс

Выходной формат : Внутренние WAV-операции
Формат сэмплов : 44.100 Гц; 16 бит; стерео


TOC извлечённого CD

Трек | Старт | Длительность | Начальный сектор | Конечный сектор
––––––––––––––––––––––––––––––––––-
1 | 0:00.00 | 43:51.57 | 0 | 197381


Характеристики диапазона извлечения и сообщения об ошибках

Выбранный диапазон

Имя файла C:\Uploads\Tangerine Dream - 2003 - The Bootleg Box Set Vol.1 (live 1974 - 1976)\Set 1 - Sheffield - Oct 29th 1974, City Hall.wav

Пиковый уровень 94.6 %
Качество диапазона 100.0 %
CRC теста F73F0930
CRC копии F73F0930
Копирование… OK

Ошибок не произошло


AccurateRip: сводка

Трек 1 нет в базе данных

Ни одного трека нет в базе AccurateRip

Конец отчёта
[CUETools log; Date: 26.02.2017 5:18:05; Version: 2.1.4]
[CTDB TOCID: Zu2YF75i8cT2UyKTN79qnL_Chtg-] found.
Track | CTDB Status
1 | (17/17) Accurately ripped
[AccurateRip ID: 00030306-0006060d-020a4701] found.
Track [ CRC | V2 ] Status
01 [c46d8b21|b42cffe3] (08+12/20) Accurately ripped

Track Peak [ CRC32 ] [W/O NULL] [ LOG ]
– 94,6 [F73F0930] [336355FF] CRC32
01 94,6 [F73F0930] [336355FF] CRC32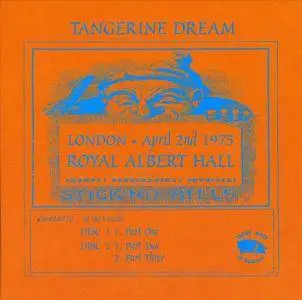 Set 2: London, April 2nd 1975, Royal Albert Hall
EAC Rip | FLAC (image+.cue+log) - 626 MB | MP3 CBR 320 kbps (LAME 3.93) - 245 MB
Genre: Electronic, Berlin School | RAR 3% Rec. | Label: Castle Music (CMXBX770)
CD 1 Tracklist:
01. Part 1 (a)
02. Part 1 (b)
03. Part 1 ©
04. Part 1 (d)
Total time:
50:09
CD 2 Tracklist:
01. Part 2 (a)
02. Part 2 (b)
03. Part 2 ©
04. Part 3
Total time:
53:49
Exact Audio Copy V0.99 prebeta 4 from 23. January 2008

Отчёт EAC об извлечении, выполненном 21. декабря 2008, 14:55

Tangerine Dream / Set 2 - London - April 2nd 1975 - Royal Albert Hall (CD1)

Дисковод: Optiarc DVD RW AD-7191A Adapter: 0 ID: 0

Режим чтения : Достоверность
Использование точного потока : Да
Отключение кэша аудио : Да
Использование указателей C2 : Нет

Коррекция смещения при чтении : 6
Способность читать области Lead-in и Lead-out : Нет
Заполнение пропущенных сэмплов тишиной : Да
Удаление блоков с тишиной в начале и конце : Нет
При вычислениях CRC использовались нулевые сэмплы : Да
Интерфейс : Установленный внешний ASPI-интерфейс

Выходной формат : Внутренние WAV-операции
Формат сэмплов : 44.100 Гц; 16 бит; стерео


TOC извлечённого CD

Трек | Старт | Длительность | Начальный сектор | Конечный сектор
––––––––––––––––––––––––––––––––––-
1 | 0:00.00 | 14:20.49 | 0 | 64548
2 | 14:20.49 | 4:42.33 | 64549 | 85731
3 | 19:03.07 | 16:53.26 | 85732 | 161732
4 | 35:56.33 | 14:12.38 | 161733 | 225670


Характеристики диапазона извлечения и сообщения об ошибках

Выбранный диапазон

Имя файла C:\Uploads\Tangerine Dream - 2003 - The Bootleg Box Set Vol.1 (live 1974 - 1976)\Set 2 - London - April 2nd 1975 - Royal Albert Hall (CD1).wav

Пиковый уровень 100.0 %
Качество диапазона 100.0 %
CRC теста 6C184F4E
CRC копии 6C184F4E
Копирование… OK

Ошибок не произошло


AccurateRip: сводка

Трек 1 нет в базе данных
Трек 2 нет в базе данных
Трек 3 нет в базе данных
Трек 4 нет в базе данных

Ни одного трека нет в базе AccurateRip

Конец отчёта
[CUETools log; Date: 26.02.2017 5:19:30; Version: 2.1.4]
[CTDB TOCID: vFm8ZHFdE_lGLN_9i9tsYKXBwHU-] found.
Track | CTDB Status
1 | (3/3) Accurately ripped
2 | (3/3) Accurately ripped
3 | (3/3) Accurately ripped
4 | (3/3) Accurately ripped
[AccurateRip ID: 00083455-0020fbae-2d0bc004] found.
Track [ CRC | V2 ] Status
01 [05cfb8cf|b9b3f909] (4+3/7) Accurately ripped
02 [360614e9|c524b895] (4+3/7) Accurately ripped
03 [40a49bb1|f25c8b56] (4+3/7) Accurately ripped
04 [49c307d6|16c34216] (4+3/7) Accurately ripped

Track Peak [ CRC32 ] [W/O NULL] [ LOG ]
– 100,0 [6C184F4E] [F327B1D5] CRC32
01 94,5 [2A0872A8] [1F93B6B0]
02 75,0 [596A5552] [935549B5]
03 100,0 [804977EF] [D7EDFF56]
04 82,0 [E27250D0] [0AEF8F33]
Exact Audio Copy V0.99 prebeta 4 from 23. January 2008

Отчёт EAC об извлечении, выполненном 21. декабря 2008, 16:16

Tangerine Dream / Set 2 - London - April 2nd 1975 - Royal Albert Hall (CD2)

Дисковод: Optiarc DVD RW AD-7191A Adapter: 0 ID: 0

Режим чтения : Достоверность
Использование точного потока : Да
Отключение кэша аудио : Да
Использование указателей C2 : Нет

Коррекция смещения при чтении : 6
Способность читать области Lead-in и Lead-out : Нет
Заполнение пропущенных сэмплов тишиной : Да
Удаление блоков с тишиной в начале и конце : Нет
При вычислениях CRC использовались нулевые сэмплы : Да
Интерфейс : Установленный внешний ASPI-интерфейс

Выходной формат : Внутренние WAV-операции
Формат сэмплов : 44.100 Гц; 16 бит; стерео


TOC извлечённого CD

Трек | Старт | Длительность | Начальный сектор | Конечный сектор
––––––––––––––––––––––––––––––––––-
1 | 0:00.00 | 10:59.55 | 0 | 49479
2 | 10:59.55 | 7:15.47 | 49480 | 82151
3 | 18:15.27 | 21:42.58 | 82152 | 179859
4 | 39:58.10 | 13:50.35 | 179860 | 242144


Характеристики диапазона извлечения и сообщения об ошибках

Выбранный диапазон

Имя файла C:\Uploads\Tangerine Dream - 2003 - The Bootleg Box Set Vol.1 (live 1974 - 1976)\Set 2 - London - April 2nd 1975 - Royal Albert Hall (CD2).wav

Пиковый уровень 100.0 %
Качество диапазона 100.0 %
CRC теста 91BDA501
CRC копии 91BDA501
Копирование… OK

Ошибок не произошло


AccurateRip: сводка

Трек 1 нет в базе данных
Трек 2 нет в базе данных
Трек 3 нет в базе данных
Трек 4 нет в базе данных

Ни одного трека нет в базе AccurateRip

Конец отчёта
[CUETools log; Date: 26.02.2017 5:20:01; Version: 2.1.4]
[CTDB TOCID: _eiqRSCYdtQYAIPvpuC8iiptEH0-] found.
Track | CTDB Status
1 | (19/19) Accurately ripped
2 | (19/19) Accurately ripped
3 | (19/19) Accurately ripped
4 | (19/19) Accurately ripped
[AccurateRip ID: 000872a5-0022b8fe-260c9c04] found.
Track [ CRC | V2 ] Status
01 [003fb1b8|c3c0196f] (09+09/23) Accurately ripped
02 [2f0fa9d8|479ec655] (09+09/23) Accurately ripped
03 [b7a8bdf2|bdc56b95] (09+08/22) Accurately ripped
04 [94e4b5c7|eadc2cd1] (09+09/23) Accurately ripped
Offsetted by 1052:
01 [a99234b5] (02/23) Accurately ripped
02 [3f542f11] (02/23) Accurately ripped
03 [b44e6900] (02/22) Accurately ripped
04 [3a8f8eab] (02/23) Accurately ripped
Offsetted by 646:
01 [8cabebd1] (00/23) No match (V2 was not tested)
02 [ddd0791a] (00/23) No match (V2 was not tested)
03 [ba2856d1] (00/22) No match (V2 was not tested)
04 [20198bc1] (00/23) No match (V2 was not tested)

Track Peak [ CRC32 ] [W/O NULL] [ LOG ]
– 100,0 [91BDA501] [F00827C3] CRC32
01 90,8 [1375222F] [6FFAD237]
02 82,3 [965614AA] [C77DD9C2]
03 100,0 [A9F8C3FD] [F2701F65]
04 100,0 [2AAF9FCB] [00B874FC]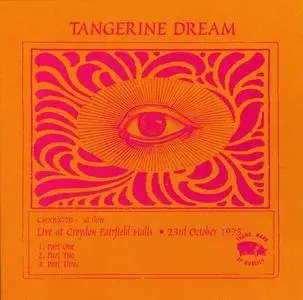 Set 3: Croydon, Oct 23th 1975, Fairfield Halls
EAC Rip | FLAC (image+.cue+log) - 372 MB | MP3 CBR 320 kbps (LAME 3.93) - 145 MB
Genre: Electronic, Berlin School | RAR 3% Rec. | Label: Castle Music (CMXBX770)
Tracklist:
01. Part 1
02. Part 2
03. Part 3
Total time:
01:01:46
Exact Audio Copy V0.99 prebeta 4 from 23. January 2008

Отчёт EAC об извлечении, выполненном 21. декабря 2008, 17:44

Tangerine Dream / Set 3 - Live at Croydon Fairfield Halls - 23rd October 1975

Дисковод: Optiarc DVD RW AD-7191A Adapter: 0 ID: 0

Режим чтения : Достоверность
Использование точного потока : Да
Отключение кэша аудио : Да
Использование указателей C2 : Нет

Коррекция смещения при чтении : 6
Способность читать области Lead-in и Lead-out : Нет
Заполнение пропущенных сэмплов тишиной : Да
Удаление блоков с тишиной в начале и конце : Нет
При вычислениях CRC использовались нулевые сэмплы : Да
Интерфейс : Установленный внешний ASPI-интерфейс

Выходной формат : Внутренние WAV-операции
Формат сэмплов : 44.100 Гц; 16 бит; стерео


TOC извлечённого CD

Трек | Старт | Длительность | Начальный сектор | Конечный сектор
––––––––––––––––––––––––––––––––––-
1 | 0:02.00 | 20:35.37 | 150 | 92811
2 | 20:37.37 | 30:15.58 | 92812 | 228994
3 | 50:53.20 | 10:52.45 | 228995 | 277939


Характеристики диапазона извлечения и сообщения об ошибках

Выбранный диапазон

Имя файла C:\Uploads\Tangerine Dream - 2003 - The Bootleg Box Set Vol.1 (live 1974 - 1976)\Set 3 - Live at Croydon Fairfield Halls - 23rd October 1975.wav

Пиковый уровень 99.1 %
Качество диапазона 100.0 %
CRC теста D4A86485
CRC копии D4A86485
Копирование… OK

Ошибок не произошло


AccurateRip: сводка

Трек 1 нет в базе данных
Трек 2 нет в базе данных
Трек 3 нет в базе данных

Ни одного трека нет в базе AccurateRip

Конец отчёта
[CUETools log; Date: 26.02.2017 5:20:55; Version: 2.1.4]
Pregap length 00:02:00.
[CTDB TOCID: zy9wUywpZpmdMoe56LQBSexOby0-] found.
Track | CTDB Status
1 | (9/9) Accurately ripped
2 | (9/9) Accurately ripped
3 | (9/9) Accurately ripped
[AccurateRip ID: 00092759-001e4807-200e7703] found.
Track [ CRC | V2 ] Status
01 [e887814b|81d58d5a] (10+12/24) Accurately ripped
02 [977bb98f|31d3325e] (10+12/24) Accurately ripped
03 [5a2f8a88|8bab8e03] (10+12/24) Accurately ripped
Offsetted by 1052:
01 [3e87890f] (02/24) Accurately ripped
02 [67b0efaf] (02/24) Accurately ripped
03 [c5732adc] (02/24) Accurately ripped

Track Peak [ CRC32 ] [W/O NULL] [ LOG ]
– 99,1 [D4A86485] [2321D35A] CRC32
01 99,0 [1A79B7A2] [7C30E03A]
02 99,1 [F4D464FD] [1EDDA853]
03 97,5 [06B60E91] [B44F8617]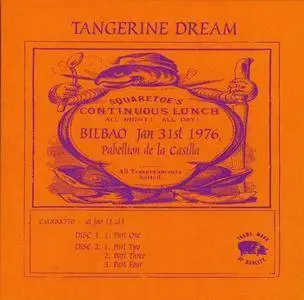 Set 4: Bilbao, Jan 31st 1976, Pabellion de la Casilla
EAC Rip | FLAC (image+.cue+log) - 711 MB | MP3 CBR 320 kbps (LAME 3.93) - 269 MB
Genre: Electronic, Berlin School | RAR 3% Rec. | Label: Castle Music (CMXBX770)
CD 1 Tracklist:
01. Part 1
Total time:
44:26
CD 2 Tracklist:
01. Part 2
02. Part 3
Total time:
01:09:55
Exact Audio Copy V0.99 prebeta 4 from 23. January 2008

Отчёт EAC об извлечении, выполненном 22. декабря 2008, 1:46

Tangerine Dream / Set 4 - Bilbao - Jan 31st 1976, Pabellion de la Casilla (CD1)

Дисковод: Optiarc DVD RW AD-7191A Adapter: 0 ID: 0

Режим чтения : Достоверность
Использование точного потока : Да
Отключение кэша аудио : Да
Использование указателей C2 : Нет

Коррекция смещения при чтении : 6
Способность читать области Lead-in и Lead-out : Нет
Заполнение пропущенных сэмплов тишиной : Да
Удаление блоков с тишиной в начале и конце : Нет
При вычислениях CRC использовались нулевые сэмплы : Да
Интерфейс : Установленный внешний ASPI-интерфейс

Выходной формат : Внутренние WAV-операции
Формат сэмплов : 44.100 Гц; 16 бит; стерео


TOC извлечённого CD

Трек | Старт | Длительность | Начальный сектор | Конечный сектор
––––––––––––––––––––––––––––––––––-
1 | 0:00.00 | 44:26.02 | 0 | 199951


Характеристики диапазона извлечения и сообщения об ошибках

Выбранный диапазон

Имя файла C:\Uploads\Tangerine Dream - 2003 - The Bootleg Box Set Vol.1 (live 1974 - 1976)\Set 4 - Bilbao - Jan 31st 1976, Pabellion de la Casilla (CD1).wav

Пиковый уровень 90.9 %
Качество диапазона 100.0 %
CRC теста FBA93516
CRC копии FBA93516
Копирование… OK

Ошибок не произошло


AccurateRip: сводка

Трек 1 точное извлечение (доверие 2) [CABE6CF2]

Все треки извлечены точно

Конец отчёта
[CUETools log; Date: 26.02.2017 5:21:46; Version: 2.1.4]
[CTDB TOCID: U5tAQ03MXBUIK008S4iRSwY2wrQ-] found.
Track | CTDB Status
1 | (17/18) Accurately ripped
[AccurateRip ID: 00030d10-00061a21-020a6a01] found.
Track [ CRC | V2 ] Status
01 [cabe6cf2|4dcd53c2] (11+09/25) Accurately ripped
Offsetted by 1052:
01 [f23be1a2] (02/25) Accurately ripped
Offsetted by 646:
01 [d9bf0daa] (00/25) No match (V2 was not tested)

Track Peak [ CRC32 ] [W/O NULL] [ LOG ]
– 90,9 [FBA93516] [25D91F28] CRC32
01 90,9 [FBA93516] [25D91F28] CRC32
Exact Audio Copy V0.99 prebeta 4 from 23. January 2008

Отчёт EAC об извлечении, выполненном 22. декабря 2008, 2:18

Tangerine Dream / Set 4 - Bilbao - Jan 31st 1976, Pabellion de la Casilla (CD2)

Дисковод: Optiarc DVD RW AD-7191A Adapter: 0 ID: 0

Режим чтения : Достоверность
Использование точного потока : Да
Отключение кэша аудио : Да
Использование указателей C2 : Нет

Коррекция смещения при чтении : 6
Способность читать области Lead-in и Lead-out : Нет
Заполнение пропущенных сэмплов тишиной : Да
Удаление блоков с тишиной в начале и конце : Нет
При вычислениях CRC использовались нулевые сэмплы : Да
Интерфейс : Установленный внешний ASPI-интерфейс

Выходной формат : Внутренние WAV-операции
Формат сэмплов : 44.100 Гц; 16 бит; стерео


TOC извлечённого CD

Трек | Старт | Длительность | Начальный сектор | Конечный сектор
––––––––––––––––––––––––––––––––––-
1 | 0:00.00 | 43:00.38 | 0 | 193537
2 | 43:00.38 | 17:13.14 | 193538 | 271026
3 | 60:13.52 | 9:41.24 | 271027 | 314625


Характеристики диапазона извлечения и сообщения об ошибках

Выбранный диапазон

Имя файла C:\Uploads\Tangerine Dream - 2003 - The Bootleg Box Set Vol.1 (live 1974 - 1976)\Set 4 - Bilbao - Jan 31st 1976, Pabellion de la Casilla (CD2).wav

Пиковый уровень 100.0 %
Качество диапазона 100.0 %
CRC теста BD444766
CRC копии BD444766
Копирование… OK

Ошибок не произошло


AccurateRip: сводка

Трек 1 точное извлечение (доверие 2) [045B717E]
Трек 2 точное извлечение (доверие 2) [FE5413F3]
Трек 3 точное извлечение (доверие 2) [06D5A126]

Все треки извлечены точно

Конец отчёта
[CUETools log; Date: 26.02.2017 5:22:19; Version: 2.1.4]
[CTDB TOCID: ZA9hyFH7LQnowI.QtVNbFlvO1Rw-] found.
Track | CTDB Status
1 | (16/16) Accurately ripped
2 | (16/16) Accurately ripped
3 | (15/16) Accurately ripped
[AccurateRip ID: 000be3b7-00258426-22106303] found.
Track [ CRC | V2 ] Status
01 [045b717e|dc7411c8] (09+08/22) Accurately ripped
02 [fe5413f3|86550156] (09+08/22) Accurately ripped
03 [06d5a126|c8925a6a] (08+09/22) Accurately ripped
Offsetted by -164:
01 [079d1fb6] (02/22) Accurately ripped
02 [b37875cf] (02/22) Accurately ripped
03 [1b9ac152] (02/22) Accurately ripped
Offsetted by 646:
01 [a97b114a] (00/22) No match (V2 was not tested)
02 [9ef398b9] (00/22) No match (V2 was not tested)
03 [f0568334] (00/22) No match (V2 was not tested)

Track Peak [ CRC32 ] [W/O NULL] [ LOG ]
– 100,0 [BD444766] [D3667C3E] CRC32
01 93,3 [66B9043A] [B7B37FDB]
02 100,0 [53F90F68] [A5B3D866]
03 88,9 [4C7A5787] [6C12D01D]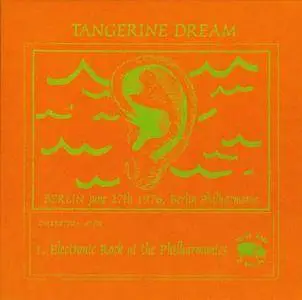 Set 5: Berlin, June 27th 1976, Berlin Philharmonie
EAC Rip | FLAC (image+.cue+log) - 193 MB | MP3 CBR 320 kbps (LAME 3.93) - 74 MB
Genre: Electronic, Berlin School | RAR 3% Rec. | Label: Castle Music (CMXBX770)
Tracklist:
01. Electronic Rock at the Philharmonics
Total time:
31:25
Exact Audio Copy V0.99 prebeta 4 from 23. January 2008

Отчёт EAC об извлечении, выполненном 22. декабря 2008, 2:50

Tangerine Dream / Set 5 - Electronic Rock at the Philharmonics - Berlin - June 27th 1976

Дисковод: Optiarc DVD RW AD-7191A Adapter: 0 ID: 0

Режим чтения : Достоверность
Использование точного потока : Да
Отключение кэша аудио : Да
Использование указателей C2 : Нет

Коррекция смещения при чтении : 6
Способность читать области Lead-in и Lead-out : Нет
Заполнение пропущенных сэмплов тишиной : Да
Удаление блоков с тишиной в начале и конце : Нет
При вычислениях CRC использовались нулевые сэмплы : Да
Интерфейс : Установленный внешний ASPI-интерфейс

Выходной формат : Внутренние WAV-операции
Формат сэмплов : 44.100 Гц; 16 бит; стерео


TOC извлечённого CD

Трек | Старт | Длительность | Начальный сектор | Конечный сектор
––––––––––––––––––––––––––––––––––-
1 | 0:00.00 | 31:24.41 | 0 | 141340


Характеристики диапазона извлечения и сообщения об ошибках

Выбранный диапазон

Имя файла C:\Uploads\Tangerine Dream - 2003 - The Bootleg Box Set Vol.1 (live 1974 - 1976)\Set 5 - Electronic Rock at the Philharmonics - Berlin - June 27th 1976.wav

Пиковый уровень 99.5 %
Качество диапазона 100.0 %
CRC теста D6BCD12E
CRC копии D6BCD12E
Копирование… OK

Ошибок не произошло


AccurateRip: сводка

Трек 1 точное извлечение (доверие 2) [0A1A13A1]

Все треки извлечены точно

Конец отчёта
[CUETools log; Date: 26.02.2017 5:23:19; Version: 2.1.4]
[CTDB TOCID: Lwa2oaRH4o6MVBhvUefBF4AG0f0-] found.
Track | CTDB Status
1 | (19/25) Accurately ripped
[AccurateRip ID: 0002281d-0004503b-02075c01] found.
Track [ CRC | V2 ] Status
01 [0a1a13a1|64bc77ec] (09+09/23) Accurately ripped
Offsetted by -164:
01 [f747c419] (02/23) Accurately ripped
Offsetted by 646:
01 [7375b70d] (00/23) No match (V2 was not tested)

Track Peak [ CRC32 ] [W/O NULL] [ LOG ]
– 99,5 [D6BCD12E] [1ADA0200] CRC32
01 99,5 [D6BCD12E] [1ADA0200] CRC32
Thanks to
mr_suicide