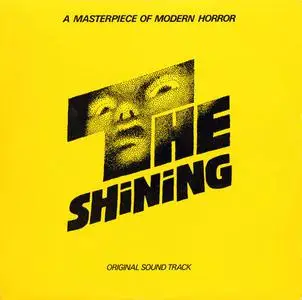 VA - The Shining (Original Sound Track) (1980)
FLAC (tracks) - 209 MB
49:11 | Soundtrack, Modern Classical, Experimental | Label: Warner Bros. Records
Review for The Shining (Original Sound Track)
The soundtrack for Director Stanley Kubrick's 1980 film, The Shining may be the horror genre's Holy Grail; a real collector's item. It's rare to find a legitimate copy of this film's music anywhere. The vinyl version of the soundtrack was withdrawn from the market due to licensing issues and it was never released on CD. Currently, the aforementioned record is being sold on Discogs and eBay for obscene amounts of money. It's not surprising given that the film has become so iconic. Kubrick had an uncanny knack of synchronizing just the right passages of music to coincide perfectly with the images on the screen. He relied more often than not on existing music rather than a traditional score with 2001: A Space Odyssey, A Clockwork Orange, and The Shining being prime examples. I think it's safe to say that Kubrick may have even led the way in this regard for other filmmakers such as Woody Allen, Wes Anderson, Marty Scorsese, and obviously Quentin Tarantino.
The soundtrack for The Shining consists mainly of pieces by 20th-century composers, Bela Bartok, György Ligeti, and Krzysztof Penderecki. However, the music (an arrangement of "Dies Irae from "Symphonie fantastique" by Hector Berlioz) for the opening titles, called "The Shining Theme" and the foreboding track titled "The Rocky Mountains" were provided by Wendy Carlos, who also worked with Kubrick on A Clockwork Orange. The modern classical music featured here is positively eerie and used to great effect. "Lontano" by Gyorgy Ligeti plays when Danny sees the spooky Grady twins for the first time. The "all work and no play" scene in the movie highlights Penderecki's "Polymorphia" which has been appropriately dubbed the sound of madness. This is the very scary sound of insanity. Unfortunately, this piece of music is not on the soundtrack. Penderecki's music ("The Awakening of Jacob") is used again for when Jack enters Room 237; "Utrenja-Kanon Paschy" can be heard when Wendy sees the elevator of blood, and finally "Utrenja-Evangelia" plays when Wendy sees Redrum written on the mirror. The terrifying, unforgettable soundtrack for The Shining stays with you long after you hear it and still resonates with listeners today.
Tracklist
[3:37] 01. Wendy Carlos & Rachel Elkind - The Shining
[3:08] 02. Wendy Carlos & Rachel Elkind - Rocky Mountains
[10:15] 03. György Ligeti - Lontano Conductor - Ernest Bour
[8:12] 04. Béla Bartók - Music For Strings, Percussion And Celesta Conductor - Herbert von Karajan
[3:36] 05. Krzysztof Penderecki - Utrenja Conductor - Andrzej Markowski
[7:58] 06. Krzysztof Penderecki - The Awakening Of Jacob Conductor - Krzysztof Penderecki
[9:01] 07. Krzysztof Penderecki - De Natura Sonoris Conductor - Krzysztof Penderecki
[3:28] 08. Henry Hall And The Gleneagles Hotel Band - Home
–––––––––––-
DON'T MODIFY THIS FILE
–––––––––––-
PERFORMER: auCDtect Task Manager, ver. 1.6.0 RC1 build 1.6.0.1
Copyright © 2008-2010 y-soft. All rights reserved
http://y-soft.org
ANALYZER: auCDtect: CD records authenticity detector, version 0.8.2
Copyright © 2004 Oleg Berngardt. All rights reserved.
Copyright © 2004 Alexander Djourik. All rights reserved.
FILE: 08. Henry Hall And The Gleneagles Hotel Band - Home.flac
Size: 14952473 Hash: 8BC6D68BB1DC75DA0C2EBC025D11BB68 Accuracy: -m8
Conclusion: ???
Signature: 93E570707585A10EB0CFC5BAF7F4B2C0B519FDBA
FILE: 07. Krzysztof Penderecki - De Natura Sonoris Conductor - Krzysztof Penderecki.flac
Size: 39075510 Hash: C24B5E10FBDF51646B841C0A81A02E77 Accuracy: -m8
Conclusion: CDDA 100%
Signature: F489F9091C9A4389EC5EC778D07C05B42AB073CC
FILE: 06. Krzysztof Penderecki - The Awakening Of Jacob Conductor - Krzysztof Penderecki.flac
Size: 35992989 Hash: 253A38E94F9783BDB7AFEDF67B699CB7 Accuracy: -m8
Conclusion: CDDA 100%
Signature: 0A7D8E9B480EEB63676280609840A7922782E95F
FILE: 05. Krzysztof Penderecki - Utrenja Conductor - Andrzej Markowski.flac
Size: 18459474 Hash: 45789DB477DCFA302EF3C3E923793B71 Accuracy: -m8
Conclusion: CDDA 100%
Signature: 26FF7103875AE3417236F75223E23A075D79F358
FILE: 04. Béla Bartók - Music For Strings, Percussion And Celesta Conductor - Herbert von Kar.flac
Size: 35501425 Hash: A82A8919965855B553575E68E9A73CD9 Accuracy: -m8
Conclusion: CDDA 49%
Signature: 881FB64B24B2385CCAB47AF3A7AEB9D815156902
FILE: 03. György Ligeti - Lontano Conductor - Ernest Bour.flac
Size: 47213850 Hash: 0EC7D98923479EBE53D25D23E7BB542E Accuracy: -m8
Conclusion: CDDA 100%
Signature: 76B9574A920411B04325B2578F3D1C754E62C108
FILE: 02. Wendy Carlos & Rachel Elkind - Rocky Mountains.flac
Size: 13412657 Hash: 7FBAFC0CA851D727968786110D4B73D6 Accuracy: -m8
Conclusion: CDDA 100%
Signature: 433F65123DFFB13B1327AD4568A1A0930999FB21
FILE: 01. Wendy Carlos & Rachel Elkind - The Shining.flac
Size: 15283294 Hash: BD0CF76576FB9A1BF8A336772A04948D Accuracy: -m8
Conclusion: CDDA 100%
Signature: 83CBC2F6A2CE0196367B84F7450F47B9D2976BC2