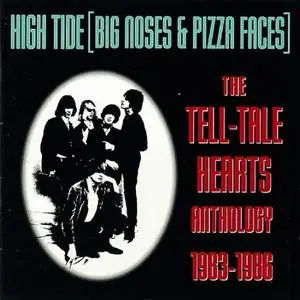 The Tell-Tale Hearts - High Tide - Big Noses And Pizza Faces: Anthology 1983-1986 (1994)
FLAC (tracks) - 407 MB
58:07 | Rock, Garage Rock | Label: Voxx Records
A VOXX classic release back in stock!!!21 cuts complilation,including 9 previously unreleased,highlight this killer compilation from San Diego's eighties version of the Shadows Of Knight. Back in the days of the mid-80s "garage revival" scene that revolved around the Cavern Club,there was no doubt that the Tell-Tale Hearts led the pack of "paisley underground" bands that were popping up everywhere.
They combined primitive and snotty mid 60s garage punk with R&B and blues influences,and had in Ray Brandes a great vocalist. Bill Calhoun played the keys,Eric Bacher was the guitarist,Dave Klowden the powerhouse drummer,and Mike Stax (publisher of the great Ugly Things fanzine) the "bass that ate San Diego." These guys had it all: the "look," the sound,and the carefree attitude."Taking Brit blues invaders like Them,the Animals,and the Yardbirds as a template,not to mention plenty of '60s garage inspiration,San Diego's Tell-Tale Hearts forged a fairly original beat homage between 1983-1986. A bit too gritty and blues-based to really fit in with L.A.'s contemporary Byrds and pop-psychedelia revival (the Rain Parade,the Three O'Clock,Plasticland),the Hearts only cut one album,an EP,and a smattering of singles and live tracks. This anthology brings together a handful of songs from their eponymous debut LP (including an outtake and some remixes),all of their Now Sound EP,five early demos,a few live cuts,and an Australian single. Compiled by bassist Mike Stax and featuring the snider-than-Van Morrison vocals of Ray Brandes,the 21-track collection includes studio highlights like "(You're A) Dirty Liar" and "Me Needing You," as well as some super lo-fi demo covers and a live rendition of the Seeds' "Satisfy You." - AMG
Tracklist
01. My World Is Upside Down
02. Hey Tiger
03. (You're A) Dirty Liar
04. Crackin' Up
05. Cry
06. Just In Case You're Wondering (Live)
07. Crawling Back To Me
08. From Above
09. Losing Myself
10. Forever Alone
11. Me Needing You
12. I'm Gonna Make You Mine
13. At The River's Edge (Live)
14. Satisfy You (Live)
15. It's Just A Matter Of Time
16. One Girl
17. It's Not Me
18. No Surprise
19. Bye Bye Baby
20. Too Many Lovers
21. Promise
–––––––––––-
DON'T MODIFY THIS FILE
–––––––––––-
PERFORMER: auCDtect Task Manager, ver. 1.6.0 RC1 build 1.6.0.1
Copyright © 2008-2010 y-soft. All rights reserved
http://y-soft.org
ANALYZER: auCDtect: CD records authenticity detector, version 0.8.2
Copyright © 2004 Oleg Berngardt. All rights reserved.
Copyright © 2004 Alexander Djourik. All rights reserved.
FILE: 21-the_tell-tale_hearts-promise.flac
Size: 20125282 Hash: D3DD6FF785D8C7C86ED9D7B91CF396BD Accuracy: -m8
Conclusion: CDDA 100%
Signature: C54EFD71E7EF3DA131A931A93FA55E46384238A4
FILE: 20-the_tell-tale_hearts-too_many_lovers.flac
Size: 13060373 Hash: B94C104EE1579782EAF6FC9D2E5DC9E5 Accuracy: -m8
Conclusion: CDDA 100%
Signature: 6DB869A57315A92D65C31664A457550A9B0308F0
FILE: 19-the_tell-tale_hearts-bye_bye_baby.flac
Size: 23686471 Hash: 823D2F5630393DBA79C073E966A92C22 Accuracy: -m8
Conclusion: CDDA 99%
Signature: F949A0DE5E83B7877FF9744349AA201A2A799C23
FILE: 18-the_tell-tale_hearts-no_surprise.flac
Size: 26398115 Hash: 1103A9C5DE2B09E56774946C003055DC Accuracy: -m8
Conclusion: CDDA 100%
Signature: DC438D7DA8B9C45F9C1B34D5F75BF92C5E49642B
FILE: 17-the_tell-tale_hearts-its_not_me.flac
Size: 27439265 Hash: B06ACE7A83E641A6AE103FA3A6C3AF09 Accuracy: -m8
Conclusion: CDDA 100%
Signature: CC09F6707548E7EDFE2E1C423021DF967680F1A1
FILE: 16-the_tell-tale_hearts-one_girl.flac
Size: 20027129 Hash: 4FB1FC67B72EEA310C593F45422B981B Accuracy: -m8
Conclusion: CDDA 100%
Signature: 7D5E6A1F10F7E6874F0868C8434AC0EC2D980B48
FILE: 15-the_tell-tale_hearts-its_just_a_matter_of_time.flac
Size: 22818623 Hash: A08EB131F9128E4178AB73CED7D7BFED Accuracy: -m8
Conclusion: CDDA 100%
Signature: 533C516560ACC57908FAB956AD556A064F98D499
FILE: 14-the_tell-tale_hearts-satisfy_you_(live).flac
Size: 16231165 Hash: 1C5ECFA3E1C9881EFEB40A336E083593 Accuracy: -m8
Conclusion: CDDA 100%
Signature: B37C8A2D21C50B09C345AE25F9B57F09ABB89802
FILE: 13-the_tell-tale_hearts-at_the_rivers_edge_(live).flac
Size: 21003901 Hash: 88C0787B91C39A0D380748082AB30128 Accuracy: -m8
Conclusion: CDDA 100%
Signature: E4A8C152B691DB882CA58B6DF309703D2F701032
FILE: 12-the_tell-tale_hearts-im_gonna_make_you_mine.flac
Size: 23131395 Hash: A58434140FFF68EB4F95BFD239168B2C Accuracy: -m8
Conclusion: CDDA 100%
Signature: 3C4BD6599BC6BCD3B1F063CB4377F1829BC1E1E1
FILE: 11-the_tell-tale_hearts-me_needing_you.flac
Size: 19396696 Hash: 29CB411477E68E52AE3066EEF0B4EFB1 Accuracy: -m8
Conclusion: CDDA 100%
Signature: D4FD81B39F1481A9EC776AE9C8E027B48A118B1F
FILE: 10-the_tell-tale_hearts-forever_alone.flac
Size: 23660290 Hash: A32EF7EBE700AAFCBEFA775373D9193F Accuracy: -m8
Conclusion: CDDA 100%
Signature: 01EF70902FBEBD760132EC1FE46C929F2E257D74
FILE: 09-the_tell-tale_hearts-losing_myself.flac
Size: 15722036 Hash: 40EFA14357E1DBF5D583322CCBF046EF Accuracy: -m8
Conclusion: CDDA 100%
Signature: 377C00BF536140402C96ACB592D44669D246E41C
FILE: 08-the_tell-tale_hearts-from_above.flac
Size: 21694763 Hash: 000F25EF4C30C2988D564F4CFDF39150 Accuracy: -m8
Conclusion: CDDA 100%
Signature: C72E0FD399D338E468A3F6137F956DD9529CD6A0
FILE: 07-the_tell-tale_hearts-crawling_back_to_me.flac
Size: 17978695 Hash: AA403C6BD6A1E2D0755EBACD68FB57F9 Accuracy: -m8
Conclusion: CDDA 100%
Signature: FBAD8E8B73468A55BFB798A2B6EAEE7022B026EB
FILE: 06-the_tell-tale_hearts-just_in_case_youre_wondering_(live).flac
Size: 16876579 Hash: 1FF4330314425E946FC5D973CB59CAAD Accuracy: -m8
Conclusion: CDDA 100%
Signature: 942CA1BB30998BCEC27F6A50B922326C5E6857A7
FILE: 05-the_tell-tale_hearts-cry.flac
Size: 17193475 Hash: FB1FEB3C5F0BB234AD7B60D70A0D074E Accuracy: -m8
Conclusion: CDDA 100%
Signature: C2C245325B0B71CB24C181E34D0F0C88091B6F06
FILE: 04-the_tell-tale_hearts-crackin_up.flac
Size: 18584602 Hash: 8E23E7A7E1199F0E5B5942530576702B Accuracy: -m8
Conclusion: CDDA 99%
Signature: A89DFDDB304360CCF1406AB5F0CDEE8061A0551F
FILE: 03-the_tell-tale_hearts-(youre_a)_dirty_liar.flac
Size: 20334132 Hash: 8FCB9F0D7CD1DD4058F0A19663BC0B7E Accuracy: -m8
Conclusion: CDDA 100%
Signature: 767ACB735D300A03A692AE01679894A380416141
FILE: 02-the_tell-tale_hearts-hey_tiger.flac
Size: 19673540 Hash: 3346062E664ACEA7D334E2BA1C770F9A Accuracy: -m8
Conclusion: CDDA 100%
Signature: 078C96A10BEAD0FCDC9F527F4E3C0F4521ABF6C0
FILE: 01-the_tell-tale_hearts-my_world_is_upside_down.flac
Size: 21574627 Hash: AA419F5D3FE452FCCA5DC74590F5A206 Accuracy: -m8
Conclusion: CDDA 100%
Signature: 603C3E851A1F68DD3EBEE66532A77D418090DFEE