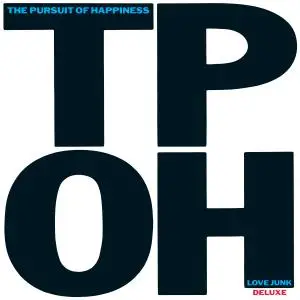 The Pursuit of Happiness - Love Junk [Deluxe Edition] (1988/2018)
MP3 CBR 320kbps | Tracks: 26 | 87:22 min | 200 Mb
Style: Alternative Rock, Power Pop | Label: Universal Music
Digitally remastered and expanded deluxe 30th anniversary two CD edition. Housed in a digipak including a 24-page booklet. Love Junk was originally produced by long-time collaborator Todd Rundgren and went on to be certified platinum in Canada. Today it is recognized as one of the Top 100 debut albums ever released, anywhere! The deluxe edition of the album includes unreleased demo and live versions, along with the original indie tracks that were recorded and released that landed the band their deal with Chrysalis Records in 1988. Along with the stand out track, "I'm An Adult Now", the album is known for it's alternative radio staples "Killed By Love", "Hard to Laugh" and "She's So Young".
Tracklist:
01. Hard To Laugh (Remastered 2018)
02. Ten Fingers (Remastered 2018)
03. I'm An Adult Now (Remastered 2018)
04. She's So Young (Remastered 2018)
05. Consciousness Raising As Social Tool (Remastered 2018)
06. Walking In The Woods (Remastered 2018)
07. Beautiful White (Remastered 2018)
08. When The Sky Comes Falling Down (Remastered 2018)
09. Looking For Girls (Remastered 2018)
10. Man's Best Friend (Remastered 2018)
11. Tree Of Knowledge (Remastered 2018)
12. Killed By Love (Remastered 2018)
13. Down On Him (Remastered 2018)
14. I'm An Adult Now (Original 1986 Version)
15. Let My People Go (Remastered 2018)
16. Walking In The Woods (Demo/Remastered 2018)
17. Handsomest Man And Prettiest Girl (Live)
18. All That You Got Me For Christmas (Demo/Remastered 2018)
19. Wake Up And Smell Cathy (Demo)
20. Take You With Me (Remastered 2018)
21. Shave Your Legs (Demo/Remastered 2018)
22. Master (Live)
23. She's So Young (The Indie 12" Record/Remastered 2018)
24. Killed By Love (The Indie 12" Record/Remastered 2018)
25. If You Feel That Way (Demo/Remastered 2018)
26. Santa Claus Is Back In Town (Live)