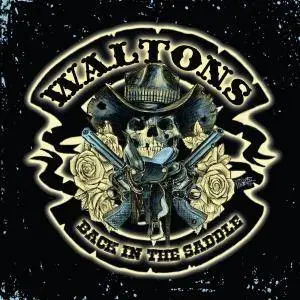 The Waltons - Back in the Saddle (2018)
MP3 CBR 320kbps | Tracks: 15 | 45:22 min | 104 Mb
Style: Punk Rock, Alternative, Psychobilly | Label: Quasilectric
Brandnew studio record of this iconic punk/rockabilly outfit THE WALTONS - Over 4.200 scanned albums sales in Germany for their latest records - Release show at the iconic Wild at Heart club (Berlin) plus a performance at the famous WACKEN OPEN AIR (August 8th, 2018) Originally founded in Borken (Nort Rhine-Westphalia) the band quickly moved to Berlin in the 1980s. With their unique blend of punk and rockabilly THE WALTONS created their own cowpunk style and quickly acquired a large following. The also became famous for their secret and highly illegal concerts in the former GDR. "Back in the Saddle" includes fresh cowpunk hits that will definitely become new hymns. THE WALTONS take no prisoners here and truly deliver what they stand for – cowpunk.
Tracklist:
01. Intro 2:36
02. Western Trail 2:47
03. Back in the Saddle 2:59
04. Whisky on the Borderline 2:59
05. Don't Reach out for My Mind! 3:11
06. You're Still a Part of Me 3:22
07. Angels 2:59
08. America First! 2:33
09. Anger 2:45
10. The Sunlight 4:20
11. Riding a Dead Horse 3:33
12. Without a Bass 3:14
13. Faith 3:10
14. Dark Valley 3:06
15. Goin' Rodeo 2:03