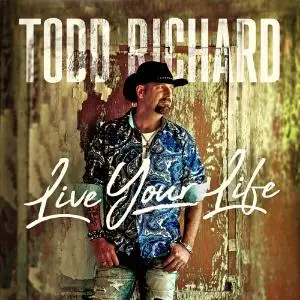 Todd Richard - Live Your Life (2019)
WEB FLAC (tracks) - 224 MB | Tracks: 9 | 29:42 min
Style: Country | Label: Harley Blue Music
Todd Richard is one of the most distinct, refreshing artists on the country music scene today. Born in Hamilton but raised in BC, Todd's rich vocals and unique style have fans sitting up and taking notice – and they're loving what they see and hear. BC Country Music associations 'Humanitarian of the Year in 2017 & again in 2018, two time CBC Searchlight semi-finalist , Todd has been busy building his growing fan base of TR Rebels and "Frands" And shared the stage with many of country music's top acts, including Dwight Yoakum, Dierks Bentley, Gord Bamford, Aaron Goodvin and rock legend Randy Bachman to name a few.
Todd has been back in studio working on new songs for his third album with exciting young Vancouver producer Anthony Fiddler (Fiddler Productions) and is excited to have the first two singles "Still Got Hope" and "King of Crown" receiving widespread international radio airplay!
Tracklist:
01. Live Your Life
02. Still Got Hope
03. Take Your Own Advice
04. Halfway
05. If You Leave Me Like This
06. King of Crown
07. Stick on the Ice
08. Champagne for Breakfast
09. King of Crown Extended

FILE: 01. Live Your Life.flac
Size: 27830210 Hash: 662AE17BB05CCFB6DDCE3940FC95BE2F Accuracy: -m0
Conclusion: CDDA 100%
Signature: 6E98D762990C18A61920857980F81641C52EACAB
FILE: 02. Still Got Hope.flac
Size: 24369694 Hash: 704A5C38D5799F411CCA9C1037D34A55 Accuracy: -m0
Conclusion: MPEG 93%
Signature: 33D6108DE7656A6FC366830B8871284C3903DAFD
FILE: 03. Take Your Own Advice.flac
Size: 27397423 Hash: 07EA980EDEF8B85EE0394C819C2FAE02 Accuracy: -m0
Conclusion: CDDA 100%
Signature: 782782FFF03DA11C2D85AF0C2FEC956521C20BBA
FILE: 04. Halfway.flac
Size: 24989543 Hash: 0B1A847EC767CB530D3DD04F16CF45A6 Accuracy: -m0
Conclusion: CDDA 100%
Signature: 08E38C8B348D991DB3FE979BBCBD64C594484DF7
FILE: 05. If You Leave Me Like This.flac
Size: 25274354 Hash: 730291291BEFE255485D8CA4D455CACB Accuracy: -m0
Conclusion: CDDA 99%
Signature: 7EBBACBB546DE2B519CF36A827FA65664A5B436E
FILE: 06. King of Crown.flac
Size: 22802068 Hash: 9701591FD56CF82E85445E4B2C902F2F Accuracy: -m0
Conclusion: MPEG 100%
Signature: 5DBCB06E7F598C1C1C3787AC618A72FFC81B9953
FILE: 07. Stick on the Ice.flac
Size: 26456620 Hash: 7958B4062D64825C3062FF569EE2F8A6 Accuracy: -m0
Conclusion: CDDA 100%
Signature: 3F6A3E091AB0B3E8E29FA3A88E10E03D84DDB3E0
FILE: 08. Champagne for Breakfast.flac
Size: 27747697 Hash: 2F1FAB0134DF05A9001D013B007FC601 Accuracy: -m0
Conclusion: CDDA 100%
Signature: 0EE5E32BB6ED9A98BD8BB6381A8AE59A2DF52981
FILE: 09. King of Crown Extended.flac
Size: 27998207 Hash: 3AEA7E5677B1BCF56FA6B4450E346380 Accuracy: -m0
Conclusion: CDDA 100%
Signature: CDE7CF4F3A78FB70ABD5A4C3063CEAAC8C35AEF7