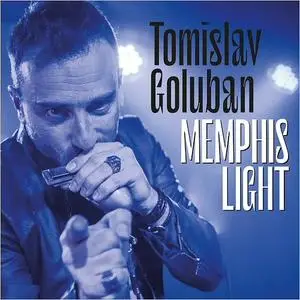 Tomislav Goluban - Memphis Light (2020)
FLAC tracks | 38:52 | 246 Mb
Genre: Blues, Rock / Label: Spona
Harmonicist Tomislav Goluban's 11th studio album, ''Memphis Light,'' is a sequel of sorts to his previous album ''Chicago Rambler,'' which made significant impact outside Croatia. Nine of the ten tracks are written by Tomislav and the tenth is the classic 'House Of The Rising Sun.' As suggested by the album title, Goluban took a trip to the Home of the Blues to record at Ardent Studios in Memphis, Tennessee. Tomislav Goluban (vocals, harp) is joined by his band ''Little Pigeon'' - Jeff Jensen (guitars), David Green (drums), Rick Steff (keyboard), and Bill Ruffino (bass). Mark Johnson (slide guitar), Vince Johnson (vocals), Franher Joseph, Reba Russell and Daunielle Hill (backing vocals) were guests on various cuts.
Track List:
1. Hayloft Blues (4:00)
2. Fun Starts Here (5:49)
3. Country Bag (2:50)
4. Disappear For Good (3:57)
5. Memphis Light (4:43)
6. House Of The Rising Sun (3:17)
7. Spirit Will Never Get Old (3:57)
8. Party Time Blues (2:36)
9. Woman Needs A Man (3:30)
10. Can I Be What I Want (4:09)
ANALYZER: auCDtect: CD records authenticity detector, version 0.8.2
Copyright © 2004 Oleg Berngardt. All rights reserved.
Copyright © 2004 Alexander Djourik. All rights reserved.


FILE: 01. TOMISLAV GOLUBAN - Hayloft Blues.flac
Size: 24795725 Hash: 1BD3741FF11BD1504DE6DB4E577C8D7C Accuracy: -m40
Conclusion: CDDA 100%
Signature: 2F596874D0DA22345B095F44FE9B279ECDE0460A
FILE: 02. TOMISLAV GOLUBAN - Fun Starts Here.flac
Size: 34636889 Hash: C54C9E70E18FCCACA7C182AE6BD85AA6 Accuracy: -m40
Conclusion: CDDA 99%
Signature: 599F04665579CD76415606E3EB9334B110A1CB2E
FILE: 03. TOMISLAV GOLUBAN - Country Bag.flac
Size: 17634285 Hash: F2ADD9C440C7C8A998400A9FA5279B26 Accuracy: -m40
Conclusion: CDDA 100%
Signature: 83FDB23D34DAFBDB370405E8E4119DD0E0BA5509
FILE: 04. TOMISLAV GOLUBAN - Disappear for Good.flac
Size: 20264364 Hash: FD096029752A0F10BE894DEBBCA4447C Accuracy: -m40
Conclusion: CDDA 99%
Signature: E25AE000DADC51F4655200710E22EFC022FB8CC6
FILE: 05. TOMISLAV GOLUBAN - Memphis Light.flac
Size: 31936937 Hash: E5C1B78C8EF64FE80B7E18918FDC9EBF Accuracy: -m40
Conclusion: CDDA 100%
Signature: 85DA183E53FE4E58417F60DFC53D7EB2102A6954
FILE: 06. TOMISLAV GOLUBAN - House of the Rising Sun.flac
Size: 21742061 Hash: B01C057D1A053447CC14CF4EB1B5BD8A Accuracy: -m40
Conclusion: CDDA 100%
Signature: 1A6C0B75A8427D1C56776128D42835D6A0DFAEA8
FILE: 07. TOMISLAV GOLUBAN - Spirit Will Never Get Old.flac
Size: 27452748 Hash: DEF1B8798B14905902230E4AD80C2C18 Accuracy: -m40
Conclusion: CDDA 100%
Signature: EC1C7D00BEC162025D2243D08F1EE448ACF84932
FILE: 08. TOMISLAV GOLUBAN - Party Time Blues.flac
Size: 18227642 Hash: 81037FBDAA98E86F4ED65F980309772C Accuracy: -m40
Conclusion: CDDA 100%
Signature: 64E2C191837A9C051C47368C589714B5771FB625
FILE: 09. TOMISLAV GOLUBAN - Woman Needs a Man.flac
Size: 24244435 Hash: E6A7C9E41F9BBB2C15BC282693BEED10 Accuracy: -m40
Conclusion: CDDA 100%
Signature: 2DCEA95184BDFB9CAF1BFEAF0177689D939D7FB3
FILE: 10. TOMISLAV GOLUBAN - Can I Be What I Want.flac
Size: 27827399 Hash: 83B91E4D89CA7F15F5719A42E9573F6A Accuracy: -m40
Conclusion: CDDA 100%
Signature: E5B372780217C387969EE58FBC8908A793A25C97