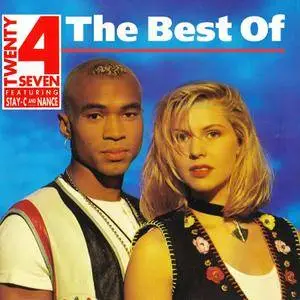 Twenty 4 Seven - The Best Of (2016)
Pop, Dance, Eurodance | MP3 CBR 320 kbps | 02:22:07 | 346 MB
Label: Nikitin Music Group | Release Year: 2016
Twenty 4 Seven is a Dutch Eurodance act, created by record producer Ruud van Rijen in 1989. Active sporadically ever since, the act has featured nine different vocalists, has performed across Europe and Africa, and as of 2010 is fronted by Li Ann and Stacey "Stay-C" Seedorf. One of the earliest popular Eurodance projects, the project originated as a hip hop group, and transitioned to the mainstream Eurodance sound in the early 90s with "Slave to the Music", the band's most successful single to date. The group originally featured rapper Tony Dawson-Harrison, who created the Captain Hollywood Project in 1992.
TRACKLIST
01. Slave to the Music
02. I Can't Stand It '94
03. Leave Them Alone (Rap Single Mix)
04. We Are the World
05. Take Me Away
06. Here Is My Heart
07. Keep on Tryin'
08. You Gotta Be Safe
09. Oh Baby!
10. Is It Love
11. Take Your Chance
12. I Wanna Show You
13. Leave Them Alone
14. What Time Is It
15. Friday Night
16. Gimme More
17. Paradise
18. If You Want My Love
19. Free
20. Music Is My Life
21. Breakin' Up
22. Runaway
23. Keep on Goin'
24. Let's Stay
25. Angel
26. Slave to the Music (Ferry & Garnefski Clubmix)
27. Is It Love (Dancability Clubmix)
28. Oh Baby! (Atlantic Ocean Dance Mix)
29. If You Want My Love (Charly Lownoise & Mental Theo Freestyle)
30. We Are the World (The World According to Ruyters & Romero)
31. Greatest Hits Megamix