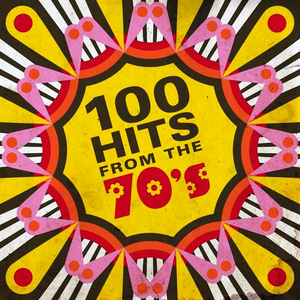 VA - 100 Hits From the 70's (2019)
MP3 320 kbps | 06:17:55 | 864 Mb
Genre: Disco, R&B, Pop, Rock, Jazz / Label: Warner Music Group - X5 Music Group
Hit collection Warner Music Group with lots of interesting tracks! With the support of performers The Cars, Chris Spedding, Nicolette Larson, America, John Sebastian, Shirley Bassey, Blues Image, The Spinners the contrast of this selection is filled. X5 Music license music rights from select recording owners for sales and marketing of music products, customized by the X5 team for the digital marketplace.
Track List:
01. Frankie Valli & The Four Seasons - December, 1963 (Oh What A Night!) 3:21
02. Faces - Stay With Me 4:39
03. Sister Sledge - We Are Family 3:19
04. The Cars - Just What I Needed 3:46
05. Hot Chocolate - Brother Louie 4:59
06. Flamin' Groovies - Shake Some Action 4:32
07. Gwen Mccrae - Love Insurance 3:46
08. Norma Jean Wright - Sorcerer 5:00
09. The Trammps - Disco Inferno 3:34
10. Alvin Stardust - Red Dress 2:51
11. Jethro Tull - Locomotive Breath 4:29
12. Wizzard - See My Baby Jive 5:02
13. Chris Spedding - Motor Bikin' 2:37
14. Brian Chapman - It's Magic 3:41
15. Stacy Lattisaw - When You're Young And In Love (Disco Version) 3:30
16. Hawkwind - Silver Machine (Single Version) 4:41
17. Baby Huey & The Baby Sitters - Mama Get Yourself Together 6:15
18. Babe Ruth - Doctor Love 3:02
19. Blackfoot - Train, Train 3:36
20. Nicolette Larson - Lotta Love 3:06
21. Olivia Newton-John - Have You Never Been Mellow 3:34
22. The J. Geils Band - Must Of Got Lost 2:58
23. Randy Crawford - Street Life (Edit) 4:49
24. Slave - Slide 6:51
25. Bloodstone - Never Let You Go 3:35
26. America - A Horse With No Name 4:12
27. Lobo - I'd Love You To Want Me 4:04
28. Seals And Crofts - Summer Breeze 3:26
29. John Sebastian - Welcome Back (From "Welcome Back, Kotter") 2:53
30. Judy Collins - Both Sides Now 3:16
31. Harry Chapin - Cat's In The Cradle 3:46
32. Little Feat - Dixie Chicken 3:56
33. Pilot - Magic 3:06
34. Daryl Hall & John Oates - She's Gone 5:13
35. Shirley Bassey - (Where Do I Begin) Love Story 3:15
36. The Meters - Cissy Strut 3:02
37. Dr. John - Right Place Wrong Time 2:55
38. Curtis Mayfield - Move On Up 2:46
39. The Velvet Underground - Sweet Jane 4:06
40. Blues Image - Ride Captain Ride 3:46
41. Bread - Everything I Own 3:08
42. Andrew Gold - Lonely Boy 4:25
43. England Dan & John Ford Coley - We'll Never Have To Say Goodbye Again (Single Version) 2:52
44. The Spinners - The Rubberband Man 3:35
45. Harpo - Moviestar (English Version) 3:21
46. Kc & The Sunshine Band - That's The Way (I Like It) 3:05
47. Bettye Swann - Today I Started Loving You Again 2:52
48. Randy Vanwarmer - Just When I Needed You Most 4:01
49. Foreigner - Feels Like The First Time 3:13
50. George Benson - On Broadway (Edited Version) 5:16
51. Foghat - Slow Ride 3:58
52. Bette Midler - The Rose 3:35
53. The Spinners, Dionne Warwick & The Spinners - Then Came You 4:00
54. Tom Robinson Band - 2-4-6-8 Motorway 3:17
55. George Mccrae - Rock Your Baby 6:24
56. Chic - Le Freak 5:30
57. Alice Cooper - School's Out 3:30
58. Brownsville Station - Smokin' In The Boy's Room 2:58
59. Al Stewart - Year Of The Cat 6:35
60. Gary Wright - Dream Weaver 4:16
61. Maria Muldaur - Midnight At The Oasis 3:50
62. Dr Feelgood - Milk And Alcohol 2:36
63. Warren Zevon - Werewolves Of London 3:28
64. Bootsy Collins - Bootzilla 5:37
65. Dionne Warwick - If We Only Have Love 4:20
66. Tower Of Power - You're Still A Young Man 5:37
67. Gordon Lightfoot - Beautiful 3:23
68. Jo Jo Gunne - Run Run Run 2:35
69. Donny Hathaway - I Love You More Than You'll Ever Know 4:35
70. The Persuaders - Thin Line Between Love And Hate 3:22
71. Betty Wright - Clean Up Woman 2:49
72. Talking Heads - Psycho Killer 4:21
73. The Impressions - Love Me 4:10
74. King Curtis - Whole Lotta Love (Single Version) 2:43
75. Charles Wright & The Watts 103rd. Street Rhythm Band - Your Love (Means Everything To Me) 3:04
76. Fanny - Charity Ball (Single Version) 2:30
77. Jimmy Webb - P. F. Sloan 4:10
78. The Three Degrees - You're The One (Mono Version) 3:23
79. Ides Of March - L.A. Goodbye 2:52
80. Jackie Deshannon - Vanilla O'lay (Single Version) 3:02
81. Don Nix - Olena 4:19
82. Aretha Franklin - Bridge Over Troubled Water 5:31
83. Brook Benton - Rainy Night In Georgia 3:54
84. Clarence Carter - Patches 3:14
85. The Rascals - Glory Glory 3:30
86. The Monkees - Oh My My 3:02
87. Tommy James And The Shondells - Gotta Get Back To You 3:05
88. Dee Dee Warwick & The Dixie Flyers - She Didn't Know (She Kept On Talking) [Single Version] 3:51
89. Marshall Hain - Dancing In The City 3:47
90. Little Richard - Freedom Blues 3:00
91. Eddie Rabbitt - Drinkin' My Baby (Off My Mind) 2:25
92. Delaney & Bonnie - Soul Shake 3:07
93. Iron Butterfly - Easy Rider (Let The Wind Pay The Way) 3:06
94. Mud - Tiger Feet 3:50
95. Chicago - Baby What A Big Surprise 3:06
96. Archie Bell And The Drells - Wrap It Up (Single Version) 2:49
97. Graham Central Station - Your Love 3:19
98. Showaddywaddy - Under The Moon Of Love 3:15
99. Mass Production - Firecracker 5:03
100. Crabby Appleton - Go Back 3:06