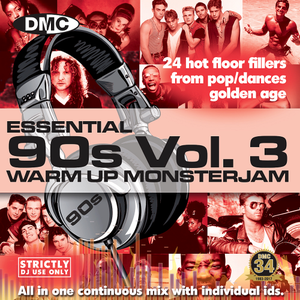 VA - DMC Essential 90s Warm Up Monsterjam Vol 3 (2017)
MP3 CBR 320 kbps | 1:19:57 | 183 Mb
Genre: Dance, Disco, Electronic, Hip Hop, Funk, Soul, Techno / Label: DMC Records
DMC provides a download service as part of their service for professional Disc Jockeys, radio stations and specific music-orientated professionals only, offering the sale of goods relating to DJing. DMC products are for promotional use only and are not intended for sale to or use by members of the general public. Resale, distribution, copying, duplicating, lending, hiring or any form of copyright infringement is expressly prohibited. 24 hot floor fillers from the golden age of pop & dance. All in one continuous dj friendly mix.
Track List:
Dmc - Essential 90s Warm Up Monsterjam Vol. 3 1:19:57
01 Lighthouse Family 'Raincloud'
02. Will Smith 'Just The Two Of Us'
03. Peter Andre 'Flava'
04. Lisa Lisa & The Cult Jam 'Let The Beat Hit ´Em'
05. Simply Red 'Something Got Me Started'
06. Diana King 'L-L- Lies'
07. Michael Jackson & Janet Jackson 'Scream'
08. Gabrielle 'Dreams'
09. Deee-Lite 'Groove Is In The Heart'
10. Janet Jackson 'Throb' (Morales Remix)
11. Mariah Carey Fe. Walter Afanasieff 'My All' (Morales Remix)
12. Reel 2 Real 'Raise Your Hands'
13. Take That 'Everything Changes'
14. M People 'Moving On Up' (MK Remix)
15. Jamiroquai 'Alright' (Tee's Digital Club Remix)
16. Snap 'Rhythm Is A Dancer'
17. George Michael 'Star People' (Fortnight Club Mix)
18. Moby 'Go'
19. Tzant 'Sound Of Wickedness'
20. Cornershop 'Brimful Of Asha'
21. Tamperer Fe. Maya 'Feel It'
22. Boyzone 'Picture Of You'
23. MC Hammer 'U Can't Touch This'
24. OMC 'How Bizarre'