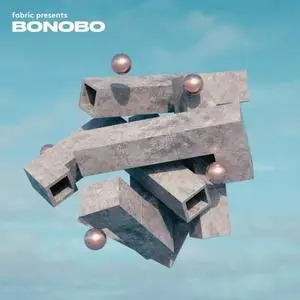 VA - Fabric Presents: Bonobo (2019)
FLAC (tracks) / MP3 320 kbps | 01:13:38 | 169 Mb / 449 Mb
Genre: Electronic, Deep House, Downtempo, Trip-Hop / Label: Fabric
Ushering in an exciting new era for the label, nightclub and mix series, Bonobo opens the 'fabric presents' series that pledges CD, digital, and vinyl releases on a quarterly basis. His highly textural aesthetic translates into an ethos that looks to introduce a more open musical palette without losing sight of its past. His mix supports 10 exclusives or unreleased tracks, including 2 from himself and another from his rare pop-up alias Barakas. Employing the multi-instrumental arrangements of his own work in this 74 minutes of house, techno, electronica and breakbeat, each track exudes character and allows animated melodies to wander and develop, all the while grounded by an acute sense of harmonic progression and rhythmic precision.
Track List:
01. Bonobo - Flicker 05:45
02. Bonobo - Boston Common 04:48
03. Pote - Jacquot (Waters Of Praslin) 06:19
04. Alex Kassian - Hidden Tropics 07:38
05. Ame - Nia 07:49
06. Durante - Maia 05:12
07. Afriquoi - Cold Harbour 08:09
08. Bonobo - Ibrik 05:50
09. Olsen - Femenine 07:14
10. O'Flynn - TKOTN 05:26
11. TSHA - Sacred 05:47
12. Will Saul - By Your Side 06:18
13. Titeknots - Buzzard Walk 05:18
14. Dan Kye - Focus 04:39
15. Barakas - Roach 03:19
16. R. Lyle - Perpetrator 07:36
17. Rone - Mirapolis (Laurent Garnier Remix) 09:18
18. Throwing Snow - Rheged 05:26
19. Nepa Allstar - The Way 04:35
20. DJ Seinfeld - Stargard 03:20
21. Annjet - If You (Club Mix) 05:29
22. John Beltran - Collage Of Dreams 06:32
ANALYZER: auCDtect: CD records authenticity detector, version 0.8.2
Copyright © 2004 Oleg Berngardt. All rights reserved.
Copyright © 2004 Alexander Djourik. All rights reserved.


FILE: 01 - Flicker.flac
Size: 32128128 Hash: 421E8437255E6A1A59A5E4D813ECA90A Accuracy: -m40
Conclusion: CDDA 100%
Signature: 71FD31E126E27DDF2B08E7E50B0C067E477DFDD5
FILE: 02 - Boston Common.flac
Size: 27706055 Hash: 9A300FDBA30F7C03DAAED741A1C35078 Accuracy: -m40
Conclusion: CDDA 99%
Signature: ED24C86186B60D706D88EC3FA00009A74239E012
FILE: 03 - Jacquot (Waters Of Praslin).flac
Size: 24670092 Hash: E33D4864A011B4337AA9A6E8BEF1FD68 Accuracy: -m40
Conclusion: CDDA 100%
Signature: 8DB08323E4F8909FF467AA8FEE26A15E84089A23
FILE: 04 - Hidden Tropics.flac
Size: 13137155 Hash: 7DB1D11C0583AFB727778F93A91DBFFB Accuracy: -m40
Conclusion: CDDA 100%
Signature: AD3EACB3C563DAF9485086E32B6680B7EA6A9622
FILE: 05 - Nia.flac
Size: 22728506 Hash: DB04D3A0CD58DE3D027A5C4BDF23344D Accuracy: -m40
Conclusion: CDDA 100%
Signature: 8A158B542D983B06F40A30DB370AF7D6099B7AAB
FILE: 06 - Maia.flac
Size: 22700814 Hash: E4583BDBB5243D95A773814419643BCA Accuracy: -m40
Conclusion: MPEG 95%
Signature: 61A36FC49E4215C4AC2F48A1C1B804796CC5E13E
FILE: 07 - Cold Harbour.flac
Size: 27432484 Hash: B2A90D97F782AD7F76321CDD573F11B7 Accuracy: -m40
Conclusion: CDDA 100%
Signature: D3198DCC3DC38704A13AB7E3141AEB8AE4B9592C
FILE: 08 - Ibrik.flac
Size: 23370834 Hash: 4E750A2C5E43F3729F1C641015016B42 Accuracy: -m40
Conclusion: CDDA 100%
Signature: 81DD9C542DCA0727AFDC4C6BB6AE4777568F4DB1
FILE: 09 - Femenine.flac
Size: 25450403 Hash: 12274B69886E5494F3721491FD6FE834 Accuracy: -m40
Conclusion: CDDA 99%
Signature: 0EF4AA217C0512D1225C9505B2F1325B585A7D21
FILE: 10 - TKOTN.flac
Size: 18068328 Hash: D7CCF68DF0332E4EEC2B755D103A7EB2 Accuracy: -m40
Conclusion: CDDA 100%
Signature: 1D249B7CB7CAB9B7C14F55A0629D2555434B70FD
FILE: 11 - Sacred.flac
Size: 13912380 Hash: 37BF70AA8E53F31303698B817CC72370 Accuracy: -m40
Conclusion: CDDA 100%
Signature: E0BB8CDFC046F691E10E66A97B99C85CD9A78DB7
FILE: 12 - By Your Side.flac
Size: 19791115 Hash: 42EAC4B8BAEF69786C8EE79AB9C65759 Accuracy: -m40
Conclusion: CDDA 92%
Signature: 45030A7E8E3A286AF97FA20F1DDE1C5D35D55767
FILE: 13 - Buzzard Walk.flac
Size: 19958637 Hash: C3B62FA5CEA2C82FD2FBD57DE78DA2B1 Accuracy: -m40
Conclusion: CDDA 76%
Signature: E47B09C8020F41F087A3CFD071F57807B2DA2C4F
FILE: 14 - Focus.flac
Size: 19273150 Hash: 8F0902D86F4F92AB50C4E8A30C810EB4 Accuracy: -m40
Conclusion: CDDA 99%
Signature: 3D895917C9BB126BEB6ED5F5AB265B0DFD5C09FB
FILE: 15 - Roach.flac
Size: 12981357 Hash: 1E37FCFBF63BDA97C3A1F769674E342F Accuracy: -m40
Conclusion: CDDA 99%
Signature: 52A4F0F23CE739FAEADE68611FA95E4BE9D93596
FILE: 16 - Perpetrator.flac
Size: 13909680 Hash: E23F198B0E534792458806B4702AB528 Accuracy: -m40
Conclusion: CDDA 100%
Signature: 681EEB4476BD8530A3289C422504BDDD549C52F0
FILE: 17 - Mirapolis (Laurent Garnier Remix).flac
Size: 40060962 Hash: E8C892C437F3CFFF9BD724C4B92813E4 Accuracy: -m40
Conclusion: CDDA 100%
Signature: 9375A41C6D2AA621CD0F20F6D793E510BF63B96C
FILE: 18 - Rheged.flac
Size: 22590824 Hash: 83B89C5ED78B6ACB8A9303D19B6863B7 Accuracy: -m40
Conclusion: CDDA 100%
Signature: B92399A0022AF10D7F2027D48F526C013701BBAC
FILE: 19 - The Way.flac
Size: 21462023 Hash: 59EA859EED042D150D297F1BAB3FD67E Accuracy: -m40
Conclusion: CDDA 100%
Signature: 3E162F2313A868B42CE5571F14A17DE653595BD2
FILE: 20 - Stargard.flac
Size: 11194045 Hash: 03893C50F55FB01E0E303A96EA909C75 Accuracy: -m40
Conclusion: CDDA 100%
Signature: 47F756FB3726FCAB9646114AE49C3F0EC6E904A8
FILE: 21 - If You (Club Mix).flac
Size: 18098380 Hash: D2BF8D1E8A05D43051C073FBD526F56D Accuracy: -m40
Conclusion: CDDA 99%
Signature: 248FB37D4FE2EA673726DBF6A817DBAF89F4B9F9
FILE: 22 - Collage Of Dreams.flac
Size: 20436734 Hash: 18E4E6C6F10878DD2FA3E73DFBAD7EA8 Accuracy: -m40
Conclusion: ???
Signature: 33C4F9107772603CF5D409546EF1AC2904EFBBA9