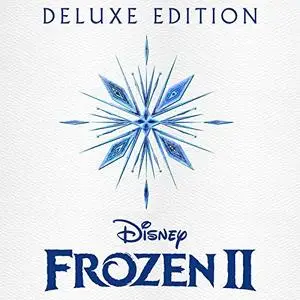 VA - Frozen 2 (Original Motion Picture Soundtrack Deluxe Edition) (2CD, 2019)
FLAC tracks | 02:09:54 | 669 Mb
Genre: Soundtrack / Label: Walt Disney Records
Frozen 2 is the soundtrack to the upcoming Disney film of the same name. The soundtrack was released on November 15, 2019, while the film will be released on November 22. It features seven new songs again composed by Kristen Anderson-Lopez and Robert Lopez along with the return of "Reindeer(s) Are Better Than People" from the original movie, in addition to end credits covers of three of the film's new songs by Panic! at the Disco, Kacey Musgraves and Weezer, respectively. The deluxe edition features a second disc of score tracks by composer Christophe Beck.
Track List:
CD1
[02:05] 01. Evan Rachel Wood - All Is Found
[03:29] 02. Josh Gad, Kristen Bell, Idina Menzel, Jonathan Groff & Cast of Frozen II - Some Things Never Change
[03:14] 03. Idina Menzel (Ft. AURORA) - Into the Unknown
[01:51] 04. Josh Gad - When I Am Older
[00:26] 05. Jonathan Groff - Reindeer(s) Are Better Than People (Cont.)
[03:00] 06. Jonathan Groff - Lost in the Woods
[04:20] 07. Idina Menzel & Evan Rachel Wood - Show Yourself
[03:36] 08. Kristen Bell - The Next Right Thing
[03:09] 09. Panic! at the Disco - Into the Unknown
[03:03] 10. Kacey Musgraves - All Is Found
[03:05] 11. Weezer - Lost in the Woods
[01:54] 12. Evan Rachel Wood - All Is Found (Lullaby Ending) [Outtake]
[02:56] 13. Kristen Bell - Home (Outtake)
[04:01] 14. Kristen Anderson-Lopez & Patti Murin - I Seek the Truth (Outtake)
[01:25] 15. Josh Gad - Unmeltable Me (Outtake)
[03:46] 16. Jonathan Groff & Kristen Bell - Get This Right (Outtake)
[02:07] 17. Kristen Anderson-Lopez & Robert Lopez - All Is Found (Instrumental)
[03:27] 18. Kristen Anderson-Lopez & Robert Lopez - Some Things Never Change (Instrumental)
[03:16] 19. Kristen Anderson-Lopez & Robert Lopez - Into the Unknown (Instrumental)
[01:52] 20. Kristen Anderson-Lopez & Robert Lopez - When I Am Older (Instrumental)
[00:14] 21. Kristen Anderson-Lopez & Robert Lopez - Reindeer(s) Are Better Than People (Cont.) (Instrumental)
[03:01] 22. Kristen Anderson-Lopez & Robert Lopez - Lost in the Woods (Instrumental)
[04:18] 23. Kristen Anderson-Lopez & Robert Lopez - Show Yourself (Instrumental)
[03:36] 24. Kristen Anderson-Lopez & Robert Lopez - The Next Right Thing (Instrumental)
[03:08] 25. Kristen Anderson-Lopez & Robert Lopez - Into the Unknown (Panic! at the Disco Version/Instrumental)
[03:01] 26. Kristen Anderson-Lopez & Robert Lopez - All Is Found (Kacey Musgraves Version/Instrumental)
[03:02] 27. Kristen Anderson-Lopez & Robert Lopez - Lost in the Woods (Weezer Version/Instrumental)
CD2
[00:59] 28. Christophe Beck - Introduction
[02:35] 29. Christophe Beck - The Northuldra
[01:05] 30. Christophe Beck - Sisters
[01:21] 31. Christophe Beck - Exodus
[02:42] 32. Christophe Beck - The Mist
[03:06] 33. Christophe Beck - Wind
[04:37] 34. Christophe Beck & Cast of Frozen 2 (Ft. Cast of Frozen 2 & Christophe Beck) - Iduna's Scarf
[03:16] 35. Christophe Beck - Fire and Ice
[01:57] 36. Christophe Beck - Earth Giants
[04:55] 37. Christophe Beck - The Ship
[02:32] 38. Christophe Beck - River Slide
[02:47] 39. Christophe Beck - Dark Sea
[02:58] 40. Christophe Beck - Ghosts of Arendelle Past
[03:43] 41. Christophe Beck - Gone Too Far
[02:05] 42. Christophe Beck - Rude Awakening
[03:34] 43. Christophe Beck - The Flood
[01:40] 44. CANTUS - Reindeer Circle
[03:50] 45. Christophe Beck - Reunion
[03:25] 46. Christophe Beck - Epilogue (2019)
ANALYZER: auCDtect: CD records authenticity detector, version 0.8.2
Copyright © 2004 Oleg Berngardt. All rights reserved.
Copyright © 2004 Alexander Djourik. All rights reserved.


FILE: 28. Christophe Beck - Introduction.flac
Size: 5388236 Hash: 093904F7178F91385D451666EE9D04A0 Accuracy: -m40
Conclusion: CDDA 100%
Signature: 433F13B8E7D2AE5FBD52ADA17DE2A003254DA277
FILE: 29. Christophe Beck - The Northuldra.flac
Size: 11955186 Hash: B4D1E3063AD1905CBF152D5EC7E5FF86 Accuracy: -m40
Conclusion: CDDA 100%
Signature: 64CF9C3CAC994DF40EDA76809DB231B36F87C14E
FILE: 30. Christophe Beck - Sisters.flac
Size: 4067707 Hash: 8219D60655DB7FCD24A528845497E3F0 Accuracy: -m40
Conclusion: CDDA 99%
Signature: 57618F3614168E60CDC2939987D47A8D63523867
FILE: 31. Christophe Beck - Exodus.flac
Size: 6900184 Hash: 44A288033B0B69C172C4C029ACDFA96A Accuracy: -m40
Conclusion: CDDA 100%
Signature: 881F1C53884529EF986606356BB52AC172405CBC
FILE: 32. Christophe Beck - The Mist.flac
Size: 12508682 Hash: F566A22FE8DDAE4CCDBEA801C9734D8E Accuracy: -m40
Conclusion: CDDA 99%
Signature: E42908344CE57BD0F87EB6CE57BD704960CDC53E
FILE: 33. Christophe Beck - Wind.flac
Size: 15795052 Hash: 13E78DF3759CFAA48AA76689AFD28E41 Accuracy: -m40
Conclusion: CDDA 100%
Signature: 8D7A7885FDA55B86FDF5F7C8522AC50D1599EC10
FILE: 34. Christophe Beck & Cast of Frozen 2 (Ft. Cast of Frozen 2 & Christophe Beck) - Iduna's Scarf.flac
Size: 22384106 Hash: A14E9A986784AD7321F7ACF3D5ACA335 Accuracy: -m40
Conclusion: CDDA 100%
Signature: D530920FC64FB7564A8E8800539C055F61329B13
FILE: 35. Christophe Beck - Fire and Ice.flac
Size: 16653588 Hash: 7FFA7328EC6EDF3FE2D5CAD04D0C64BD Accuracy: -m40
Conclusion: CDDA 100%
Signature: 7E1AE32E106CE99040D4E297A490E452C72B23D3
FILE: 36. Christophe Beck - Earth Giants.flac
Size: 8551495 Hash: 3A8AB6EEEFEDB111FA4412B0004B07DA Accuracy: -m40
Conclusion: CDDA 99%
Signature: EAF213044CE19DC07512030C23B5D154AB3D92BF
FILE: 37. Christophe Beck - The Ship.flac
Size: 21378156 Hash: FBB30F3A4B492CD9D26F1FE81B2F7632 Accuracy: -m40
Conclusion: CDDA 100%
Signature: 77B9DB9E80A14E245C253BA58BCB7BDEBFE3F57B
FILE: 38. Christophe Beck - River Slide.flac
Size: 11557287 Hash: 3D6D30C4859A468DD995992BDC3EA388 Accuracy: -m40
Conclusion: CDDA 100%
Signature: 90E9983A33A0649165607FA584BCF83CB6F30AC8
FILE: 39. Christophe Beck - Dark Sea.flac
Size: 17014274 Hash: 3CC230E753EE77E9DC034A0CFC0959D8 Accuracy: -m40
Conclusion: CDDA 100%
Signature: 359C859ABDEBEE0EED279799426A94FDF96DF49F
FILE: 40. Christophe Beck - Ghosts of Arendelle Past.flac
Size: 14412272 Hash: FB7A9747E9FD7E72626E964D203B3D8B Accuracy: -m40
Conclusion: CDDA 100%
Signature: 1FE1010399CA41529B4DF214EE360EA286318DF7
FILE: 41. Christophe Beck - Gone Too Far.flac
Size: 15460841 Hash: 0202112EB77917ACE54871D1CD7AEB82 Accuracy: -m40
Conclusion: CDDA 100%
Signature: EA2CFB5BE518F7C36B680A002438BC7772E8A227
FILE: 42. Christophe Beck - Rude Awakening.flac
Size: 13274446 Hash: 9EA5B4BBA980514A8D30203D864F7FE7 Accuracy: -m40
Conclusion: CDDA 100%
Signature: EF52B6AFDBA86228FBD41E054BAA8604DA62CCD0
FILE: 43. Christophe Beck - The Flood.flac
Size: 20409077 Hash: 3DD9A9B86F954284ED408109DBAEA4FF Accuracy: -m40
Conclusion: CDDA 100%
Signature: DE9BDE16D3F827F2BF103E09D2DF1C14480B4745
FILE: 44. CANTUS - Reindeer Circle.flac
Size: 8494656 Hash: DCE9333DC0A82671C07A9E6D4E94BFB6 Accuracy: -m40
Conclusion: CDDA 100%
Signature: 382D2126F4A50669DCB69AA12B0FFB96BB15C0D2
FILE: 45. Christophe Beck - Reunion.flac
Size: 17705948 Hash: 1F1A991EF1CD8140ADFBC177A7711F67 Accuracy: -m40
Conclusion: CDDA 100%
Signature: DAEAD8AE4C13DDA4082BC55C773835C6CE921D24
FILE: 46. Christophe Beck - Epilogue (2019).flac
Size: 18689780 Hash: B473996DFCD583106711D38E71E8495B Accuracy: -m40
Conclusion: CDDA 100%
Signature: C17B2F9E95DD35C246F070AF0451C535534AE934
FILE: 01. Evan Rachel Wood - All Is Found.flac
Size: 11400853 Hash: B8C29A6B41AA5686C6B1CB0BC18AE8EC Accuracy: -m40
Conclusion: CDDA 100%
Signature: 3786E18F422D4B42F81C5B7EFD1C8EED478A2EAB
FILE: 02. Josh Gad, Kristen Bell, Idina Menzel, Jonathan Groff & Cast of Frozen II - Some Things Never Change.flac
Size: 23402541 Hash: EED06B8383656C5916A83FE49B8CF899 Accuracy: -m40
Conclusion: CDDA 100%
Signature: 22A7C42E079DB00CEA374A7A20E6DBCE1430D260
FILE: 03. Idina Menzel (Ft. AURORA) - Into the Unknown.flac
Size: 18762592 Hash: CFE5AD85C3B39494F75B142C8AD9226E Accuracy: -m40
Conclusion: CDDA 100%
Signature: 4DEA0EC009ECBB1604CE82BB62CFBE5B55C89091
FILE: 04. Josh Gad - When I Am Older.flac
Size: 10906757 Hash: 7A83D648152F8274AA5DCFF56127EDE5 Accuracy: -m40
Conclusion: CDDA 100%
Signature: 6539750BB71E2FE05E9F3F9D0B95F4C1C4244BDB
FILE: 05. Jonathan Groff - Reindeer(s) Are Better Than People (Cont.).flac
Size: 1672818 Hash: F4BEDB319EA234EA3D7FAEEE88FD43A4 Accuracy: -m40
Conclusion: CDDA 100%
Signature: C3FB1DAD030A96648A2D87960CF8C9E550E0231E
FILE: 06. Jonathan Groff - Lost in the Woods.flac
Size: 18457050 Hash: F8ACB94C5AA3C58C763EC881686277FB Accuracy: -m40
Conclusion: CDDA 100%
Signature: DAFFF49A30EA76B4FAA2DDDAE857CFBA4501798E
FILE: 07. Idina Menzel & Evan Rachel Wood - Show Yourself.flac
Size: 26726786 Hash: 3930D6CFAE824C88F8DC09F892823217 Accuracy: -m40
Conclusion: CDDA 100%
Signature: E561ED09DE15BDEBF877F5B053268D6B14CC6790
FILE: 08. Kristen Bell - The Next Right Thing.flac
Size: 17500703 Hash: D565CCD73AF5C782022013D75CB7BAFC Accuracy: -m40
Conclusion: CDDA 100%
Signature: A5745F51C0985627F8413843DAF351215FAA9E08
FILE: 09. Panic! at the Disco - Into the Unknown.flac
Size: 21796338 Hash: 8003B6EC4C5D6D86020544E16D0A5584 Accuracy: -m40
Conclusion: CDDA 100%
Signature: 0BD8F689665A82E170166187BC950D9317E5CB33
FILE: 10. Kacey Musgraves - All Is Found.flac
Size: 16954714 Hash: AE36250A9191D604909D7724153C5A5B Accuracy: -m40
Conclusion: CDDA 100%
Signature: 23D962DA7AF6C451135123295C07445B2022CAF8
FILE: 11. Weezer - Lost in the Woods.flac
Size: 19493873 Hash: 39D0BC8632806FC39AD89225488C7418 Accuracy: -m40
Conclusion: CDDA 100%
Signature: 8CA5E506ABF86827D2240454DB11BF9A5FB76739
FILE: 12. Evan Rachel Wood - All Is Found (Lullaby Ending) [Outtake].flac
Size: 9725617 Hash: BC8FC38469D56DD700733C4E95ECFB59 Accuracy: -m40
Conclusion: CDDA 100%
Signature: EC55A3B994E56DE9F83FD85BF73761FF23AC0F7B
FILE: 13. Kristen Bell - Home (Outtake).flac
Size: 16894587 Hash: 6AAF06ABE4106DD8D3140D4E06B0D46E Accuracy: -m40
Conclusion: CDDA 100%
Signature: 544AD8E7A8CFEE67369A7207F4E698E1B7DA067B
FILE: 14. Kristen Anderson-Lopez & Patti Murin - I Seek the Truth (Outtake).flac
Size: 23077571 Hash: 886CA2BF349853101815F8DDAC54D64D Accuracy: -m40
Conclusion: CDDA 100%
Signature: 2CAFF29702847FE305560F08DD98A84A6CC90232
FILE: 15. Josh Gad - Unmeltable Me (Outtake).flac
Size: 8377527 Hash: 560BA3AA3455CA97C09AD1DAD19A4734 Accuracy: -m40
Conclusion: CDDA 100%
Signature: CF699F62571DB18BC74FF6CB21DA3DDE55C03FF7
FILE: 16. Jonathan Groff & Kristen Bell - Get This Right (Outtake).flac
Size: 24349123 Hash: 4FFB873EE8DA587958322E010C013D8C Accuracy: -m40
Conclusion: CDDA 99%
Signature: A42D36C8F19D7B2F1B0074B18710FB8DF19D7D02
FILE: 17. Kristen Anderson-Lopez & Robert Lopez - All Is Found (Instrumental).flac
Size: 10478697 Hash: F516FEBBC2AAA3BFD8B04083B6E9053A Accuracy: -m40
Conclusion: CDDA 100%
Signature: 5CEB346DB66E61B8A376CFD350BF894B59EB343D
FILE: 18. Kristen Anderson-Lopez & Robert Lopez - Some Things Never Change (Instrumental).flac
Size: 21260856 Hash: D0A0C112382636E58C04706F5599DA9A Accuracy: -m40
Conclusion: CDDA 100%
Signature: E4BEC93E34775921AD592163CA03A90922BEB68B
FILE: 19. Kristen Anderson-Lopez & Robert Lopez - Into the Unknown (Instrumental).flac
Size: 17302819 Hash: 0C6800E28568EC4B04396BE10EF8999C Accuracy: -m40
Conclusion: CDDA 100%
Signature: 70599E1C71F5DE752116CF1C92544D53C99F2622
FILE: 20. Kristen Anderson-Lopez & Robert Lopez - When I Am Older (Instrumental).flac
Size: 9554946 Hash: 5FFD4F25CDEF08CB356CB5B62A8E70B2 Accuracy: -m40
Conclusion: CDDA 100%
Signature: C3C03D4BC98C2AF10C77BF3F9D03EB3D6D9EF983
FILE: 21. Kristen Anderson-Lopez & Robert Lopez - Reindeer(s) Are Better Than People (Cont.) (Instrumental).flac
Size: 958289 Hash: 29ADAAEE03A07429BBE9B0147EA63CBA Accuracy: -m40
Conclusion: CDDA 100%
Signature: 388DD82F6643DAF57219BE0CB778F751644A0E9F
FILE: 22. Kristen Anderson-Lopez & Robert Lopez - Lost in the Woods (Instrumental).flac
Size: 16730333 Hash: E6EC916D4D22F99593895F5F46954AE5 Accuracy: -m40
Conclusion: CDDA 100%
Signature: 2D9E7AC623488B28CEAE4B576DF1D8082103F256
FILE: 23. Kristen Anderson-Lopez & Robert Lopez - Show Yourself (Instrumental).flac
Size: 24047082 Hash: 7D2D04B2C2580A42137B164CB546B60F Accuracy: -m40
Conclusion: CDDA 100%
Signature: E41B9972032EE13ADC3307B89BE7E640D3AE67F5
FILE: 24. Kristen Anderson-Lopez & Robert Lopez - The Next Right Thing (Instrumental).flac
Size: 16433610 Hash: 71F3DC6F89852FFF15D0C4945E0B963A Accuracy: -m40
Conclusion: CDDA 100%
Signature: 5023AFEA49C552089B4BC42B1DBB64E878F402FC
FILE: 25. Kristen Anderson-Lopez & Robert Lopez - Into the Unknown (Panic! at the Disco Version-Instrumental).flac
Size: 19608207 Hash: 5444F19DF0878A63DEF5654D569E5685 Accuracy: -m40
Conclusion: CDDA 92%
Signature: 1FFE8AC8F8444E73A294FE8A86AF2617D9AC414F
FILE: 26. Kristen Anderson-Lopez & Robert Lopez - All Is Found (Kacey Musgraves Version-Instrumental).flac
Size: 15214263 Hash: 7DDA6C71356276F09A2B537F90692B2F Accuracy: -m40
Conclusion: CDDA 100%
Signature: 98A0A23189EB01B1016CC665C25048F245E28D72
FILE: 27. Kristen Anderson-Lopez & Robert Lopez - Lost in the Woods (Weezer Version-Instrumental).flac
Size: 17860860 Hash: A8E8BE2D971739EA385CFA7AD548BF2B Accuracy: -m40
Conclusion: CDDA 100%
Signature: CDE1AD5D1B7590EBC60034B43E4D73F05013B149