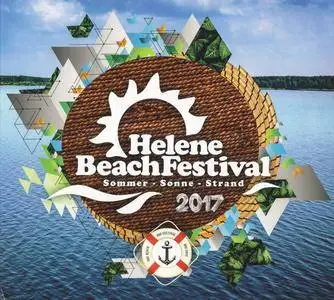 VA - Helene Beach Festival 2017 (2017)
MP3 CBR 256 kbps | 2:28:54 | 273 Mb
Genre: Pop, Dance / Label: Kontor Records (Edel)
This is summer, sun, beach. This is diversity and a mix of genres. This is camping in nature. Shady high forest of bärkischen pines. Directly at the festival site. This is Helene Beach - the holiday festival, only 1h away from Berlin! On the stage, Acts as well as disturbed GeiL, The Reason Y, Pretty Pink, Jerome Neptunica, Julian Wassermann, Hanne & Lore, Markus Gardeweg, DIA Plattenpussys, u.v.m. on.
Track List:
CD1:
01 Lexer & Paji – Floating Walk
02 Format:B – Not Enufff
03 Marek Hemmann – Joker
04 Hanne & Lore – What If
05 Gregor Tresher – The Focus Shift
06 Klaudia Gawlas & Linus Quick – Springbreak
07 Jan Blomqvist – Stories Over (Villette Mix)
08 Eelke Kleijn – The Terminal (Sebastien Leger Remix)
09 Harry Romero feat. Robert Owens – Back (Kölsch Remix)
10 Enrico Sangiuliano – Moon Rocks
11 Paale – Dasos (Mirco Niemeier Mix)
12 Britta Arnold & Unders – Natural Striptease
13 The Reason Y – Whisper (Nick Curly Remix)
14 Julian Wassermann – Aurea
15 Bebetta – Herr Kapellmeister (René Bourgeouis Remix)
16 Mike La Funk – Going On
17 Just-Joelle – XOXO
18 Ask:Me & Bedrud – After Work
19 Siwell – Raw Connections
20 Alessandro Diga – Aurora Borealis
CD2:
01 Alle Farben feat. Lahos – Far Green
02 Gestört aber GeiL feat. Voyce – Millionen Farben
03 Lost Frequencies feat. Axel Ehnström – All Or Nothing (Bolier Remix)
04 EDX – Feel The Rush
05 Nora En Pure – Waves
06 Stereo Express & Thomas Lizzara – Waterside
07 DIA Plattenpussys – Talk About
08 Salt Ashes – Save It (AirDice Remix)
09 Pretty Pink feat. Mick Fousé – Your Love
10 Blondee & Marc Werner feat. Fabienne Rothe – After All
11 BEN DJ – Thinkin' Bout You (Vijay & Sofia Remix)
12 Nalin & Kane – Beachball (Sebastien Remix)
13 Der HouseKaspeR – You & I
14 Kyle Watson & Popartlive – Sink Deep (Nora En Pure Mix)
15 Calippo – Alive
16 Tom Wax & Strobe – Bring Sally Up
17 Wielki – Empire
18 Fedde le Grand – Dancing Together
19 Jerome feat. Megan Vice – All About Tonight
20 Tiësto – Ten Seconds Before Sunrise (Moska Remix)