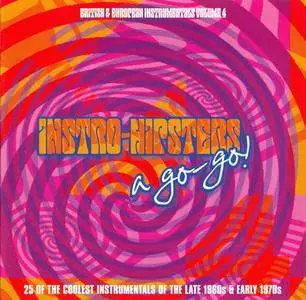 VA - Instro-Hipsters A Go-Go! British & European Instrumentals, Vol. 4 (2003)
25 Of The Coolest Instrumentals Of The Late 1960s & Early 70s
EAC | FLAC | Image (Cue&Log) ~ 530 Mb | Mp3 (CBR320) ~ 205 Mb | Scans included | 01:12:35
Instrumental Pop/Rock, Psychedelic, Mod, Jazz, Easy Listening | Past & Present | # PAPRCD2055
And so the series continues - Groovy Hammond sounds, swingin, horn sections, spacey sitars, jangling guitars, jazzy flute excursions. From the spy movie chic of The Reg Guest Syndicate to The Gabrieli Brass. Dig the mellow eastern vibe of Andy Summers & Zoot Money's 'Soma', move to the cool soul of Music Through Six. Evocative, smooth, rocking, eminently danceable and very cool.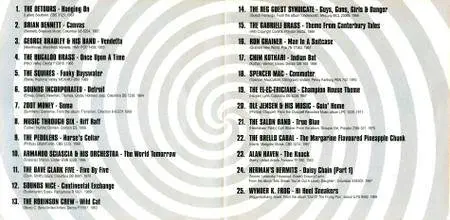 Tracklist:
01. The Detours - Hanging on (2:36)
02. Brian Bennett - Canvas (2:33)
03. George Bradley & his band - Vendetta (2:11)
04. The Bugaloo Brass - Once upon a time (2:21)
05. The Squires - Funky bayswater (2:41)
06. Sounds Incorporated - Detroit (4:10)
07. Zoot Money - Soma (6:22)
08. Music through six - Riff raff (1:55)
09. The Peddlers - Horse's collar (2:08)
10. Armando Sciascia & his orchestra - The world tomorrow (1:58)
11. The Dave Clark five - Five by five (2:47)
12. Sounds nice - Continental exchange (2:51)
13. The Robinson crew - Wild cat (2:47)
14. The Reg Guest syndicate - Guys, guns, girls & danger (2:28)
15. The Gabrielli brass - Theme from Canterbury tales (2:38)
16. Ron Grainer - Man in a suitcase (2:12)
17. Chim Kothari - Indian bat (2:42)
18. Spencer Mac - Commuter (5:45)
19. The El-ec-tricians - Champion house theme (2:41)
20. Ole Jensen & his music - Goin' home (2:11)
21. The salon band - True blue (3:11)
22. The Brello cabal - The margarine flavoured pineapple chunk (2:48)
23. Alan Haven - The knack (2:18)
24. Herman's Hermits - Daisy chain (part 1) (2:48)
25. Wynder K Frog - Hi heel sneakers (3:34)
Exact Audio Copy V1.1 from 23. June 2015

Отчёт EAC об извлечении, выполненном 11. сентября 2017, 12:16

Various Artists / Instro-Hipster a Go-Go! Vol. 4

Дисковод: ASUS DRW-24B3ST Adapter: 0 ID: 0

Режим чтения : Достоверность
Использование точного потока : Да
Отключение кэша аудио : Да
Использование указателей C2 : Нет

Коррекция смещения при чтении : 6
Способность читать области Lead-in и Lead-out : Нет
Заполнение пропущенных сэмплов тишиной : Да
Удаление блоков с тишиной в начале и конце : Нет
При вычислениях CRC использовались нулевые сэмплы : Да
Интерфейс : Установленный внешний ASPI-интерфейс

Выходной формат : Пользовательский кодировщик
Выбранный битрейт : 1024 kBit/s
Качество : Высокий
Добавление ID3-тега : Нет
Утилита сжатия : C:\Program Files (x86)\Exact Audio Copy\Flac\flac.exe
Дополнительные параметры : -V -8 -T "Date=%year%" -T "Genre=%genre%" %source%


TOC извлечённого CD

Трек | Старт | Длительность | Начальный сектор | Конечный сектор
––––––––––––––––––––––––––––––––––-
1 | 0:00.00 | 2:35.49 | 0 | 11673
2 | 2:35.49 | 2:32.59 | 11674 | 23132
3 | 5:08.33 | 2:10.50 | 23133 | 32932
4 | 7:19.08 | 2:21.19 | 32933 | 43526
5 | 9:40.27 | 2:41.18 | 43527 | 55619
6 | 12:21.45 | 4:09.68 | 55620 | 74362
7 | 16:31.38 | 6:21.73 | 74363 | 103010
8 | 22:53.36 | 1:55.24 | 103011 | 111659
9 | 24:48.60 | 2:07.57 | 111660 | 121241
10 | 26:56.42 | 1:57.45 | 121242 | 130061
11 | 28:54.12 | 2:47.28 | 130062 | 142614
12 | 31:41.40 | 2:51.06 | 142615 | 155445
13 | 34:32.46 | 2:46.51 | 155446 | 167946
14 | 37:19.22 | 2:28.05 | 167947 | 179051
15 | 39:47.27 | 2:37.42 | 179052 | 190868
16 | 42:24.69 | 2:11.38 | 190869 | 200731
17 | 44:36.32 | 2:41.46 | 200732 | 212852
18 | 47:18.03 | 5:44.59 | 212853 | 238711
19 | 53:02.62 | 2:41.37 | 238712 | 250823
20 | 55:44.24 | 2:10.64 | 250824 | 260637
21 | 57:55.13 | 3:11.12 | 260638 | 274974
22 | 61:06.25 | 2:48.37 | 274975 | 287611
23 | 63:54.62 | 2:18.27 | 287612 | 297988
24 | 66:13.14 | 2:47.51 | 297989 | 310564
25 | 69:00.65 | 3:34.34 | 310565 | 326648


Характеристики диапазона извлечения и сообщения об ошибках

Выбранный диапазон

Имя файла E:\Torrents\Various Artists - 2003 - Instro-Hipsters a Go-Go! Vol. 4\Various Artists - Instro-Hipster a Go-Go! Vol. 4.wav

Пиковый уровень 94.4 %
Скорость извлечения 9.3 X
Качество диапазона 100.0 %
CRC теста 7D7ABC3F
CRC копии 7D7ABC3F
Копирование… OK

Ошибок не произошло


AccurateRip: сводка

Трек 1 : извлечено точно (доверие 1) [5E1BEF5E] (AR v2)
Трек 2 : извлечено точно (доверие 1) [417CA9D2] (AR v2)
Трек 3 : извлечено точно (доверие 1) [2D4379FE] (AR v2)
Трек 4 : извлечено точно (доверие 1) [67A61072] (AR v2)
Трек 5 : извлечено точно (доверие 1) [E1CC8F95] (AR v2)
Трек 6 : извлечено точно (доверие 1) [6684B0B3] (AR v2)
Трек 7 : извлечено точно (доверие 1) [E0D8802F] (AR v2)
Трек 8 : извлечено точно (доверие 1) [551525D0] (AR v2)
Трек 9 : извлечено точно (доверие 1) [B6A92FF0] (AR v2)
Трек 10 : извлечено точно (доверие 1) [7A74BB6B] (AR v2)
Трек 11 : извлечено точно (доверие 1) [212FBC5A] (AR v2)
Трек 12 : извлечено точно (доверие 1) [50B0B48D] (AR v2)
Трек 13 : извлечено точно (доверие 1) [BF7ECF39] (AR v2)
Трек 14 : извлечено точно (доверие 1) [D471FC2C] (AR v2)
Трек 15 : извлечено точно (доверие 1) [8EB72766] (AR v2)
Трек 16 : извлечено точно (доверие 1) [D1294F2E] (AR v2)
Трек 17 : извлечено точно (доверие 1) [58046CB9] (AR v2)
Трек 18 : извлечено точно (доверие 1) [5BDF69AF] (AR v2)
Трек 19 : извлечено точно (доверие 1) [518ECF9D] (AR v2)
Трек 20 : извлечено точно (доверие 1) [362AAD48] (AR v2)
Трек 21 : извлечено точно (доверие 1) [569AF511] (AR v2)
Трек 22 : извлечено точно (доверие 1) [3CF20602] (AR v2)
Трек 23 : извлечено точно (доверие 1) [1283169A] (AR v2)
Трек 24 : извлечено точно (доверие 1) [037CCEB4] (AR v2)
Трек 25 : извлечено точно (доверие 1) [EEABE646] (AR v2)

Все треки извлечены точно

Конец отчёта

==== Контрольная сумма отчёта 59B3980BE1FD31989CA17143F0A190691F80CE93C7D4C83C80021AE58B32334D ====
foobar2000 1.2 / Dynamic Range Meter 1.1.1
log date: 2017-09-11 17:36:46

––––––––––––––––––––––––––––––––––––––––
Statistics for: 10-The world tomorrow
Number of samples: 5186160
Duration: 1:58
––––––––––––––––––––––––––––––––––––––––

Left Right

Peak Value: -0.50 dB –- -0.57 dB
Avg RMS: -7.64 dB –- -8.21 dB
DR channel: 5.53 dB –- 6.06 dB
––––––––––––––––––––––––––––––––––––––––

Official DR Value: DR6

Samplerate: 44100 Hz
Channels: 2
Bits per sample: 16
Bitrate: 947 kbps
Codec: FLAC
================================================================================
––––––––––––––––––––––––––––––––––––––––
Analyzed: Brian Bennett / Instro-Hipster a Go-Go! Vol. 4 (1)
Chim Kothari / Instro-Hipster a Go-Go! Vol. 4 (2)
––––––––––––––––––––––––––––––––––––––––

DR Peak RMS Duration Track
––––––––––––––––––––––––––––––––––––––––
DR6 -1.18 dB -9.12 dB 2:33 02-Canvas
DR6 -1.50 dB -8.75 dB 2:42 17-Indian bat
––––––––––––––––––––––––––––––––––––––––

Number of tracks: 2
Official DR value: DR6

Samplerate: 44100 Hz
Channels: 2
Bits per sample: 16
Bitrate: 947 kbps
Codec: FLAC
================================================================================

––––––––––––––––––––––––––––––––––––––––
Analyzed: George Bradley & his band / Instro-Hipster a Go-Go! Vol. 4 (1)
Herman's Hermits / Instro-Hipster a Go-Go! Vol. 4 (2)
––––––––––––––––––––––––––––––––––––––––

DR Peak RMS Duration Track
––––––––––––––––––––––––––––––––––––––––
DR5 -1.01 dB -7.14 dB 2:11 03-Vendetta
DR6 -0.76 dB -7.92 dB 2:48 24-Daisy chain (part 1)
––––––––––––––––––––––––––––––––––––––––

Number of tracks: 2
Official DR value: DR5

Samplerate: 44100 Hz
Channels: 2
Bits per sample: 16
Bitrate: 947 kbps
Codec: FLAC
================================================================================

––––––––––––––––––––––––––––––––––––––––
Analyzed: Music through six / Instro-Hipster a Go-Go! Vol. 4 (1)
Ole Jensen & his music / Instro-Hipster a Go-Go! Vol. 4 (2)
––––––––––––––––––––––––––––––––––––––––

DR Peak RMS Duration Track
––––––––––––––––––––––––––––––––––––––––
DR6 -1.55 dB -8.69 dB 1:55 08-Riff raff
DR6 -0.97 dB -8.84 dB 2:11 20-Goin' home
––––––––––––––––––––––––––––––––––––––––

Number of tracks: 2
Official DR value: DR6

Samplerate: 44100 Hz
Channels: 2
Bits per sample: 16
Bitrate: 947 kbps
Codec: FLAC
================================================================================

––––––––––––––––––––––––––––––––––––––––
Statistics for: 16-Man in a suitcase
Number of samples: 5799444
Duration: 2:12
––––––––––––––––––––––––––––––––––––––––

Left Right

Peak Value: -0.55 dB –- -0.70 dB
Avg RMS: -6.99 dB –- -8.07 dB
DR channel: 5.42 dB –- 6.32 dB
––––––––––––––––––––––––––––––––––––––––

Official DR Value: DR6

Samplerate: 44100 Hz
Channels: 2
Bits per sample: 16
Bitrate: 947 kbps
Codec: FLAC
================================================================================
––––––––––––––––––––––––––––––––––––––––
Analyzed: Sounds Incorporated / Instro-Hipster a Go-Go! Vol. 4 (1)
Sounds nice / Instro-Hipster a Go-Go! Vol. 4 (2)
Spencer Mac / Instro-Hipster a Go-Go! Vol. 4 (3)
The Brello cabal / Instro-Hipster a Go-Go! Vol. 4 (4)
––––––––––––––––––––––––––––––––––––––––

DR Peak RMS Duration Track
––––––––––––––––––––––––––––––––––––––––
DR6 -0.89 dB -7.95 dB 4:10 06-Detroit
DR6 -1.09 dB -9.12 dB 2:51 12-Continental exchange
DR5 -0.56 dB -7.52 dB 5:45 18-Commuter
DR5 -1.08 dB -7.25 dB 2:48 22-The margarine flavoured pineapple chunk
––––––––––––––––––––––––––––––––––––––––

Number of tracks: 4
Official DR value: DR6

Samplerate: 44100 Hz
Channels: 2
Bits per sample: 16
Bitrate: 947 kbps
Codec: FLAC
================================================================================

––––––––––––––––––––––––––––––––––––––––
Analyzed: The Bugaloo Brass / Instro-Hipster a Go-Go! Vol. 4 (1)
The Dave Clark five / Instro-Hipster a Go-Go! Vol. 4 (2)
––––––––––––––––––––––––––––––––––––––––

DR Peak RMS Duration Track
––––––––––––––––––––––––––––––––––––––––
DR6 -1.32 dB -8.59 dB 2:21 04-Once upon a time
DR6 -1.00 dB -7.76 dB 2:47 11-Five by five
––––––––––––––––––––––––––––––––––––––––

Number of tracks: 2
Official DR value: DR6

Samplerate: 44100 Hz
Channels: 2
Bits per sample: 16
Bitrate: 947 kbps
Codec: FLAC
================================================================================

––––––––––––––––––––––––––––––––––––––––
Analyzed: The Detours / Instro-Hipster a Go-Go! Vol. 4 (1)
The El-ec-tricians / Instro-Hipster a Go-Go! Vol. 4 (2)
––––––––––––––––––––––––––––––––––––––––

DR Peak RMS Duration Track
––––––––––––––––––––––––––––––––––––––––
DR6 -0.60 dB -8.04 dB 2:36 01-Hanging on
DR5 -1.42 dB -7.01 dB 2:41 19-Champion house theme
––––––––––––––––––––––––––––––––––––––––

Number of tracks: 2
Official DR value: DR5

Samplerate: 44100 Hz
Channels: 2
Bits per sample: 16
Bitrate: 947 kbps
Codec: FLAC
================================================================================

––––––––––––––––––––––––––––––––––––––––
Statistics for: 15-Theme from Canterbury tales
Number of samples: 6948396
Duration: 2:38
––––––––––––––––––––––––––––––––––––––––

Left Right

Peak Value: -1.44 dB –- -1.66 dB
Avg RMS: -7.15 dB –- -8.31 dB
DR channel: 4.48 dB –- 5.40 dB
––––––––––––––––––––––––––––––––––––––––

Official DR Value: DR5

Samplerate: 44100 Hz
Channels: 2
Bits per sample: 16
Bitrate: 947 kbps
Codec: FLAC
================================================================================
––––––––––––––––––––––––––––––––––––––––
Analyzed: The Peddlers / Instro-Hipster a Go-Go! Vol. 4 (1)
The Reg Guest syndicate / Instro-Hipster a Go-Go! Vol. 4 (2)
––––––––––––––––––––––––––––––––––––––––

DR Peak RMS Duration Track
––––––––––––––––––––––––––––––––––––––––
DR5 -1.43 dB -7.13 dB 2:08 09-Horse's collar
DR6 -1.09 dB -9.20 dB 2:28 14-Guys, guns, girls & danger
––––––––––––––––––––––––––––––––––––––––

Number of tracks: 2
Official DR value: DR5

Samplerate: 44100 Hz
Channels: 2
Bits per sample: 16
Bitrate: 947 kbps
Codec: FLAC
================================================================================

––––––––––––––––––––––––––––––––––––––––
Analyzed: The Robinson crew / Instro-Hipster a Go-Go! Vol. 4 (1)
The salon band / Instro-Hipster a Go-Go! Vol. 4 (2)
––––––––––––––––––––––––––––––––––––––––

DR Peak RMS Duration Track
––––––––––––––––––––––––––––––––––––––––
DR7 -0.92 dB -8.85 dB 2:47 13-Wild cat
DR5 -0.60 dB -9.13 dB 3:11 21-True blue
––––––––––––––––––––––––––––––––––––––––

Number of tracks: 2
Official DR value: DR6

Samplerate: 44100 Hz
Channels: 2
Bits per sample: 16
Bitrate: 947 kbps
Codec: FLAC
================================================================================

––––––––––––––––––––––––––––––––––––––––
Analyzed: The Squires / Instro-Hipster a Go-Go! Vol. 4 (1)
Wynder K Frog / Instro-Hipster a Go-Go! Vol. 4 (2)
––––––––––––––––––––––––––––––––––––––––

DR Peak RMS Duration Track
––––––––––––––––––––––––––––––––––––––––
DR5 -0.71 dB -7.14 dB 2:41 05-Funky bayswater
DR6 -0.63 dB -8.38 dB 3:34 25-Hi heel sneakers
––––––––––––––––––––––––––––––––––––––––

Number of tracks: 2
Official DR value: DR6

Samplerate: 44100 Hz
Channels: 2
Bits per sample: 16
Bitrate: 947 kbps
Codec: FLAC
================================================================================

––––––––––––––––––––––––––––––––––––––––
Statistics for: 07-Soma
Number of samples: 16845024
Duration: 6:22
––––––––––––––––––––––––––––––––––––––––

Left Right

Peak Value: -1.37 dB –- -1.51 dB
Avg RMS: -13.81 dB –- -14.93 dB
DR channel: 8.28 dB –- 9.36 dB
––––––––––––––––––––––––––––––––––––––––

Official DR Value: DR9

Samplerate: 44100 Hz
Channels: 2
Bits per sample: 16
Bitrate: 947 kbps
Codec: FLAC
================================================================================

foobar2000 1.2 / Dynamic Range Meter 1.1.1
log date: 2017-09-11 17:36:45

––––––––––––––––––––––––––––––––––––––––
Statistics for: 23-The knack
Number of samples: 6101676
Duration: 2:18
––––––––––––––––––––––––––––––––––––––––

Left Right

Peak Value: -0.84 dB –- -0.93 dB
Avg RMS: -7.57 dB –- -8.15 dB
DR channel: 4.05 dB –- 4.45 dB
––––––––––––––––––––––––––––––––––––––––

Official DR Value: DR4

Samplerate: 44100 Hz
Channels: 2
Bits per sample: 16
Bitrate: 947 kbps
Codec: FLAC
================================================================================