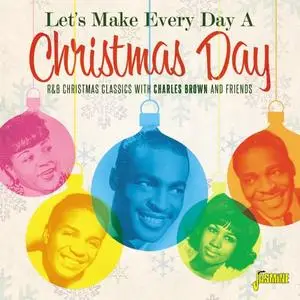 VA - Let's Make Every Day A Christmas Day - R&B Christmas Classics with Charles Brown and Friends (2019)
FLAC tracks / MP3 320 kbps | 1:05:42 | 146 Mb / 258 Mb
Genre: R&B, Rock, Pop / Label: Jasmine Records
It's time for another Merry Xmas round the jukebox, love songs to Santa and even one Christmas hymn. It's all in the name of rhythm and blues, doo wop and even a touch of rock and roll. In this new collection of 24 tracks there are no less than five tracks by the great Charles Brown. This popular blues balladeer was the undisputed king of Christmas blues from the 1940s until his death. The most recent recording comes from the late, great, queen of soul, Aretha Franklin who was having a "Blue Holiday" in 1962. We end this excursion into Christmas R&B, until perhaps next year, with the great blues guitarist Freddie King claiming "I Hear Jingle Bells" and we naturally hope you do too.
Track List:
1. Christmas in Heaven - Charles Brown
2. Christmas Spirits - Julia Lee and Her Boy Friends
3. Blue Holiday - Aretha Franklin
4. Dig That Crazy Santa Claus - Oscar McLollie and His "Honey Jumpers"
5. Merry Christmas, Baby - Lionel Hampton and His Orchestra
6. Christmas Comes But Once a Year - Charles Brown
7. Boogie Woogie Santa Claus - Mabel Scott
8. Christmas in the Congo - the Marquees
9. Silent Night - Huey Piano Smith and the Clowns
10. Christmas Tears - Freddie King
11. Christmas Questions - Charles Brown
12. Christmas Letter - Johnny Moore's Three Blazers
13. Christmas Blues - Jimmy Witherspoon
14. This Time of the Year - Brook Benton
15. Just a Lonely Christmas - the Moonglows
16. It's Christmas Time - Charles Brown
17. I'll Be Home for Christmas - Bull Moose Jackson
18. Christmas Boogie - Sugar "Chile" Robinson
19. I Want My Baby for Christmas - Smokey Hogg
20. Sonny Boy's Christmas Blues - Sonny Boy Williamson
21. Let's Make Every Day a Christmas Day - Charles Brown
22. Blues for Christmas - John Lee Hooker
23. Merry Xmas - "Little Willie" Littlefield
24. I Hear Jingle Bells - Freddie King
ANALYZER: auCDtect: CD records authenticity detector, version 0.8.2
Copyright © 2004 Oleg Berngardt. All rights reserved.
Copyright © 2004 Alexander Djourik. All rights reserved.


FILE: 1 Christmas in Heaven - Charles Brown.flac
Size: 14909613 Hash: 63F684082C9361BA97474FD7DBEDCEBE Accuracy: -m40
Conclusion: CDDA 92%
Signature: 42C9953179499649BFC85E558B5B7AF36FFFCF27
FILE: 10 Christmas Tears - Freddie King.flac
Size: 9966314 Hash: 403CCE59C2A5447965C978BFEE92F818 Accuracy: -m40
Conclusion: CDDA 43%
Signature: 233302B40EFF6B96D1BF19005A809CF4C2A6B64A
FILE: 11 Christmas Questions - Charles Brown.flac
Size: 16330818 Hash: 99F03127CCEBBF061ADC7D5182D1ED93 Accuracy: -m40
Conclusion: CDDA 62%
Signature: 629D5D6B2DB5A35EEF7AAAD51C35AF2BFB2CA0AD
FILE: 12 Christmas Letter - Johnny Moore's Three Blazers.flac
Size: 9594309 Hash: 3D9ECCF4E0E686C2A5A35C93569B2BEE Accuracy: -m40
Conclusion: CDDA 54%
Signature: BA72FB9B294525D8D4D3BE49266A7441C6671CCA
FILE: 13 Christmas Blues - Jimmy Witherspoon.flac
Size: 16761062 Hash: AD964EEE1C9A3B74B51A8CCC5ACF5CA7 Accuracy: -m40
Conclusion: CDDA 43%
Signature: A34B3809EAB664DAB42F9AE829A7C385C09B8DC4
FILE: 14 This Time of the Year - Brook Benton.flac
Size: 13316802 Hash: 60290BE62EA22F50E024B881CE64F252 Accuracy: -m40
Conclusion: MPEG 100%
Signature: 6F9C05C207ECF3E303E0ACB81DC44D85E71A0D54
FILE: 15 Just a Lonely Christmas - the Moonglows.flac
Size: 10659933 Hash: D29473B4C4B00B2F8063A960664332F9 Accuracy: -m40
Conclusion: MPEG 93%
Signature: 764EC3961841CE3317BF957730CD163E99C579C9
FILE: 16 It's Christmas Time - Charles Brown.flac
Size: 15974764 Hash: C87D4A92421B98A66B8ED28D11FCE244 Accuracy: -m40
Conclusion: ???
Signature: 32007CF76B6B81C06A93094DA31B6D6ACE1BC5EF
FILE: 17 I'll Be Home for Christmas - Bull Moose Jackson.flac
Size: 6365788 Hash: 0695750EAE4A4482CA703EA60338AB92 Accuracy: -m40
Conclusion: MPEG 80%
Signature: 285078AAC6CFE5A59546697AA7D83E7E26C39C5A
FILE: 18 Christmas Boogie - Sugar Chile Robinson.flac
Size: 10721482 Hash: F5E93ACBC2D92335E4C1EA48AE05F9EE Accuracy: -m40
Conclusion: CDDA 100%
Signature: 7997CE23D93A5408D929CB69CF3C5FD9BC1CCFDD
FILE: 19 I Want My Baby for Christmas - Smokey Hogg.flac
Size: 6393741 Hash: DB709FB5A45414294543F156159B853B Accuracy: -m40
Conclusion: CDDA 42%
Signature: 0BB8D7FA39D4342062E0F039A73F6515E28EAC9A
FILE: 2 Christmas Spirits - Julia Lee and Her Boy Friends.flac
Size: 7037191 Hash: 0E0A7197B8F39E6FBFA603A41CC63002 Accuracy: -m40
Conclusion: CDDA 100%
Signature: 927D8B6391AD83F14B71A3FF1FA04C5B0A72C0F4
FILE: 20 Sonny Boy's Christmas Blues - Sonny Boy Williamson.flac
Size: 9727509 Hash: CE8070E94BC9BC6AFB124F1BD9367B77 Accuracy: -m40
Conclusion: MPEG 100%
Signature: E48D56C5E9FB46E9DF8D52B9C47CE818A934FB0B
FILE: 21 Let's Make Every Day a Christmas Day - Charles Brown.flac
Size: 12705201 Hash: 8FD21969B069432F8AF957346DADC0DC Accuracy: -m40
Conclusion: CDDA 54%
Signature: C32263B872F04D850A53660E663B2C42A5B94E77
FILE: 22 Blues for Christmas - John Lee Hooker.flac
Size: 9992049 Hash: CB18B1CB56CB446A43E069B1EA8C5C12 Accuracy: -m40
Conclusion: CDDA 87%
Signature: 16445DD993C108056222649E861503E0B9C3C1FC
FILE: 23 Merry Xmas - Little Willie Littlefield.flac
Size: 8893926 Hash: 5DC58ADA192870C551D0A5432304DA0A Accuracy: -m40
Conclusion: MPEG 99%
Signature: A114CE75473C7E7AFEB595FA68773006ACE2AC09
FILE: 24 I Hear Jingle Bells - Freddie King.flac
Size: 15539801 Hash: F84D3D7E6E4278F572D205B2CD6C52A1 Accuracy: -m40
Conclusion: CDDA 58%
Signature: 2E0C9EC77B93B30909DA672C36D1D8C4262E7192
FILE: 3 Blue Holiday - Aretha Franklin.flac
Size: 16179970 Hash: 34D64806EF43AB6F3B26FF418716F3D1 Accuracy: -m40
Conclusion: CDDA 99%
Signature: 7C43E43A0A96BEA27C22D55D20BAB4CADCC8BD3B
FILE: 4 Dig That Crazy Santa Claus - Oscar McLollie and His Honey Jumpers.flac
Size: 8972411 Hash: 53E6BF5B50AF6567769CC513B76A0DAE Accuracy: -m40
Conclusion: CDDA 100%
Signature: 8AAFDA2EA84FEDFFDFF5102AFD954D43B8DC266F
FILE: 5 Merry Christmas, Baby - Lionel Hampton and His Orchestra.flac
Size: 8851858 Hash: 6C0D86BCCFE7761D43B2ADB50CFC2B2D Accuracy: -m40
Conclusion: CDDA 49%
Signature: A9015809EB77D9680C6BFABBA1C80A5FA624A7F8
FILE: 6 Christmas Comes But Once a Year - Charles Brown.flac
Size: 14141414 Hash: CCDC63C1CB1F323D373616FAD95D128A Accuracy: -m40
Conclusion: CDDA 100%
Signature: D65D575FFF6324057FCA8208A7BF05F5822C59C7
FILE: 7 Boogie Woogie Santa Claus - Mabel Scott.flac
Size: 7222856 Hash: 5D5A308717D55BEE8652A2B6CE26A1DA Accuracy: -m40
Conclusion: CDDA 100%
Signature: FAC184F35248844696C4D1CB7255141DDF9C308D
FILE: 8 Christmas in the Congo - the Marquees.flac
Size: 9640394 Hash: E1F45A18411D2C768E233071798EAF23 Accuracy: -m40
Conclusion: CDDA 100%
Signature: 5961CB9CA35B3B76A2D94F11C028CF2F36E586E7
FILE: 9 Silent Night - Huey Piano Smith and the Clowns.flac
Size: 12534805 Hash: 2FA3CFB2473CB3C8BCCD570E3BEBBD78 Accuracy: -m40
Conclusion: CDDA 100%
Signature: D597961C9DA22CBB921293A08D960884E951C093