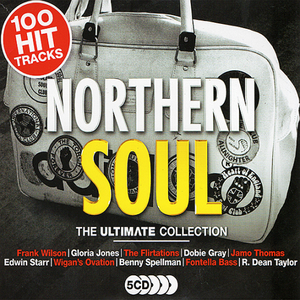 VA - Northern Soul Ultimate Collection [5CD] (2018)
MP3 CBR 320 kbps | 04:28:34 | 608 Mb
Genre: Soul, Funk, RnB / Label: Union Square Music
Northern Soul is designed and signed as a reference on your choice of several exchangers file. 100 tracks in a fantastic 5 CD set! This compilation contains the most popular and biggest smash hits of the music and dance movement of northern England in the late 60s. Legendary songs and dance floor fillers such as Gloria Jones Tainted Love, Jamo Thomas I Spy For The FBI or Frank Wilsons Do I Love You are among the hymns of the then British mod scene. Union Square Music became part of the BMG group and are now based in Paddington, West London. The Ultimate Collection: Northern Soul contains the soundtrack that was not just music for much of a generation from the late '60s to the early 70s, but more of a way of life.
Track List:
CD1
01. Do I Love You (Indeed I Do) (Frank Wilson) 02:32
02. Tainted Love (Gloria Jones) 02:12
03. Out On The Floor (Dobie Gray)Track 3 02:53
04. There's A Ghost In My House (R. Dean Taylor) 02:24
05. I'll Keep Holding On (The Marvelettes) 02:21
06. Let's Wade In The Water (Marlena Shaw 03:27
07. Landslide (Tony Clarke) 02:13
08. Love Runs Out (Willie Hutch) 02:40
09. Name It You Got It (Micky Moonshine) 03:23
10. I Hurt On The Other Side (Sidney Barnes) 02:57
11. Loving On The Losing Side (Tommy Hunt) 03:11
12. The Girl's Alright With Me (Joe Simon) 02:00
13. Just A Little Misunderstanding (The Contours) 02:43
14. Soul Self Satisfaction (Earl Jackson) 02:24
15. Sure Is A Lotta Woman (Isley Brothers) 02:56
16. Baby, Without You (Danny Monday) 03:10
17. Marching Out Of Your Life (The Heartstoppers) 02:59
18. Live It Up (Dusty Springfield) 02:26
19. Show Me The Way (Martha Reeves & The Vandellas) 02:41
20. Suspicion (The Originals) 03:04
CD2
21. Nothing But A Heartache (The Flirtations) 02:42
22. Sign On The Dotted Line (Gene Latter) 02:39
23. Compared To What (Mr Flood's Party) 03:59
24. Stop Her On Sight (S.O.S) (Edwin Starr) 02:17
25. Rescue Me (Fontella Bass) 02:53
26. Secret Love (Billy Stewart) 03:00
27. Sweet Was The Love (The Four Tops) 02:50
28. No Puppy Love (Johnny Copeland) 02:11
29. Our Love Is Getting Stronger (Jason Knight) 02:11
30. Stone Soul Loving (Nicky Wilson) 02:18
31. Nothing Worse Than Being Alone (The Ad Libs) 02:39
32. A Bird In Hand (Is Worth Two In The Bush) (The Velvelettes) 02:52
33. Baby, What Has Happned To Our Love (The Ringleaders) 02:24
34. Check It Baby (Willie & The Mighty Magnificents) 02:16
35. I Surrender (Eddie Holman) 02:06
36. Baby You Got It (Clyde Mcphatter) 02:55
37. I Gotta Let You Go (Jimmy Ruffin) 02:25
38. Keep On Loving Me (Frances Nero) 02:33
39. You Only Live Twice (Lorraine Chandler) 02:43
40. You're Gonna Need Me (Ted Ford) 02:41
CD3
41. The "In" Crowd (Dobie Gray) 02:51
42. Fortune Teller (Benny Spellman) 02:11
43. Nothing's Too Good For My Baby (Stevie Wonder) 02:43
44. Going To A Go Go (The Miracles) 02:49
45. Function At The Junction (Shorty Long) 02:48
46. Nothing But Heartches (The Supremes) 02:42
47. Baby Hit And Run (The Contours) 03:03
48. Being Without You (Maurice Williams) 02:25
49. If I Could Turn Back The Hands Of Time (Vernon Garrett) 02:28
50. Lost Summer Love (Lorraine Silver) 02:01
51. My Man Think I Don't Know (Gwen Davis) 02:30
52. Oh, I've Been Bless'd (Bobby Taylor) 02:45
53. Beauty Is Just Skin Deep (The Sweethearts) 02:15
54. Skeletons In The Closet (Fork In The Road) 02:21
55. Per - So 02:15
56. You're Gonna Love My Baby (Barbara Mcneir) 02:57
57. For The Love Of Mike (Patrice Holloway) 02:34
58. Baby Don't You Weep (Wilson Pickett) 02:05
59. Stormy (Diana Ross & The Supremes) 03:03
60. Number One Guy (The Ferris Wheel) 01:55
CD4
61. I Spy For The Fbi (Jamo Thomas & His Party Brothers Orchestra) 02:34
62. The Night (Frankie Valli And The Four Seasons) 03:21
63. Shop Around (Mary Wells) 02:36
64. Gimme Little Sign (Major Lance) 02:21
65. Breakaway (The Valentines) 02:30
66. My Baby Needs Me (Yvonne Baker) 02:57
67. Just Ain't Enough Love (Eddie Holland) 02:25
68. Gotta Have Your Love (The Sapphires) 02:15
69. Lucky Lucky Me (Marvin Gaye) 02:58
70. It's All Up To You (The Dells) 03:16
71. No One Could Love You More (Gladys Knight & The Pips) 03:15
72. Crying In The Night (The Monitors) 03:08
73. I'm Glad I Fell In Love With You (O.C. Smith) 03:42
74. On The Real Side (Larry Saunders) 03:31
75. Lonely Boy (Brenda Holloway) 02:44
76. Baby I Miss You (Tommy Good) 02:57
77. Talkin' About My Baby (Dottie & Millie) 02:29
78. Running For My Life (Roscoe Shelton) 02:29
79. Goodbye Cruel Love (Linda Griner) 02:24
80. I'm In Your Hands (Mary Love) 02:34
CD5
81. Skiing In The Snow (Wigan's Ovation) 02:49
82. Ain't Nothing But A Houseparty (The Showstoppers) 02:37
83. Agent Double O Soul (Edwin Starr) 02:43
84. Just Another Heartache (Little Richie) 02:42
85. Can't Satisfy (The Impressions) 02:36
86. You Can Do It (Kim Weston) 03:04
87. I'm Gonna Pick Up My Toys (And Go Home) (The Devonnes) 03:29
88. What More Could A Boy Ask For (The Spinners) 03:07
89. Love Feeling (Val Mckenna) 02:35
90. For This I Thank You (Gino Parks) 02:36
91. I Got The Fever (The Prophets) 02:53
92. Double Cookin' (The Checkerboard Squares) 02:43
93. Love Slipped Through My Fingers (The Ohio Players) 02:19
94. I'm Gone (Eddie Parker) 02:45
95. All I Do Is Think About You (Tammi Terrell) 02:59
96. More Power To You (Harold Burrage) 02:25
97. Never Say No To Your Baby (The Hit Pack) 02:30
98. If There's Anything Else You Want (Roddie Joy) 02:14
99. Love's Gone Bad (Chris Clark) 02:21
100. Whose Little Girl Are You (Danny Williams) 02:05