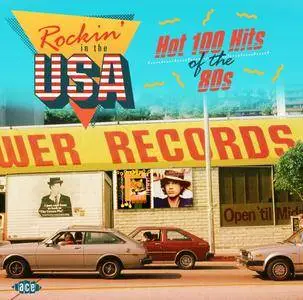 VA - Rockin' In The USA Hot 100 Hits Of The 80s (2018)
WEB FLAC (tracks) / MP3 CBR 320 kbps | 1:21:58 | 540 Mb / 191 Mb
Genre: Pop, Rock / Label: ACE
The 1980s were probably the last real decade for the pop single. It was certainly the last one in which every record that made the Hot 100 was an actual vinyl single. Radio was still breaking big hits and new artists, rather than TV talent shows and the still-nascent Internet. And people still rushed to their local record store to buy what their local station was playing, rather than streaming or downloading it. Having successfully anthologised the American charts of the 50s, 60s and 70s over a long period of time, Ace is delighted this month to premiere Rockin In The USA, their first anthology of 1980s US Hot 100 hits. 80s radio made hits for a lot of new names. As had been the case in earlier eras, many of them are still around 30 to almost 40 years later, while the careers of others virtually began and ended with their lone hit. Their earlier series have always embraced both the renowned and the obscure, and this is no different. Here are almost two dozen of the finest US hits of that decade, all presented as they were originally heard coming over FM Pop radio right across America. Many were also UK hits, and all of them should have been. Some of the best pop and rock of the 80s you will ever hear on the same CD is present on Rockin In The USA. It features The Romantics, The Go Go's, Daryl Hall and John Oates, The Cars, The Bangles, Jimmy Hall etc.
Track List:
1. What I Like About You - the Romantics
2. Time After Time - Cyndi Lauper
3. Hope You Love Me Like You Say You Do - Huey Lewis & the News
4. Your Love - the Outfield
5. I'm Happy That Love Has Found You - Jimmy Hall
6. Someday Someway - Marshall Crenshaw
7. Goin' Down - Greg Guidry
8. Hit Me with Your Best Shot - Pat Benatar
9. I Need You - Paul Carrack
10. How Do I Survive - Amy Holland
11. Our Lips Are Sealed - the Go-Gos
12. I've Done Everything for You - Rick Springfield
13. Breaking Away- Balance
14. 10-9-8 - Face to Face
15. Say It Isn't So - Daryl Hall and John Oates
16. Personally - Karla Bonoff
17. Is It Love - Mr. Mister
18. You Might Think - the Cars
19. No Gettin' Over Me - Ronnie Milsap
20. Walking Down Your Street - the Bangles
21. Baby I Lied - Deborah Allen
22. The Valley Road - Bruce Hornsby and the Range
23. R.O.C.K. in the U.S.A. - John Cougar Mellencamp
ANALYZER: auCDtect: CD records authenticity detector, version 0.8.2
Copyright © 2004 Oleg Berngardt. All rights reserved.
Copyright © 2004 Alexander Djourik. All rights reserved.


FILE: 1. What I Like About You - the Romantics.flac
Size: 22123096 Hash: 5994C19E1BC29544A9CE58F880B40498 Accuracy: -m40
Conclusion: CDDA 100%
Signature: 86D516E254B98CBABF73C63524FBD62FF9F26E76
FILE: 10. How Do I Survive - Amy Holland.flac
Size: 27537948 Hash: D39CC79762CE9F0925CC4A4D0EE1DD30 Accuracy: -m40
Conclusion: CDDA 100%
Signature: F1EFA4FF5C1CFE35F2A425A6CE3582ADFF4B56C7
FILE: 11. Our Lips Are Sealed - the Go-Gos.flac
Size: 19363457 Hash: 5B587F76F0BEF916667ACE5E4A7B252F Accuracy: -m40
Conclusion: CDDA 100%
Signature: B572902F63F44CC4568262E65BAE80183B947356
FILE: 12. I've Done Everything for You - Rick Springfield.flac
Size: 24586259 Hash: 27CC35B30F105D5DCF90B57E5512CB7D Accuracy: -m40
Conclusion: CDDA 99%
Signature: 69B23109935931CF9FD3F86FB8D4E33DFED9721C
FILE: 13. Breaking Away- Balance.flac
Size: 23486068 Hash: 682D5561863E2C6AD52D0E1685A9B0EE Accuracy: -m40
Conclusion: CDDA 100%
Signature: 0262E34F3CF6BF4835CECAB2D37B15765CBF06D9
FILE: 14. 10-9-8 - Face to Face.flac
Size: 26611136 Hash: DB45AC9B5D12A5BA0B3ADAC73AA482C1 Accuracy: -m40
Conclusion: CDDA 100%
Signature: FD6FCC0C34E2A1EDAAA82153C5D62517FDB32294
FILE: 15. Say It Isn't So - Daryl Hall and John Oates.flac
Size: 31080737 Hash: E70F9339BD0E06D62688A57D13C22FD3 Accuracy: -m40
Conclusion: CDDA 100%
Signature: 65BDDD47BD62D4DAF8200EB1EE880B5565D853F5
FILE: 16. Personally - Karla Bonoff.flac
Size: 22950299 Hash: E2CF7B6D86B8A78817A39090A1C729F1 Accuracy: -m40
Conclusion: CDDA 100%
Signature: 2C8685A4F0F581F6464234B64B866EFB91FA9E51
FILE: 17. Is It Love - Mr. Mister.flac
Size: 25404662 Hash: 385EB5B24211F3FF1EE4AE4325C0308D Accuracy: -m40
Conclusion: CDDA 100%
Signature: 623FE6CFA48137CE13D1774A62D07E25D83CA5EE
FILE: 18. You Might Think - the Cars.flac
Size: 23260656 Hash: 83E1B69CFA556757E0E8BB14BB756690 Accuracy: -m40
Conclusion: CDDA 100%
Signature: 507A5DDA92A5FBEFDE12CD4CBFF3E6ACE69A8994
FILE: 19. No Gettin' Over Me - Ronnie Milsap.flac
Size: 19375986 Hash: 9C71855132F577EC7276CD87C0A47FC4 Accuracy: -m40
Conclusion: CDDA 100%
Signature: FF60A57EF87A52FEA9F71554CD427771A9919377
FILE: 2. Time After Time - Cyndi Lauper.flac
Size: 24783348 Hash: 60C3C9FBEDD97FA2C1AC43391AAFFFD3 Accuracy: -m40
Conclusion: CDDA 100%
Signature: 70DADE3692B11C15B41D95D38F5C9D979BF232E7
FILE: 20. Walking Down Your Street - the Bangles.flac
Size: 23129683 Hash: DD1F62CD1C2A814032105E26A494044B Accuracy: -m40
Conclusion: CDDA 100%
Signature: 1781F378BCB8276F71574C172F203B768866FD14
FILE: 21. Baby I Lied - Deborah Allen.flac
Size: 22939442 Hash: 12C8B62D998B44183C6CCF912A9F7F22 Accuracy: -m40
Conclusion: CDDA 100%
Signature: C950D51CA4A5F05710C044E5FE58E19A2C459FB1
FILE: 22. The Valley Road - Bruce Hornsby and the Range.flac
Size: 32507223 Hash: 68DB9B7DBD7BBF1D354635A4D708948D Accuracy: -m40
Conclusion: CDDA 100%
Signature: C6DC255F1ED0CCF958B3DDD7FAC9FD9B2CF973A2
FILE: 23. ROCK in the USA - John Cougar Mellencamp.flac
Size: 32654065 Hash: B1F2D0D24F49485C37414E97329C1715 Accuracy: -m40
Conclusion: CDDA 100%
Signature: 00C9E182A61560284A6D69D545AAFD5606A509F4
FILE: 3. Hope You Love Me Like You Say You Do - Huey Lewis & the News.flac
Size: 23819200 Hash: 2984F0572147EE84824B5DD96AF3C0E0 Accuracy: -m40
Conclusion: CDDA 94%
Signature: 54E02F4E43B49DC5E55D96DD64E2E82E0F7CFD9E
FILE: 4. Your Love - the Outfield.flac
Size: 25596064 Hash: 0B12E4DA2CDEDB8D7BEE3E6285E51C45 Accuracy: -m40
Conclusion: CDDA 99%
Signature: C611EF396DC68A88C1396B92382E3ACB2EF567E0
FILE: 5. I'm Happy That Love Has Found You - Jimmy Hall.flac
Size: 27384131 Hash: 4FFA6C0397D80913AAFE9150A2EF4F28 Accuracy: -m40
Conclusion: CDDA 99%
Signature: AE70012608EFB2F8EEDB142DA33ED7B05E7B9FEF
FILE: 6. Someday Someway - Marshall Crenshaw.flac
Size: 20874201 Hash: D415BDC547D0945434B22671F6A77D51 Accuracy: -m40
Conclusion: CDDA 100%
Signature: 1F14A4BA457247C200EC79F001C67774FEE2DEFF
FILE: 7. Goin' Down - Greg Guidry.flac
Size: 24427424 Hash: 8700B26FBB3B33EC29933BD4D2C4EBF4 Accuracy: -m40
Conclusion: CDDA 100%
Signature: 2E6F2714D5067211FE9B8A72A8C904ACCA77E914
FILE: 8. Hit Me with Your Best Shot - Pat Benatar.flac
Size: 21876075 Hash: C1E535433887FCADD0121A165DC30DC6 Accuracy: -m40
Conclusion: CDDA 86%
Signature: B8900A3E890E4536BA53F3A04E58D3E0F298EF28
FILE: 9. I Need You - Paul Carrack.flac
Size: 20395084 Hash: 5246EAD0FFA5C269B54EF8930409F786 Accuracy: -m40
Conclusion: CDDA 100%
Signature: 4B0A088728D1B645008065EA72F8A680631C6D54