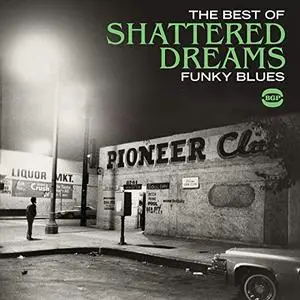 VA - The Best Of Shattered Dreams (2019)
FLAC (tracks) / MP3 320 kbps | 1:17:27 | 161 Mb / 346 Mb
Genre: Blues, Funk / Label: Ace Records
As Mark Barry succinctly stated, this is a truly wonderful selection of sides from well known to unfairly obscure artists. Among the well known are Lowell Fulson, Albert King. The obscure include the smoking Smoky Wilson and the great harmonica player Little Sonny (Aaron Willis) from Detroit. You'll be hard pressed to find a better reflection of this transitional period in the Blues.
Track List:
[02:58] 01. Al King - Bad Understanding
[03:17] 02. Finis Tasby - Cloudy Day
[02:42] 03. Arthur K Adams - Gimme Some of Your Lovin'
[04:33] 04. Smokey Wilson - High Time
[02:46] 05. Finis Tasby - It Took A Long Time
[02:43] 06. Lowell Fulson - Mellow Together
[02:55] 07. Larry davis - The Whole World's Down On You
[03:23] 08. Lowell Fulson - Welcome Home
[06:07] 09. Smokey Wilson - You Shattered My Dreams
[03:22] 10. Ray Agee - Tough Competition
[03:36] 11. Finis Tasby - Find Something Else To Do
[03:30] 12. Adolph Jacobs - Getting' Down With The Game
[04:18] 13. Obrey Wilson - Getting Down
[03:23] 14. Smokey Wilson - Go Go Train
[02:43] 15. Tommy Youngblood - Hey Little Girl
[02:56] 16. Smokey Wilson - I Want You
[02:40] 17. Jimmy Robins - It's Real, Pt. 1
[03:15] 18. Lowell Fulson - Lovemaker
[02:54] 19. Shakey Jake Harris - Sister Rose
[02:18] 20. Earl Wright - Them Love Blues
[02:39] 21. Finis Tasby - Walk On
[02:19] 22. Larry davis - You Upset Me Baby
ANALYZER: auCDtect: CD records authenticity detector, version 0.8.2
Copyright © 2004 Oleg Berngardt. All rights reserved.
Copyright © 2004 Alexander Djourik. All rights reserved.


FILE: 1 Bad Understanding Al King.flac
Size: 17536619 Hash: F5EEFE59605D47E8732996AE17A3629C Accuracy: -m40
Conclusion: CDDA 100%
Signature: A892316793DEC749EA647D9B978FC32146012CCB
FILE: 10 Tough Competition Ray Agee.flac
Size: 13239563 Hash: CF3A8286B1B31AACD6D02309CC426420 Accuracy: -m40
Conclusion: CDDA 100%
Signature: DFADD59369EEDD0D112ABD4F68B555013F8C469E
FILE: 11 Find Something Else To Do Finis Tasby.flac
Size: 21121174 Hash: CE9073E8881D684FBCD0FA3803CE5476 Accuracy: -m40
Conclusion: CDDA 100%
Signature: B63D27E9E66628DB9BB2940B817519CF30FA2311
FILE: 12 Getting' Down With The Game Adolph Jacobs.flac
Size: 12709491 Hash: 6554202B77F0DF28EE9F0A69AA512205 Accuracy: -m40
Conclusion: CDDA 100%
Signature: 59FB24BD3AF0733B503B837DBDA63E025BC7481B
FILE: 13 Getting Down Obrey Wilson.flac
Size: 28322151 Hash: 10B00CFE9DADFED18CEBA11DFE8391AC Accuracy: -m40
Conclusion: CDDA 100%
Signature: 5F26C57096A2E157264FFF1825DB6F4DBC9E6985
FILE: 14 Go Go Train Smokey Wilson.flac
Size: 20893409 Hash: CAF410EFAC6ADC15ADB938E38016FAD3 Accuracy: -m40
Conclusion: CDDA 100%
Signature: D303C0C5A4A0D4FD1E7E63A2C72E38A76D84EA64
FILE: 15 Hey Little Girl Tommy Youngblood.flac
Size: 16178025 Hash: 9A72CC31D65D8FA0154B7F73D447BDD0 Accuracy: -m40
Conclusion: MPEG 95%
Signature: A5C6C1BC4F5BB191D1FE826C780C73B7B4D8F048
FILE: 16 I Want You Smokey Wilson.flac
Size: 10730094 Hash: 16CBB176A8239BAC54FA470B31DA8918 Accuracy: -m40
Conclusion: CDDA 100%
Signature: 04A5CC62920E946F9709DD733675BFE66D0BBBF1
FILE: 17 It's Real, Pt 1 Jimmy Robins.flac
Size: 9322660 Hash: 8E016062698805A42B4557886CB9CF12 Accuracy: -m40
Conclusion: CDDA 86%
Signature: 5090F1C05B237A5750CCF53C0DD45BED5D151ABE
FILE: 18 Lovemaker Lowell Fulson.flac
Size: 20178144 Hash: D7E9F9D2981D6B76D2F055E1A8245448 Accuracy: -m40
Conclusion: CDDA 100%
Signature: 4383316628D227CC7B65B64A2E225480CDE57FB9
FILE: 19 Sister Rose Shakey Jake Harris.flac
Size: 17964015 Hash: BB91AF1E405DF395656A0D1FD9C36AC5 Accuracy: -m40
Conclusion: CDDA 100%
Signature: 6D708E114E5A46F9F3ADFAF67B1C695B6CD9BE6E
FILE: 2 Cloudy Day Finis Tasby.flac
Size: 17393904 Hash: 3248E7262A3EF645FA9A59282B3EC9C5 Accuracy: -m40
Conclusion: MPEG 91%
Signature: E5BEE5E656FEC260A45634A8050ABECC5FF6E24C
FILE: 20 Them Love Blues Earl Wright.flac
Size: 8404241 Hash: FBA64B7E870B119830DA6EF9E9C2258E Accuracy: -m40
Conclusion: CDDA 100%
Signature: 0FAAC0055C1B1790210DDCC6B1C1E33B7C5454E1
FILE: 21 Walk On Finis Tasby.flac
Size: 15064833 Hash: 38072EDEDC0AA73BFE983EF28F31A6D8 Accuracy: -m40
Conclusion: ???
Signature: B9D07A4C2F6B16C306EAF77164D5D77D35D8D26A
FILE: 22 You Upset Me Baby Larry davis.flac
Size: 8672639 Hash: 4622A72E00477C9D6CC2D63B4BBF08AC Accuracy: -m40
Conclusion: CDDA 87%
Signature: 5405A3C4B0BD975DD85FA70BF3C57E8EBF6D5D97
FILE: 3 Gimme Some of Your Lovin' Arthur K Adams.flac
Size: 9870702 Hash: 68E998AD35BE171835BDA41A90B9C0C0 Accuracy: -m40
Conclusion: CDDA 85%
Signature: 9C9BFF825F46E1ED99CB4C7D549D1F58FD3414C2
FILE: 4 High Time Smokey Wilson.flac
Size: 24294415 Hash: 2B78D158FE5F1E550C3FBE6DBA7A87CF Accuracy: -m40
Conclusion: CDDA 100%
Signature: C03B44D2B3631C2CD23C5A0020E5C732A74E9106
FILE: 5 It Took A Long Time Finis Tasby.flac
Size: 14482325 Hash: DF0C75CA7AF67B0E42E3476A97A6F36E Accuracy: -m40
Conclusion: MPEG 93%
Signature: CBA24DDCBB39D9C4F12DF92CCD0B3A8B7F3EE2B4
FILE: 6 Mellow Together Lowell Fulson.flac
Size: 17926540 Hash: 2C9221DB1D2B4CD0FBDA67BCEAB6BF0F Accuracy: -m40
Conclusion: CDDA 87%
Signature: 6BED61022C7C09C5B255C01A76FE29979CF0AC9E
FILE: 7 The Whole World's Down On You Larry davis.flac
Size: 11170251 Hash: 2684A376C8B860BA7150A4D246775CD4 Accuracy: -m40
Conclusion: CDDA 100%
Signature: F73B99766CE2FC3D7C2AD0814A46733646CA11F1
FILE: 8 Welcome Home Lowell Fulson.flac
Size: 17725887 Hash: E0473CF0B6CC825AB16F586E392C0073 Accuracy: -m40
Conclusion: CDDA 100%
Signature: 227EDFB374B1912BCCE5BE9B58EF1FDF61598A91
FILE: 9 You Shattered My Dreams Smokey Wilson.flac
Size: 30118721 Hash: 53D1D37A416C60A0AE79D3630D858B80 Accuracy: -m40
Conclusion: CDDA 42%
Signature: 9C5CCCB03AE7FC42058D179520B60BF15453F104