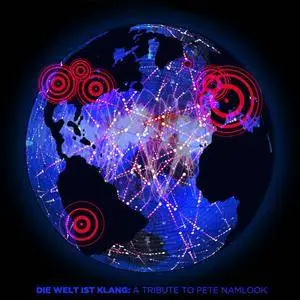 V.A. - Die Welt Ist Klang - A Tribute To Pete Namlook [8CD Box Set] (2014)
MP3 CBR 320 kbps (LAME 3.93) - 1,49 GB
Genre: Electronic, Ambient | RAR 3% Rec. | Label: Carpe Sonum Records
Peter Kuhlmann, aka Pete Namlook, founder of the FAX +49-69/450464 label, passed away unexpectedly in 2012, leaving behind an incredible catalog of hundreds of releases, composed by himself and/or collaborators from around the world, full of electronic music like no one had ever heard before. Namlook's passing is a great loss to the entire electronic music community and this is a tribute compilation worthy of recognizing the tremendous impact he had on the world of electronic music. The result is Die Welt ist Klang, consisting of 4 CDs of tracks from FAX +49-69/450464 artists, plus 4 CDs of tracks from fans, all housed in a handsome wooden box. Many of these tracks were written especially for this compilation, some are lost tracks which have never seen the light of day, while some have been previously released. Such a tribute compilation for one artist is unprecedented and will remain a testament to how much he meant to artists and fans alike.
CD 1 Tracklist:
01. Bill Laswell & Bernie Worrell - By A River (For Peter)
02. David Moufang - Regentropfen (Variation 01)
03. Eraldo Bernocchi - She Came Dancing Across The Water
04. Dr. Atmo & Miss Silencio - Floyd (Pink Mix)
05. Steve Stoll - Praxis XIII
06. Opaque / Daniel Pemberton - Opaque 10
07. Blaine L. Reininger - Public Transformation
08. Daimon Beail & Autistici - Saving A Space (For Wherever You Are)
09. Ishqamatics - Universal Cubensis Afterglide
10. F.U.S.E. - Carocell
11. Spacetime Continuum - Subway (Outtake 1993)
Total time:
01:18:36
CD 2 Tracklist:
01. Autumn Of Communion - Goodbye PK
02. Peter Benisch - Farval
03. Massimo Vivona - Your Angel
04. Material Object - Sagittarian
05. Gaudi - Lunar Patchouli
06. Lorenzo Montana / Pete Namlook - Secret Path
07. Krystian Shek - Love What You Do
08. Benjamin Wild & Daniel Esswein - 41
09. Fanger & Siebert - Conundrum
10. Higher Intelligence Agency - Sky One
11. Future Research Technology - Electric Universe
Total time:
01:19:56
CD 3 Tracklist:
01. Thomas P. Heckmann - Ode To A Friend (Edit)
02. Biosphere - Energy To Earth
03. Pascal F.E.O.S. - Sax On Dub
04. Oliver Lieb - Klangschale
05. Gabriel Le Mar - Jazzy Mid-On
06. Mick Chillage - The Light That Burns
07. Anthony Rother - See Beyond
08. XJacks - Acidbob
09. Dandy Jack And The Soul Architect - Boraz
10. Dag Lerner - A Wayward Angel
11. Dr. Motte & Gabriel Le Mar - Acid Spray
12. Glitch - Kick The Habit
Total time:
01:17:35
CD 4 Tracklist:
01. Pino & Wildjamin - Some Filter For Namlook (Edit)
02. Aerial Service Area - Cloud 2
03. Ludwig Rehberg - Pink Pearl
04. Spyra - Sodbrennen
05. Hane - Dazwischen
06. Gate Zero feat. LaMeduza - The Ache
07. Burhan Ocal - Seyh'in Ruyasi (The Sheikh's Dream)
08. Bardo Thodol - Sarasvati
09. Nikolaus Heyduck - Lago Largo
10. Victor Sol - Gong #1
11. Oskar Sala - Anwendung Elektronischer Musik Fur Den Film Von Oskar Sala
12. Robert Musso - A Compilation For Pete (Best Of Transonic)
13. Move D - Regentropfen (Reprise)
Total time:
01:19:59
CD 5 Tracklist:
01. Jacob Newman & Devin Underwood - Day Stretch
02. Bubble - Ashes
03. Veil Of Alchemy - Sea Of Transcendence (Edit)
04. Bing Satellites - Caterpillar Dance (Edit)
05. Illuminum - Principles Of Life
06. Mamonu - So Long And Thanks For All The Chill…
07. Ecoutez - Just In A…
08. Ray Rod In Sun Age - With My Octopus Friend
09. Guides - Flood
10. Tha Silent Partner - Tongue
11. Sense & Jesse Somfay - 3 Songs (Forever)
Total time:
01:20:00
CD 6 Tracklist:
01. Commodity Place - Soils
02. Jason Hissong - Coreshine
03. Dron - Polarwind
04. Mark T. Warren - Spin Cycle
05. Within Reason - Bardo Dub
06. Steve Hanlon - Freefloating
07. VAAST - Syzgy
08. Mia Rischmann - Travels
09. Michael And Spider - Dreamcatcher
10. Ben Zonneveld - Liberation Through Hearing
11. Tom Roberts - 081112 (Departure)
Total time:
01:19:55
CD 7 Tracklist:
01. Ultraviolet - Sleeps In Elysium
02. Si Matthews - Sync Polarity
03. Gianni Parrini & TwoPlusOne - Music Hypnotizes (Twoplusone And Gianni Parrini 3 Hands Re-dream)
04. Luis Duran & Thomas Penton - Passage
05. Suit & Tie Guy - The Bilderberg Gate
06. Johan Agebjorn - Ambient Robot Dance
07. Sven Kossler - Back To Living
08. Interconnected - Day 1
09. Autumus - Close To You
10. Michael Bruckner - Agens (Wild Mix)
Total time:
01:19:55
CD 8 Tracklist:
01. Aqob - Le Soleil A Ton Cœur
02. Mass Roman - Everyone Has It Now
03. Eric 'The' Taylor / Jerry Marotta - Rolled Over
04. Ceder - Moog Model D aC Final (Live Take #6)
05. Spinnet - Galene
06. One Arc Degree - Rune
07. Terra Ambient - Unfertig Ohne Sie
08. Metasonica - Eternal Return
09. The Garwin Project - Solar
10. Boreal Taiga And 3Music - Piap-Bai
11. James Lewin - Drone 05
12. Stormloop - Snowdrift (Edit)
Total time:
01:19:57