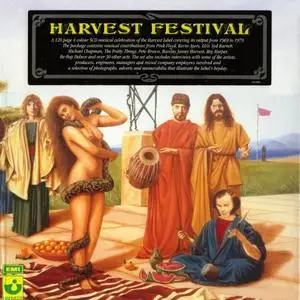 VA - Harvest Festival [Special Edition 5CD Box Set] (1999)
MP3 CBR 320 kbps | Run Time: 06:24:16 | 912 Mb
Genre: Classic Rock, Glam, New Wave, Pop Rock, Prog Rock,
Hard Rock, Art Rock, Folk Rock | Label: Harvest
Harvest Festival is a genuinely comprehensive and thorough look at the one British major label venture into psychedelia and progressive rock that actually worked, commercially and artistically; it's a panoramic journey though a major part of British rock as it developed over a period of just under a decade. Over the five CDs and 119 songs, more than two dozen acts are featured, ranging from purely English phenomena like Michael Chapman, Quatermass, and Pete Brown to mega-arena acts like Pink Floyd, and the set comes complete with a built-in 120-page book that would be worth 35 dollars by itself. Beginning with the Edgar Broughton Band's Jimi Hendrix meets the Crazy World of Arthur Brown track "Evil," the programming goes a long way to explaining why Harvest worked while other attempts at forming psychedelic and progressive labels in England failed – in contrast to the slick, commercial psychedelic ventures at rival Deram Records, Harvest always gave its artists the freedom to be louder (or softer) than the norm, and to be bold in their expressions. Moreover, the diversity of form was astonishing, from the acoustic instrumental chamber music rock of the Third Ear Band, to the lively acoustic psychedelia of Syd Barrett and Kevin Ayers, to the high-energy attack of Deep Purple, Quatermass, and Bakerloo – it all sounds amazingly strong, well crafted, and exciting. Harvest had room for jugband music, traditional acoustic folk, progressive folk-rock, spoken word, and, full-circle commercially from Harvest's late-'60s origins, psychedelic Beatles-influenced commercial rock by way of ELO. Harvest also grew to embrace sounds that would have been inconceivable for EMI to have signed when they started, including Be-Bop Deluxe (versions 1 and 2), Bill Nelson's Red Noise, the reggae outfit Matumbi, the Shirts with Annie Golden, and the punk band Wire. It's all fascinating stuff, told in great detail in the accompanying book, but ultimately, a set like this stands or falls on the music. The archivists have dug deeply enough to find material that makes Barrett's output look tame and conventional, specifically Tea & Symphony, whose "Maybe My Mind (With Egg)" is a truly dissonant and strange journey into thought processes bent by the prism of drugs and meditation. Not everything on this set will be to everyone's liking, but anyone inclined to enjoy Pink Floyd or Syd Barrett's solo stuff will be entranced by most of the content. The sound has been treated first-class, with new state-of-the-art 1999 remasterings. The other measure of success of this box is that there's a huge amount of material here that leaves the listener wanting more from a lot of the acts featured.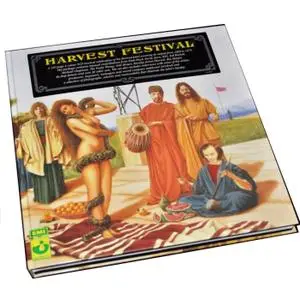 Tracklist:

CD1
01 Edgar Broughton Band Evil 2:37
02 Michael Chapman It Didn't Work Out 3:43
03 Deep Purple Wring That Neck 5:12
04 Pete Brown And His Battered Ornaments Morning Call 2:50
05 Roy Harper Tom Tiddler's Ground 6:12
06 Third Ear Band Stone Circle 3:27
07 Greatest Show On Earth Real Cool World 4:50
08 Syd Barrett Octopus 3:46
09 Panama Limited Jug Band Round And Round 3:17
10 Barclay James Harvest Mother Dear 3:19
11 Tea & Symphony Maybe My Mind (With Egg) 3:45
12 Michael Chapman Postcards Of Scarborough 4:07
13 Forest A Glade Somewhere 3:05
14 Edgar Broughton Band Out Demons Out 4:50
15 Pete Brown & Piblokto Living Life Backwards 2:04
16 Quatermass Black Sheep Of The Family 3:13
17 Bakerloo Big Bear Ffolly 3:58
18 Pretty Things The Good Mr. Square 3:03
19 Kevin Ayers The Lady Rachel 5:19
20 Shirley & Dolly Collins A Foresaking - Our Captain Cried 2:53
CD2
01 Deep Purple Speed King 5:50
02 Pete Brown and Piblokto Things May Come… 5:03
03 Edgar Broughton Band Apache Dropout 3:12
04 Chicago Climax Blues Band Everyday 2:26
05 Kevin Ayers Butterfly Dance 3:45
06 Barclay James Harvest Mockingbird 6:38
07 Michael Chapman Kodak Ghosts 3:21
08 Move The Words Of Aaron 5:29
09 Deep Purple Fireball 3:24
10 Electric Light Orchestra 10538 Overture 5:32
11 Ron Geesin & Roger Waters Breathe 2:57
12 Barclay James Harvest Medicine Man 3:55
13 Kevin Ayers & The Whole World Stranger In Blue Suede Shoes 3:25
14 Michael Chapman Fennario 7:06
15 Roy Harper The Same Old Rock 4:47
16 Edgar Broughton Band Hotel Room 4:07
17 Syd Barrett Evervescing Elephant 1:53
18 Kevin Ayers Song From The Bottom Of A Well 4:34
CD3
01 Pink Floyd Money 6:39
02 Roy Harper South Africa 4:04
03 Kevin Ayers Interview; International Anthem 5:27
04 Babe Ruth The Mexican 5:47
05 Move Do Ya 4:05
06 Southern Comfort Something Said 4:34
07 Be-Bop Deluxe Adventures In A Yorkshire Landscape 3:53
08 Roy Wood Dear Elaine 4:09
09 Kevin Ayers Take Me To Tahiti 3:35
10 Edgar Broughton Band Things On My Mind 3:41
11 Babe Ruth Hombre De La Guitarre 4:44
12 Roy Harper Another Day 3:59
13 Electric Light Orchestra Roll Over Beethoven 4:34
14 Be Bop Deluxe Maid in Heaven 2:27
15 Climax Chicago You Make Me Sick 3:51
16 Wizzard Ball Park Incident 3:40
17 Electric Light Orchestra Showdown 4:10
18 Roy Harper I'll See You Again 4:58
CD4
01 Albion Band Poor Old Horse 6:16
02 Martin Carthy Old Hog Or None 1:15
03 Albion Dance Band Hopping Down In Kent 2:47
04 Albion Dance Band Postmans Knock 2:39
05 Gryphon Spring Song 3:40
06 Unicorn Have You Ever Seen The Rain 3:11
07 Be Bop Deluxe Fair Exchange 4:49
08 Kevin Ayers Ballad Of A Salesman 4:48
09 Be-Bop Deluxe Electrical Language 3:34
10 David Gilmour Short And Sweet 5:32
11 Roy Harper When An Old Cricketer Leaves The Crease 7:13
12 Saints Erotic Neurotic 4:08
13 Wire Reuters 3:02
14 Saints This Perfect Day 2:10
15 Shirts Lonely Android 3:53
16 Banned Little Girl 2:21
17 Wire I Am The Fly 3:08
18 Saints Swing For Crime 3:39
19 Bill Nelson's Red Noise Revolt Into Style 3:24
20 Wire A Touching Display 6:56
CD5
01 Deep Purple Black Night 3:27
02 Pete Brown and Piblokto Flying Hero Sandwich 3:20
03 Move California Man 3:38
04 Greatest Show On Earth Magic Woman Touch 5:13
05 Kevin Ayres Caribbean Moon 3:03
06 Trinidad Oil Company The Calendar Song 2:52
07 Matumbi Rock ( Part 1 ) 3:39
08 Wire I Should Have Known Better 3:53
09 Ivor Cutler Life In A Scotch Sitting Room Vol.2 (excerpt) 4:02
10 Vivian Stanshall and Kilgarron The Young Ones 3:16
11 Spontaneous Combustion Sabre Dance 3:00
12 Be Bop Delux Ships In The Night 4:09
13 Bombadil Breathless 3:06
14 Marshall Hain Dancing In The City 3:49
15 Bill Nelson's Red Noise Radar In My Heart 1:39
16 Strapps Child Of The City 3:45
17 Deep Purple Hallelujab 3:43
18 Babe Ruth Wells Fargo 6:16
19 Professor Longhair Mess Around 3:56
20 Syd Barrett Golden Hair 1:58
21 Edgar Broughton Band Up yours 3:01