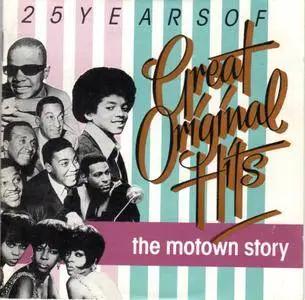 V.A. - 25 Years Of Great Original Hits: The Motown Story (6CD Box Set, 1991)
Soul, Funk, Disco | MP3 CBR 320 kbps | 835 Mb
Label: Reader's Digest
Fantastic Box Set covering the Motown Years, over 110 tracks, including "Where Did Our Love Go," "Dancing In The Street," "Jimmy Mack," "I Heard It Through The Grapevine," "Behind The Painted Smile," "The Tears of Clown," "The Tracks of My Tears," & "This Old Heart of Mine," to name just a few. Great songs from a great era, if you grew up during this period you'll love these songs, & the quality of the recordings is as usual from Readers Digest excellent!
Contents:
CD01 - The Motown Golden Showcase 1961-74
CD02 - The Motown Golden Showcase 1975-85
CD03 - Unforgettable No. 1s
CD04 - Remembering The 60s (Concluded)
CD05 - Favourites From The 70's
CD06 - Tear-Jerking Favourites (Concluded)
The Motown Golden Showcase 1961-74

1-1 –Diana Ross And The Supremes Where Did Our Love Go?
Written-By – Holland, Dozier, Holland*
1-2 –The Marvelettes Please Mr. Postman
Written-By – Holland*, Dobbins*, Garrett*
1-3 –Mary Wells My Guy
Written-By – Robinson*
1-4 –Stevie Wonder Yester-Me, Yester-You, Yester-Day
Written-By – Wells*, Miller*
1-5 –Diana Ross And The Supremes You Keep Hangin' On
Written-By – Holland, Dozier, Holland*
1-6 –Four Tops Standing In The Shadows Of Love
Written-By – Holland, Dozier, Holland*
1-7 –Martha Reeves & The Vandellas Dancing In The Street
Written-By – Hunter*, Gaye*, Stevenson*
1-8 –Jr Walker And The All Stars* (I'm A) Road Runner
Written-By – Holland, Dozier, Holland*
1-9 –Jimmy Ruffin I'll Say Forwver My Love
Written-By – Dean*, Weatherspoon*, Bowden*
1-10 –Diana Ross And Marvin Gaye Stop, Look, Listen (To Your Heart)
Written-By – Creed*, Bell*
1-11 –Gladys Knight And The Pips The Look Of Love
Written-By – Bacharach, David*
1-12 –Marvin Gaye Abraham, Martin And John
Written-By – Holler*
1-13 –Diana Ross All Of My Love
Written-By – Randall*
1-14 –Stevie Wonder A Place In The Sun
Written-By – Wells*, Miller*
1-15 –The Jackson Five* I'll Be There
Written-By – Gordy*, West*, Davis*, Hutch*

The Motown Golden Showcase 1975-85

2-1 –Diana Ross Upside Down
Written-By – Edwards*, Rodgers*
2-2 –The Miracles Love Machine (Part 1)
Written-By – Griffin*, Moore*
2-3 –Jermaine Jackson Let's Get Seriouse
Written-By – Garrett*, Wonder*
2-4 –Billy Preston And Syreeta With You I'm Born Again
Written-By – Connors*, Shire*
2-5 –The Commodores* Easy
Written-By – Richie*
2-6 –The Temptations Treat Her Like A Lady
Written-By – Woodson*, Williams*
2-7 –Diana Ross My Old Piano
Written-By – Edwards*, Rodgers*
2-8 –Syreeta Your Kiss Is Sweet
Written-By – Wonder*, Wright*
2-9 –Diana Ross And Lionel Richie Endless Love
Written-By – Richie*
2-10 –The Commodores* Nightshift
Written-By – Lambert*, Golde*, Orange*
2-11 –Marvin Gaye Got To Give It Up (Part 1)
Written-By – Gaye*
2-12 –Teena Marie Behind The Groove
Written-By – Rudolph*, Marie*

Unforgettable No. 1s

3-1 –Four Tops Reach Out, I'll Be There
Written-By – Holland, Dozier, Holland*
3-2 –Diana Ross And The Supremes Baby Love
Written-By – Holland, Dozier, Holland*
3-3 –The Temptations My Girl
Written-By – Moore*, Robinson*
3-4 –Diana Ross And The Supremes You Can't Hurry Love
Written-By – Holland, Dozier, Holland*
3-5 –The Jackson Five* ABC
Written-By – The Corporation TM
3-6 –Diana Ross Ain't No Mountain High Enough
Written-By – Ashford, Simpson*
3-7 –The Temptations Papa Was A Rolling Stone
Written-By – Whitfield, Strong*
3-8 –Marvin Gaye What's Going On
Written-By – Cleveland*, Gaye*, Benson*
3-9 –Diana Ross Theme From 'Mahogany' ('Do You Know Where You're Going To')
Written-By – Goffin*, Masser*
3-10 –Smokey Robinson Being With You
Written-By – Robinson*
3-11 –The Commodores* Three Times A Lady
Written-By – Richie*
3-12 –Charlene I've Never Been To Me
Written-By – Hirsch*, Miller*
3-13 –Michael Jackson One Day In Your Life
Written-By – Armand*, Brown III*
Remembering The 60s (Part 1)
3-14 –Marvin Gaye I Heard It Through The Grapevine
Written-By – Whitfield, Strong*
3-15 –Four Tops Bernadette
Written-By – Holland, Dozier, Holland*
3-16 –Smokey Robinson & The Miracles You've Really Got A Hold On Me
Written-By – Robinson*
3-17 –The Temptations Get Ready
Written-By – Robinson*
3-18 –Stevie Wonder Uptight (Everything's Alright)
Written-By – Cosby*, Wonder*, Moy*
3-19 –Martha Reeves & The Vandellas Jimmy Mack
Written-By – Holland, Dozier, Holland*
3-20 –Marvin Gaye & Kim Weston It Takes Two
Written-By – Moy*, Stevenson*

Remembering The 60s (Concluded)

4-1 –Diana Ross And The Supremes Stop! In The Name Of Love
Written-By – Holland, Dozier, Holland*
4-2 –The Isley Brothers Put Yourself In My Place
Written-By – Holland, Dozier, Holland*
4-3 –Gladys Knight And The Pips Take Me In Your Arms And Love Me
Written-By – Strong*, Grant*, Penzabene*
4-4 –Marvin Gaye & Tammi Terrell The Onion Song
Written-By – Ashford, Simpson*
4-5 –Stevie Wonder For Once In My Life
Written-By – Murden*, Miller*
4-6 –Edwin Starr Stop Her On Sight (SOS)
Written-By – Hamilton*, Hatcher*, Morris*
4-7 –Diana Ross And The Supremes The Happening
Written-By – Holland, Dozier, Holland*
4-8 –Martha Reeves & The Vandellas (Love Is Like A) Heatwave
Written-By – Holland, Dozier, Holland*
The Great Romantic Hits
4-9 –Stevie Wonder My Cherie Amour
Written-By – Cosby*, Wonder*, Moy*
4-10 –Four Tops If I Were A Carpenter
Written-By – Hardin*
4-11 –Marvin Gaye And Tammi Terrell* You're All I Need To Get By
Written-By – Ashford, Simpson*
4-12 –The Isley Brothers 'Thos Old Heart Of Mine (Is Weak For You)
Written-By – Holland, Dozier, Holland*
4-13 –Diana Ross And The Supremes And The Temptations I'm Gonna Make You Love Me
Written-By – Ross*, Gamble*
4-14 –Michael Jackson Got To Be There
Written-By – Willensky*
4-15 –The Temptations I Can't Get Next To You
Written-By – Whitfield, Strong*
4-16 –Diana Ross And The Supremes Someday We'll Be Together
Written-By – Fuqua*, Beavers*, Bristol*
4-17 –Stevie Wonder I Was Made To Love Her
Written-By – Cosby*, Hardaway*, Wonder*, Moy*
4-18 –Marvin Gaye How Sweet It Is (To Be Loved By You)
Written-By – Holland, Dozier, Holland*
4-19 –Four Tops It's All In A Game
Written-By – Sigman*, Dawes*
4-20 –Diana Ross Touch Me In The Morning
Written-By – Masser*, Miller*
4-21 –Gladys Knight And The Pips Help Me Make It Though The Night
Written-By – Kristofferson*
4-22 –Diana Ross And Marvin Gaye You Are Everything
Written-By – Creed*, Bell*

Favourites From The 70's

5-1 –Michael Jackson Rockin' Robin
Written-By – Thomas*
5-2 –R. Dean Taylor Indiana Wants Me
Written-By – Taylor*
5-3 –Stevie Wonder Never Had A Dream Come True
Written-By – Cosby*, Wonder*, Moy*
5-4 –The Supremes Stoned Love
Written-By – Wilson*, Samoht*
5-5 –The Elgins Heaven Must Have Sent You
Written-By – Holland, Dozier, Holland*
5-6 –Edwin Starr War
Written-By – Whitfield, Strong*
5-7 –The Jackson Five* The Love You Save
Written-By – The Corporation TM
5-8 –Diana Ross Remember Me
Written-By – Ashford, Simpson*
5-9 –The Commodores* Still
Written-By – Richie*
5-10 –Gladys Knight And The Pips Neither One Of Us (Wants To Be The First To Say Goodbye)
Written-By – Weatherly*
5-11 –Stevie Wonder Signed, Sealed, Delivered I'm Yours
Written-By – Garrett*, Hardaway*, Wonder*, Wright*
5-12 –The Temptations Just My Imagination (Running Away With Me)
Written-By – Whitfield, Strong*
5-13 –Smokey Robinson And The Miracles I Don't Blame You At All
Written-By – Robinson*
5-14 –The Supremes And Four Tops River Deep - Mountain High
Written-By – Spector, Barry, Greenwich*
5-15 –Smokey Robinson And The Miracles The Tears Of A Clown
Written-By – Cosby*, Wonder*, Robinson*
5-16 –Diana Ross And The Supremes My World Is Empty Yithout You
Written-By – Holland, Dozier, Holland*
5-17 –Jimmy Ruffin What Becomes Of A Brokenhearted
Written-By – Dean*, Weatherspoon*, Riser*
5-18 –Four Tops Walk Away Renee
Written-By – Calilli*, Brown*, Sansone*
5-19 –The Isley Brothers Behind A Painted Smile
Written-By – Verdi*, Hunter*
5-20 –Diana Ross And The Supremes Love Is Here And Now You're Gone
Written-By – Holland, Dozier, Holland*
5-21 –Four Tops Seven Rooms Of Gloom
Written-By – Holland, Dozier, Holland*

Tear-Jerking Favourites (Concluded)

6-1 –Thelma Houston Don't Leave Me This Way
Written-By – Gilbert*, Gamble*, Huff*
6-2 –Diana Ross And The Supremes I'm Livin' In Shame
Written-By – Gordy*, Wilson*, Cosby*, Sawyer*, Dean Taylor*
6-3 –The Jackson Five* Never Can Say Goodbye
Written-By – Davis*
6-4 –Diana Ross I'm Still Waiting
Written-By – Richards*
6-5 –Jimmy Ruffin Farewell Is A Lonely Sound
Written-By – Dean*, Weatherspoon*, Goga*
6-6 –Michael Jackson Ain't No Sunshine
Written-By – Withers*
6-7 –Smokey Robinson And The Miracles The Tracks Of My Tears
Written-By – Tarplin*, Moore*, Robinson*
6-8 –Michael Jackson Ben
Written-By – Black*, Scharf*
6-9 –Diana Ross And The Supremes Reflections
Written-By – Holland, Dozier, Holland*
6-10 –Marvin Gaye Too Busy Thinking About My Baby
Written-By – Bradford*, Whitfield, Strong*
6-11 –Smokey Robinson And The Miracles I Second That Emotion
Written-By – Cleveland*, Robinson*
6-12 –The Marvelettes When You're Young And In Love
Written-By – McCoy*
6-13 –Martha Reeves & The Vandellas Nowhere To Run
Written-By – Holland, Dozier, Holland*
6-14 –The Isley Brothers I Guess I'll Always Love You
Written-By – Holland, Dozier, Holland*
6-15 –The Jackson Five* Doctor My Eyes
Written-By – Browne*
6-16 –Stevie Wonder Heaven Help Us All
Written-By – Miller*
6-17 –The Temptations Cloud Nine
Written-By – Whitfield, Strong*
6-18 –Jr Walker And The All Star* What Does It Take (To Win Your Love)
Written-By – Fuqua*, Bristol*, Bullock*
6-19 –Four Tops I Can't Help Myself
Written-By – Holland, Dozier, Holland*
6-20 –Michael Jackson Farewell My Sommer Love
Written-By – Lewis*
6-21 –The Commodores* Sail On
Written-By – Richie*
6-22 –Diana Ross Gettin' Ready For Love
Written-By – Gold*, Snow*