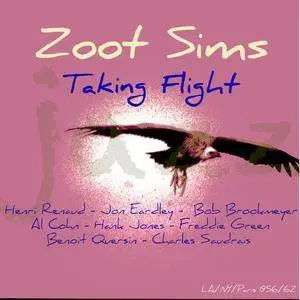 Zoot Sims - Taking Flight (2018)
WEB FLAC (tracks) / MP3 CBR 320 kbps | 1:02:51 | 300 Mb / 144 Mb
Genre: Jazz / Label: Chameleon Archive
Throughout his career, Zoot Sims was famous for epitomizing the swinging musician, never playing an inappropriate phrase. He always sounded inspired, and although his style did not change much after the early 1950s, Zoot's enthusiasm and creativity never wavered. Zoot's family was involved in vaudeville, and he played drums and clarinet as a youth. His older brother, Ray Sims, developed into a fine trombonist who sounded like Bill Harris. At age 13, Sims switched permanently to the tenor, and his initial inspiration was Lester Young, although he soon developed his own cool-toned sound. Sims was a professional by the age of 15, landing his first important job with Bobby Sherwood's Orchestra, and he joined Benny Goodman's big band for the first time in 1943; he would be one of BG's favorite tenormen for the next 30 years.
Track List:
1 I'm Stretching Out 06:09
2 Evening in Paris 03:22
3 Jive at Five 05:19
4 My Old Flame 03:24
5 It Ain't Necessarily So 03:17
6 Pennies from Heaven 06:17
7 East of the Sun 11:03
8 Bess You Is My Woman 05:18
9 Everything I Love 04:19
10 Oh Lawd I'm on My Way 03:25
11 I've Heard that Blues Before 05:27
12 More Blues 05:24
ANALYZER: auCDtect: CD records authenticity detector, version 0.8.2
Copyright © 2004 Oleg Berngardt. All rights reserved.
Copyright © 2004 Alexander Djourik. All rights reserved.


FILE: 1 I'm Stretching Out.flac
Size: 39459588 Hash: 3E198A0F959C8CDC6D15660786DD9095 Accuracy: -m40
Conclusion: CDDA 100%
Signature: 096960FAE32BFDCDABF84B5E78A9D1A214946948
FILE: 10 Oh Lawd I'm on My Way.flac
Size: 23079631 Hash: 1E5171B319BA4DC0F0400BB2F27BAF7F Accuracy: -m40
Conclusion: CDDA 100%
Signature: 10938C1965402177F0FEE5866E38A440ADBA0071
FILE: 11 I've Heard that Blues Before.flac
Size: 33768868 Hash: DA9ABF1E2E4A32ABA9B4CA9B834FA26E Accuracy: -m40
Conclusion: CDDA 100%
Signature: 716F83859522B9BF7E1A596E1971F6B2419EEB16
FILE: 12 More Blues.flac
Size: 20108666 Hash: 25E74A4F45600CFC289517802F2E1832 Accuracy: -m40
Conclusion: CDDA 100%
Signature: 36EB5BF992EC125FECF286EEABB5A7E6EF5BD786
FILE: 2 Evening in Paris.flac
Size: 15975356 Hash: B14287D5B1C5EB8EB04B0801A7116C96 Accuracy: -m40
Conclusion: CDDA 94%
Signature: 63993C1A4F48186602ADFD92899807F9105F9596
FILE: 3 Jive at Five.flac
Size: 33185138 Hash: A2C26194227001E6E50E71CE51DD6E9A Accuracy: -m40
Conclusion: CDDA 87%
Signature: 3B8AE7366410045649404BC9E03E0C0618AA1DA3
FILE: 4 My Old Flame.flac
Size: 10777742 Hash: E5A6094D4222415533A0E372356D4846 Accuracy: -m40
Conclusion: CDDA 100%
Signature: 110D910F2F1FDA82AF409EC7D09A9D8663A96554
FILE: 7 East of the Sun.flac
Size: 27663596 Hash: CFFA3AD9F0C0B2754AAF506191F32067 Accuracy: -m8
Conclusion: MPEG 95%
Signature: 3582195C446808286FCB4699B040CFE06AF1EF2C
FILE: 5 It Ain't Necessarily So.flac
Size: 21145554 Hash: 053AB3FFD024B0A9AEE4EF1F3DA9D98F Accuracy: -m40
Conclusion: CDDA 100%
Signature: 512F11C748F6F9AB5A2FBCA47F161483572DA1B4
FILE: 6 Pennies from Heaven.flac
Size: 42189486 Hash: 46189CF869DB847E92C935554C5F0A53 Accuracy: -m40
Conclusion: CDDA 100%
Signature: 6D420EDFB0FA07747814E1692A4EA28296C56789
FILE: 8 Bess You Is My Woman.flac
Size: 33177405 Hash: 242F2BA1140885721082FB6BC4BA0551 Accuracy: -m40
Conclusion: CDDA 99%
Signature: D72F82682B7AB4C50273C5DCF900855F2AF3C9D1
FILE: 9 Everything I Love.flac
Size: 15010306 Hash: CBAE344ABBA3C54F5BB8F0F65C9D3E5C Accuracy: -m40
Conclusion: CDDA 100%
Signature: C373AF69ADEF664857D94474D4C2465D02C3DF13