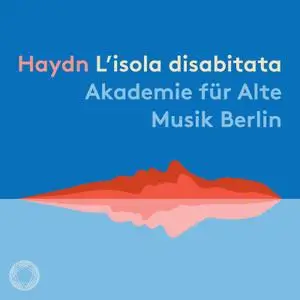 Bernhard Forck, André Morsch, Anett Fritsch, Sunhae Im & Akademie für Alte Musik Berlin - Haydn: L'isola disabitata, Hob. XXVIII: 9 (2021)
WEB FLAC (tracks) - 363 Mb | MP3 CBR 320 kbps - 185 Mb | 01:20:51
Classical, Opera | Label: Pentatone
After their acclaimed recording of Telemann's Miriways, the Akademie für Alte Musik Berlin returns to PENTATONE with Joseph Haydn's opera L'isola disabitata, together with an excellent quartet of vocalists. Officially called an azione teatrale, L'isola is a serious opera about love, loss and misunderstanding with a happy ending, set on an exotic deserted island. Special about this opera is that Haydn chose orchestral accompaniment for the entire work, with colourful and dramatic accompagnato recitatives. In Haydn's printed score, many of the elaborate instrumental sections were deliberately cut, because he feared that they demanded too much from the players, and that some audiences may not have been cultured enough to fully appreciate them. Special about this recording is that these parts have all been reinstated, using a recent edition by Thomas Busse. The seasoned players of the Akademie für Alte Musik Berlin, led by Bernhard Forck, play this lavish score with fervour and swing, while Anett Fritsch (Costanza), Sunhae Im (Silvia), Krystian Adam (Gernando) and André Morsch (Enrico) offer an equally virtuosic vocal delivery.

The Akademie für Alte Musik Berlin is generally seen as one of the best period-instruments ensembles of today, and has a substantial PENTATONE discography, including Telemann's Miriways (2020), CANTATA with Bejun Mehta (2018), as well as Handel's Messiah (2020) and Concerti grossi Op. 6 (released in 2019 and 2020) and Op. 3 (2020). Annet Fritsch and André Morsch featured on Telemann's Miriways, while Sunhae Im and Krystian Adam make their PENTATONE debut.
Tracklist:
01. Overture
02. Recitative : Qual contrasto non vince
03. Recitative : Ah germana! Ah Costanza!
04. Aria : Se non piange un'infelice
05. Recitative : Che ostinato dolor!
06. Recitative : Ma sarà poi, Gernando
07. Aria : Chi nel cammin d'onoro
08. Recitative : Che fu mai quel ch'io vidi!
09. Aria : Fra un dolce deliro
10. Recitative : Ah presaga fu l'alma
11. Aria : Non turbar quand'io mi lagno
12. Recitative : Non s'irriti fra' primi
13. Aria : Come il vapor s'ascende
14. Aria : Ah, che invan per me pietoso
15. Recitative : Giacché da me lontana
16. Arietta & Recitative : Giacché il pietoso amico
17. Recitative : Ignora il caro amico le sue felicità
18. Recitative : Costanza, Costanza?
19. Quartet : Sono contenta appieno
–––––––––––-

DON'T MODIFY THIS FILE

–––––––––––-

PERFORMER: auCDtect Task Manager, ver. 1.6.0 RC1 build 1.6.0.1
Copyright © 2008-2010 y-soft. All rights reserved

ANALYZER: auCDtect: CD records authenticity detector, version 0.8.2
Copyright © 2004 Oleg Berngardt. All rights reserved.
Copyright © 2004 Alexander Djourik. All rights reserved.


FILE: 19 - Bernhard Forck - Quartet - Sono contenta appieno.flac
Size: 50893533 Hash: 24BF2990004F1E5F3E290EBC7B1D6626 Accuracy: -m8
Conclusion: CDDA 100%
Signature: 8A6E63A39E2AE280B8B9B4477CF790B08521E0B9
FILE: 18 - Bernhard Forck - Recitative - Costanza, Costanza.flac
Size: 18365750 Hash: 4D2256C4821F5E698D96F5990BDBFBD7 Accuracy: -m8
Conclusion: CDDA 100%
Signature: 820D0EECE833312603D4C10C6080F79BD098BFEE
FILE: 17 - Bernhard Forck - Recitative - Ignora il caro amico le sue felicità.flac
Size: 21301258 Hash: 8528B9335B94DC972B2C0128AA040A58 Accuracy: -m8
Conclusion: CDDA 100%
Signature: 9C56A0310C6D01D5CE75C1A541D62D05F4B6833A
FILE: 16 - Bernhard Forck - Arietta & Recitative - Giacché il pietoso amico.flac
Size: 12463086 Hash: A25E90EDBAF1BC4732162EBCE24CE983 Accuracy: -m8
Conclusion: CDDA 100%
Signature: 67062AD7562FA5134DB82AB0BB7582116BAA95BB
FILE: 15 - Bernhard Forck - Recitative - Giacché da me lontana.flac
Size: 1559841 Hash: BF1A817AEFF77DE74228CD0CA629E4BC Accuracy: -m8
Conclusion: CDDA 100%
Signature: 47E39F132CD89B3F4E3047064592D244A5F0A7C7
FILE: 14 - Bernhard Forck - Aria - Ah, che invan per me pietoso.flac
Size: 19578972 Hash: 9604A533EE4EB25B5265A829AF934D4F Accuracy: -m8
Conclusion: CDDA 99%
Signature: C6FACA2923E2FD7934131591708D0357CC1C331E
FILE: 13 - Bernhard Forck - Aria - Come il vapor s'ascende.flac
Size: 16622949 Hash: 95101586D52848026F062C822A5E2BAE Accuracy: -m8
Conclusion: CDDA 100%
Signature: CDC23D76FA9AAD7A6687F34D37D34C14D8EB8521
FILE: 12 - Bernhard Forck - Recitative - Non s'irriti fra' primi.flac
Size: 27407216 Hash: B64E234062F395549D60737C8A2AD02A Accuracy: -m8
Conclusion: CDDA 99%
Signature: 97E9B7C59C4E4E23E3F365A97C8BC7768EC3B7E7
FILE: 11 - Bernhard Forck - Aria - Non turbar quand'io mi lagno.flac
Size: 17739241 Hash: 8CC866ED0056F4356EBE7D99D29F4E23 Accuracy: -m8
Conclusion: CDDA 100%
Signature: 9A029ADCFB9FDAAB9545A504A9F0648E66F9300F
FILE: 10 - Bernhard Forck - Recitative - Ah presaga fu l'alma.flac
Size: 26456044 Hash: 8BE16ABA3BA5EC7E075394FA54F65DE5 Accuracy: -m8
Conclusion: CDDA 100%
Signature: 18B29557BE7F92A180FDC24DBBFA81FA2C8A1CCC
FILE: 09 - Bernhard Forck - Aria - Fra un dolce deliro.flac
Size: 17132299 Hash: 1A988BAFE57B52CB66FB2F055BB1D494 Accuracy: -m8
Conclusion: CDDA 100%
Signature: 96B206C66DCAAE24B75516841AAAEE32AA70BAFE
FILE: 08 - Bernhard Forck - Recitative - Che fu mai quel ch'io vidi!.flac
Size: 7266750 Hash: F9727254D19E794BA51F16823F6ABC61 Accuracy: -m8
Conclusion: CDDA 99%
Signature: 6D6692C3F492058CC19A21EB3B31946E6F726193
FILE: 07 - Bernhard Forck - Aria - Chi nel cammin d'onoro.flac
Size: 19132665 Hash: E4D7EBB16DBC9A71F1C7D065BF029216 Accuracy: -m8
Conclusion: CDDA 100%
Signature: EBE276258D711D1CCED0935E5B1607C3660F059E
FILE: 06 - Bernhard Forck - Recitative - Ma sarà poi, Gernando.flac
Size: 19361892 Hash: F6184C79F80D7A427AC9CCB78682F51C Accuracy: -m8
Conclusion: CDDA 100%
Signature: 474E7F14D70773C31CD04ED2C08EFE78E0CC45B6
FILE: 05 - Bernhard Forck - Recitative - Che ostinato dolor!.flac
Size: 10681350 Hash: 97A4BE639ACFBC74821C95923587A0F7 Accuracy: -m8
Conclusion: CDDA 100%
Signature: E095FCB8DE4D9774F32D761D331847252B5929A9
FILE: 04 - Bernhard Forck - Aria - Se non piange un'infelice.flac
Size: 17109215 Hash: 07CC559615B0AEB182FAC98368358582 Accuracy: -m8
Conclusion: CDDA 100%
Signature: BA961FA3AF07431F2010FF1C41BAAC36510AC65B
FILE: 03 - Bernhard Forck - Recitative - Ah germana! Ah Costanza!.flac
Size: 31170487 Hash: 51D1AFFF3ACCD5F3C88D3D3A39D6362E Accuracy: -m8
Conclusion: CDDA 100%
Signature: 4A0C1C98DBB67B25DEA5FFC14662C6F3E82C5014
FILE: 02 - Bernhard Forck - Recitative - Qual contrasto non vince.flac
Size: 12126327 Hash: 27648B47163D25604CA0A6D678471C63 Accuracy: -m8
Conclusion: CDDA 100%
Signature: 459E88EAC584683F42367EF50FE9ECA8D9E4C797
FILE: 01 - Bernhard Forck - Overture.flac
Size: 33923706 Hash: 22E6F9C59DD2F369555574D390E54AA7 Accuracy: -m8
Conclusion: CDDA 99%
Signature: 78C4E86E77436446D9567857CB404D5A9DE972CF