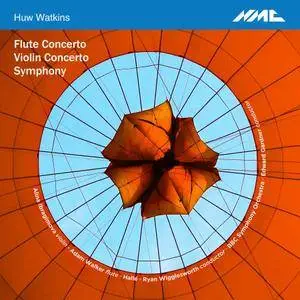 Alina Ibragimova, Adam Walker, Hallé Orchestra & Ryan Wigglesworth - Huw Watkins: Flute Concerto, Violin Concerto & Symphony (2018)
WEB FLAC (tracks) - 248 Mb | MP3 CBR 320 kbps - 158 Mb | Digital booklet | 01:07:00
Classical | Label: NMC Recordings
Watkins is one of today's leading composer-pianists and this album (his second for NMC Recordings) showcases his vibrant, lyrical and impeccably crafted orchestral writing. Both the Flute and Violin Concertos were composed for soloists with whom he already had a close working relationship. Adam Walker is the principal fl autist for the London Symphony Orchestra, who Watkins' describes as having an 'amazing sound and control of his instrument'. The delicate orchestration in the Flute Concerto allows the solo fl ute to take fl ight as it weaves in and out with skittish motifs. Alina Ibragimova is the soloist in the Violin Concerto, premiered at the BBC Proms in 2010. The piece harnesses Ibragimova's dynamic and intense, fi ercely intelligent playing, switching from attacking virtuosity and molten lyricism, often in an instant. The result is dramatic and utterly compelling.In this album's liner notes, Steph Power writes that Watkins has 'long seemed a symphonist in waiting, with a natural affi nity for big-boned yet fi nely-wrought drama'. Cast in two movements, Huw Watkins' Symphony does not strictly adhere to classical symphonic form. Rather, the composer interprets this great tradition through his development of ideas and use of the orchestra. The result is a thrilling, huge and percussive sound, brimming with excitement and energy.
Tracklist:
01. Flute Concerto: I. Allegro molto
02. Flute Concerto: II. Andante
03. Flute Concerto: III. Allegro molto
04. Violin Concerto: I. Allegro molto (Live)
05. Violin Concerto: II. Andante (Live)
06. Violin Concerto: III. Allegro molto (Live)
07. Symphony: I. Allegro molto
08. Symphony: II. Lento
–––––––––––-

DON'T MODIFY THIS FILE

–––––––––––-

PERFORMER: auCDtect Task Manager, ver. 1.6.0 RC1 build 1.6.0.1
Copyright © 2008-2010 y-soft. All rights reserved

ANALYZER: auCDtect: CD records authenticity detector, version 0.8.2
Copyright © 2004 Oleg Berngardt. All rights reserved.
Copyright © 2004 Alexander Djourik. All rights reserved.


FILE: 8 - Halle Orchestra - Symphony_ II. Lento.flac
Size: 44645553 Hash: B1BEAC9B5891364371637ED3ADBF1D79 Accuracy: -m0
Conclusion: CDDA 100%
Signature: 4A528DBCBB4DAD6CA010F99262E69077B8A5D946
FILE: 7 - Halle Orchestra - Symphony_ I. Allegro molto.flac
Size: 38571564 Hash: 95CF7B5E959A8E2A60E5A37214F3B097 Accuracy: -m0
Conclusion: CDDA 100%
Signature: 37C672E0EE211CC7E1A9B1C48BF513AFF76B0EE6
FILE: 6 - Alina Ibragimova - Violin Concerto_ III. Allegro molto (Live).flac
Size: 28805343 Hash: E0428E09B96C482D8B9F7AF6527BB9CB Accuracy: -m0
Conclusion: CDDA 62%
Signature: 7E3C37A1E57DB94A90D2B850AC58DA214B387948
FILE: 5 - Alina Ibragimova - Violin Concerto_ II. Andante (Live).flac
Size: 33090375 Hash: 2C30444C550E293A8DA16E7F7F5DB7AB Accuracy: -m0
Conclusion: MPEG 89%
Signature: 98E838A235464BFAC810AB72D1F107812412E0BF
FILE: 4 - Alina Ibragimova - Violin Concerto_ I. Allegro molto (Live).flac
Size: 30603417 Hash: 9EB0B046190752E0C3C45D04DC788A64 Accuracy: -m0
Conclusion: MPEG 93%
Signature: 6AEC342A0548D60780DC4407ADF1BD7053266F6B
FILE: 3 - Adam Walker - Flute Concerto_ III. Allegro molto.flac
Size: 31565864 Hash: B101DC86E56685A1309DC999919E0DDD Accuracy: -m0
Conclusion: CDDA 100%
Signature: 7A759027DB6F0E718BB7F9AB770A8FC66E73A026
FILE: 2 - Adam Walker - Flute Concerto_ II. Andante.flac
Size: 23281070 Hash: CDAA2C5C07FBDC4BB64E576C8519122D Accuracy: -m0
Conclusion: CDDA 100%
Signature: FB6B4DF3C78FA2EE099F9EB3E9EA3ACC3DED29D0
FILE: 1 - Adam Walker - Flute Concerto_ I. Allegro molto.flac
Size: 25521627 Hash: 3593C0D0DC50DF708FF8C07833789477 Accuracy: -m0
Conclusion: CDDA 100%
Signature: B50D49F685FE100E637425BD93710BDC82B13794