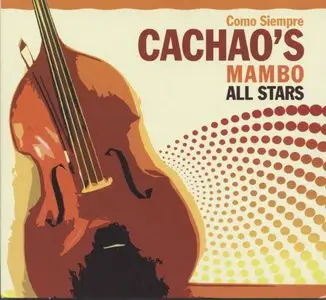 Cachao's Mambo All Stars - Como Siempre
Cuba | mp3 320 Kbps | 97 MB
Eventus Entertainment 2009
Israel Cachao Lopez may have left us in recent years, but the spirit of his music lives on beautifully – thanks to the work of his Mambo All Stars group! The combo's directed by Germain Piferrer, who also handles the arrangements – and most of the music here echoes with the older Cuban sounds that Cachao first helped pioneer many years back – a very jazzy take on Afro-Cuban music, presented here with a hip lineup of saxes, trombones, trumpet, and flute – plus plenty of percussion too! Jorge Luis Sosa plays piano in the group, and vocals are by Tony Columbie and Dnaiel Palacio – on titles that include "Cunde", "Contigo Voy", "Dulce Guayaba", "Tun Tun", "Maria G", "El Platanal De Bartolo", "La Guajira", and "El Amor Te Llego"
01. Contigo Voy
02. Cunde
03. El Amor Te Llegó
04. Alto Songo
05. Dulce Güayaba
06. Tun Tun
07. María G
08. El Platanal De Bartolo
09. Como Mi Amigo No Hay Dos
10. La Güajira