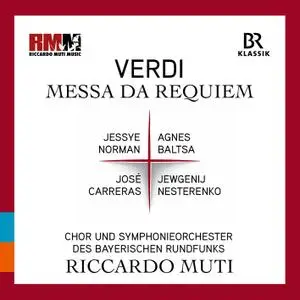 Chor und Symphonieorchester des Bayerischen Rundfunks & Riccardo Muti - Verdi: Messa da Requiem (2021)
WEB FLAC (tracks) - 351 Mb | MP3 CBR 320 kbps - 195 Mb | Digital booklet | 01:23:56
Classical, Sacred, Vocal | Label: BR-Klassik
Ever since his brilliant first appearance in Munich with the Requiem, he is still a regular guest at the BR. Riccardo Muti is currently regarded as a mature representative of the great Italian tradition. This CD release therefore has to be seen as a "classically polished gem" – a gem that shines and flashes as beautifully and as brilliantly as ever!
Tracklist:
01. Verdi: Messa da Requiem: I. Introit - Kyrie (Live)
02. Verdi: Messa da Requiem: IIa. Sequence. Dies irae (Live)
03. Verdi: Messa da Requiem: IIb. Sequence. Tuba mirum - IIc. Sequence. Mors stupebit (Live)
04. Verdi: Messa da Requiem: IId. Sequence. Liber scriptus (Live)
05. Verdi: Messa da Requiem: IIe. Sequence. Quid sum miser (Live)
06. Verdi: Messa da Requiem: IIf. Sequence. Rex tremendae (Live)
07. Verdi: Messa da Requiem: IIg. Sequence. Recordare (Live)
08. Verdi: Messa da Requiem: IIh. Sequence. Ingemisco (Live)
09. Verdi: Messa da Requiem: IIi. Sequence. Confutatis (Live)
10. Verdi: Messa da Requiem: IIj. Sequence. Lacrimosa (Live)
11. Verdi: Messa da Requiem: IIIa. Offertory. Domine Jesu Christe (Live)
12. Verdi: Messa da Requiem: IIIb. Offertory. Hostias (Live)
13. Verdi: Messa da Requiem: IV. Sanctus (Live)
14. Verdi: Messa da Requiem: V. Agnus Dei (Live)
15. Verdi: Messa da Requiem: VI. Communion. Lux aeterna (Live)
16. Verdi: Messa da Requiem: VII. Libera me (Live)
–––––––––––-

DON'T MODIFY THIS FILE

–––––––––––-

PERFORMER: auCDtect Task Manager, ver. 1.6.0 RC1 build 1.6.0.1
Copyright © 2008-2010 y-soft. All rights reserved

ANALYZER: auCDtect: CD records authenticity detector, version 0.8.2
Copyright © 2004 Oleg Berngardt. All rights reserved.
Copyright © 2004 Alexander Djourik. All rights reserved.


FILE: 16 - Chor und Symphonieorchester des Bayerischen Rundfunks & Riccardo Muti - Verdi- Messa da Requiem- VII. Libera me (Live).flac
Size: 61233251 Hash: F2C93A4E0099169888DEFEB74BA8A22D Accuracy: -m8
Conclusion: CDDA 99%
Signature: 2CAADFEA3A0940BFEC63CEAEAEB0006475004E3C
FILE: 15 - Chor und Symphonieorchester des Bayerischen Rundfunks & Riccardo Muti - Verdi- Messa da Requiem- VI. Communion. Lux aeterna (Live).flac
Size: 27422251 Hash: 79BB917F78A46F4691C01AE20E7086B6 Accuracy: -m8
Conclusion: CDDA 100%
Signature: D7F6B260F69B67650BA359FD31BF9A4CCD32E891
FILE: 14 - Chor und Symphonieorchester des Bayerischen Rundfunks & Riccardo Muti - Verdi- Messa da Requiem- V. Agnus Dei (Live).flac
Size: 20657384 Hash: FB814CA51BABB0CE83507871188978CD Accuracy: -m8
Conclusion: CDDA 100%
Signature: 22511E48B1B091E0F4B0BAC43B2928242CDC632E
FILE: 13 - Chor und Symphonieorchester des Bayerischen Rundfunks & Riccardo Muti - Verdi- Messa da Requiem- IV. Sanctus (Live).flac
Size: 12495778 Hash: 8FC5ECCA9E7E7C41851D76C59B9B179C Accuracy: -m8
Conclusion: CDDA 100%
Signature: FF7EA938F532953362667FD0A251A9DDDD42C875
FILE: 12 - Chor und Symphonieorchester des Bayerischen Rundfunks & Riccardo Muti - Verdi- Messa da Requiem- IIIb. Offertory. Hostias (Live).flac
Size: 24158002 Hash: 393B775AD7307A794B7B3060A974046D Accuracy: -m8
Conclusion: CDDA 100%
Signature: 521A609E0643C76ADC60DC585E95E1828D53AF7D
FILE: 11 - Chor und Symphonieorchester des Bayerischen Rundfunks & Riccardo Muti - Verdi- Messa da Requiem- IIIa. Offertory. Domine Jesu Christe (Live).flac
Size: 18283790 Hash: A39FA54C6A498FE5933BA1EAA2F2D2B1 Accuracy: -m8
Conclusion: CDDA 100%
Signature: F77EDC2B964DD2F398280BCDBA8DFB4AE2B13872
FILE: 10 - Chor und Symphonieorchester des Bayerischen Rundfunks & Riccardo Muti - Verdi- Messa da Requiem- IIj. Sequence. Lacrimosa (Live).flac
Size: 27323819 Hash: 636C4ED1C1921D896D2848F08B3ADA6F Accuracy: -m8
Conclusion: CDDA 100%
Signature: E03B46BDF0ACA1D6255C83EAB78181DB09BF3BBD
FILE: 09 - Chor und Symphonieorchester des Bayerischen Rundfunks & Riccardo Muti - Verdi- Messa da Requiem- IIi. Sequence. Confutatis (Live).flac
Size: 24904859 Hash: 642CAC679ADE7D108DAD22F80396EBF1 Accuracy: -m8
Conclusion: CDDA 100%
Signature: 2761983E6ADFA2A8681D4F12F82AEA0B6B95E29E
FILE: 08 - Chor und Symphonieorchester des Bayerischen Rundfunks & Riccardo Muti - Verdi- Messa da Requiem- IIh. Sequence. Ingemisco (Live).flac
Size: 15700281 Hash: 89F3FA3104D319DA6E24316B36429E3D Accuracy: -m8
Conclusion: CDDA 100%
Signature: 58B6D23C51848F260C23321CB0A08BA70FF81EE5
FILE: 07 - Chor und Symphonieorchester des Bayerischen Rundfunks & Riccardo Muti - Verdi- Messa da Requiem- IIg. Sequence. Recordare (Live).flac
Size: 16955826 Hash: 097C39C9DDADC2CD409ADD5CB179EFE6 Accuracy: -m8
Conclusion: CDDA 100%
Signature: 820A50DD1D7E79D94E8D43D5787A8B7329CF3FDD
FILE: 06 - Chor und Symphonieorchester des Bayerischen Rundfunks & Riccardo Muti - Verdi- Messa da Requiem- IIf. Sequence. Rex tremendae (Live).flac
Size: 17941258 Hash: F8A2A0F4855C117E315B26ABA2F06C2C Accuracy: -m8
Conclusion: CDDA 100%
Signature: 0DC014439F19E38FC31181C624A7F37F5B030345
FILE: 05 - Chor und Symphonieorchester des Bayerischen Rundfunks & Riccardo Muti - Verdi- Messa da Requiem- IIe. Sequence. Quid sum miser (Live).flac
Size: 14623230 Hash: 37D4EBB2E61C74F956F60FA84E31356C Accuracy: -m8
Conclusion: CDDA 100%
Signature: 10408721DDBA6E9FFFFBB1F07978937309B04C89
FILE: 04 - Chor und Symphonieorchester des Bayerischen Rundfunks & Riccardo Muti - Verdi- Messa da Requiem- IId. Sequence. Liber scriptus (Live).flac
Size: 20006287 Hash: A0AE9431AE54BA3A75A3953F3D15FB0F Accuracy: -m8
Conclusion: CDDA 100%
Signature: DE660A78FA49A3A6F76C3C2946BE9BE5D5EB4C69
FILE: 03 - Chor und Symphonieorchester des Bayerischen Rundfunks & Riccardo Muti - Verdi- Messa da Requiem- IIb. Sequence. Tuba mirum - IIc. Sequence. Mors stupebit (Live).flac
Size: 15614068 Hash: 439EE4EFACD1299C9033939685B517F2 Accuracy: -m8
Conclusion: CDDA 100%
Signature: 94E63EC58EB303AFCDD0FBB2F6C8BCE63375D753
FILE: 02 - Chor und Symphonieorchester des Bayerischen Rundfunks & Riccardo Muti - Verdi- Messa da Requiem- IIa. Sequence. Dies irae (Live).flac
Size: 11236236 Hash: 95FD1769F92574362D8375B2ABD830A5 Accuracy: -m8
Conclusion: CDDA 100%
Signature: D2F1B8992D7D565F8C6C83DAF8BD21C13906CE55
FILE: 01 - Chor und Symphonieorchester des Bayerischen Rundfunks & Riccardo Muti - Verdi- Messa da Requiem- I. Introit - Kyrie (Live).flac
Size: 36831370 Hash: 71B057DA9A3A7C2606A36DC934B64D49 Accuracy: -m8
Conclusion: CDDA 100%
Signature: 638E3787934B9559260C1F1D2FC89C97ACB55B0D