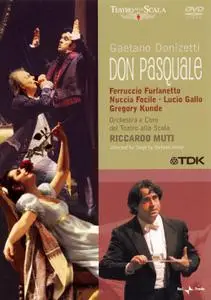 Riccardo Muti, Orchestra e Coro del Teatro alla Scala - Donizetti: Don Pasquale (2007/1994)
NTSC 4:3 (720x480) | Italiano | LinearPCM, 2 ch | Dolby AC3, 6 ch | DTS, 6 ch | 7.83 Gb (DVD9) | 130 min
Classical | TDK | Sub.: English, Deutsch, Francais, Espanol, Italiano
As a more consistently light-hearted version, with delightful La Scala sets and colourful costumes, the 1994 TDK Don Pasquale will also be hard to beat. Visually it is a joy, and with three outstanding principals the performance sparkles from start to finish. By not seeming too old, Ferruccio Furlanetto's portrayal of Don Pasquale is the more convincing, but he has no chance against Nuccia Focille's minx of a Norina and one certainly feels sorry for him at his discomfiture. Gregory Kunde is an appropriately ardent Ernesto; his voice isn't creamy but the sings passionately and has good comic timing, and Lucio Gallo enters into the spirit of the story as a wily Dottore Malatesta.