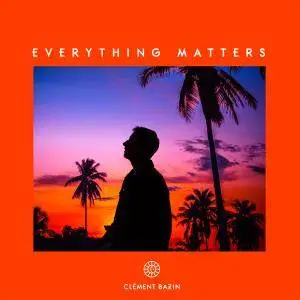 Clément Bazin - Everything Matters (2018)
electronic, dance, house | 47:00 min | WEB FLAC (tracks) | 309 MB
Label: Nowadays Records
With Everything Matters, his debut album, Clément Bazin realizes one of his sweet dreams: to rethink electronic music and integrate the instrument from which he can't be dissociate anymore, the steeldrum. Through this achievement, he sets bridges between his favorite music genders: calypso, soca, hip-hop or UK post-dubstep from the 2000's; a synthesis of Machel Montano, J. Dilla, D'Angelo and James Blake.
Between syncopated rhythms and obsessive voice distortions and melodies, Clément Bazin pictures an electronic music with exotic textures and subtle soul excursions, built around a steelpan that blooms through this clever mix of organic and analogic.
Tracklist:
01. Clément Bazin - Romeo
02. Clément Bazin - Moonlight (feat. Zefire)
03. Clément Bazin - Catch Me (feat. Aaricia)
04. Clément Bazin - Distant (feat. Lia)
05. Clément Bazin - All I Need
06. Clément Bazin - That Feeling
07. Clément Bazin - Ride (feat. Lia)
08. Clément Bazin - With You
09. Clément Bazin - Movement
10. Clément Bazin - Zero to Six (feat. JT Soul)
11. Clément Bazin - I See You
12. Clément Bazin - Where We Gonna Go
13. Clément Bazin - Lullaby (Blue Dreams)
ANALYZER: auCDtect: CD records authenticity detector, version 0.8.2
Copyright © 2004 Oleg Berngardt. All rights reserved.
Copyright © 2004 Alexander Djourik. All rights reserved.


FILE: 13 - Lullaby (Blue Dreams).flac
Size: 10099117 Hash: 48DB92EF70C14D6792AF0C60B3F7B5BC Accuracy: -m0
Conclusion: CDDA 100%
Signature: 8FF5497DE6B4B327228178CC3512470F6393AD7B
FILE: 12 - Where We Gonna Go.flac
Size: 24736602 Hash: 3BDE53C97223C28105421696AAF21B99 Accuracy: -m0
Conclusion: CDDA 100%
Signature: 41C09E6ED952E72CF788D0C15BA63471BE7B7F13
FILE: 11 - I See You.flac
Size: 28859812 Hash: 5B4045BF209E2C8EDC80224C005A2D38 Accuracy: -m0
Conclusion: CDDA 99%
Signature: 0B55477C0D17EDD5178FEF379111359A417D4A60
FILE: 10 - Zero to Six (feat. JT Soul).flac
Size: 21295574 Hash: DAFEC16437ED766AA1019923C3B4C220 Accuracy: -m0
Conclusion: CDDA 99%
Signature: 50FAB9BB54B0ECEB563116B7AA5C077BF3755088
FILE: 09 - Movement.flac
Size: 18021282 Hash: 74611A11A3C687693243189863152A95 Accuracy: -m0
Conclusion: CDDA 87%
Signature: 8CD0BBC150CCEEDA53B6209F69538217C6919997
FILE: 08 - With You.flac
Size: 27299672 Hash: C7149E1D23E4EE16DE2F5DFF2159167C Accuracy: -m0
Conclusion: MPEG 100%
Signature: EF37AD03A512FA5A103CD81D5CB1BBEEB4F732BA
FILE: 07 - Ride (feat. Lia).flac
Size: 28064908 Hash: 0F46F43492ABFF2EFE43F48AC1A56C57 Accuracy: -m0
Conclusion: CDDA 100%
Signature: 2B4BAB91C75D9D3FE07B1E9D3A7443409F3F4FE7
FILE: 06 - That Feeling.flac
Size: 28860051 Hash: 96A5348A363C3B56A30C71E2BB13844F Accuracy: -m0
Conclusion: CDDA 100%
Signature: B7D9B0AF614922B4B2EA4CF45351F367E08C7D5C
FILE: 05 - All I Need.flac
Size: 27445391 Hash: 288821A38EA545D0F9891D294EFD4140 Accuracy: -m0
Conclusion: CDDA 100%
Signature: 16E08E586C5B4EA005196B1D13B9630E8E05A7FE
FILE: 04 - Distant (feat. Lia).flac
Size: 27654504 Hash: 369172BDC2762DB0D79A6B4E09242EFE Accuracy: -m0
Conclusion: CDDA 100%
Signature: 023A425C9E9BAC182EA2A4E13F2AFB4462959BB6
FILE: 03 - Catch Me (feat. Aaricia).flac
Size: 29824701 Hash: DF1E5572C29550F102F7AC01E8F12A8E Accuracy: -m0
Conclusion: CDDA 100%
Signature: 0C12522D97BFE473388F0C445245E96ACAE233EE
FILE: 02 - Moonlight (feat. Zefire).flac
Size: 26520223 Hash: A7012587552C66DC83A0B49065A11E95 Accuracy: -m0
Conclusion: CDDA 100%
Signature: D2D4426D564CFC24C278B006134C030ABBADD85D
FILE: 01 - Romeo.flac
Size: 25276250 Hash: 93026FBE81C1DA6AD823A99B38B3FB5B Accuracy: -m0
Conclusion: CDDA 100%
Signature: A48D5E8F6D4B55FC0F528850220BA209A872DB95