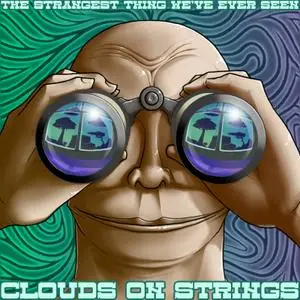 Clouds On Strings - The Strangest Thing We've Ever Seen (2010)
WEB FLAC (tracks) ~ 282.75 Mb | 49:28 | Scans included
Experimental, Progressive Rock | Country: USA | Label: Clouds On Strings
This is our second album, and is a definite step toward where we wanted to start moving musically. The songs are much more composed and thought out than in our first album, and we believe that that aspect of it can be heard in each and every song. The album is loosely written around the concept of a man traveling around and conquering/settling all places he goes.
If you enjoy our music, we would greatly appreciate it if you considered paying for a download of the album. It costs us a lot to put this stuff together. If we could do it for free and still be able to live life, then we'd love to give it away. If you can't afford to pay for it but would still like to download the album, shoot us an email and we can work something out!
Track List:
01. Ortuo Ortni [00:01:13]
02. The Strangest Thing [00:05:18]
03. Dokdokwas [00:05:37]
04. Can't Live With 'Em [00:05:18]
05. Down To Alaska [00:05:55]
06. Hiding Spot [00:03:30]
07. Overboard [00:08:13]
08. Limbo [00:07:33]
09. Heading Home [00:06:48]
Michael Bone - Guitar, Vocals
Randall Jangula - Bass, Vocals
Matt Weiner - Violin
Josh Hegg - Keyboards
Matt Franklin - Drums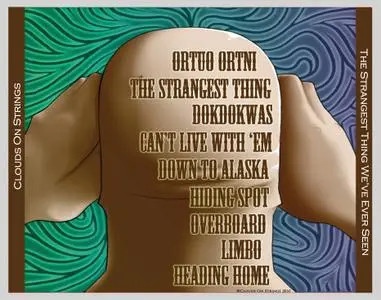 –––––––––––-
DON'T MODIFY THIS FILE
–––––––––––-
PERFORMER: auCDtect Task Manager, ver. 1.6.0 RC1 build 1.6.0.1
Copyright © 2008-2010 y-soft. All rights reserved
http://y-soft.org
ANALYZER: auCDtect: CD records authenticity detector, version 0.8.2
Copyright © 2004 Oleg Berngardt. All rights reserved.
Copyright © 2004 Alexander Djourik. All rights reserved.
FILE: Clouds On Strings - The Strangest Thing We've Ever Seen - 09 Heading Home.flac
Size: 35649741 Hash: 1A1F077FE2FFC1B3F2F1A177EF60C5ED Accuracy: -m0
Conclusion: CDDA 100%
Signature: 99D03350805B7B52F05D082DC0B966133E5528B1
FILE: Clouds On Strings - The Strangest Thing We've Ever Seen - 08 Limbo.flac
Size: 46869130 Hash: 337B2629B13DDA942204D4FAC2F546EA Accuracy: -m0
Conclusion: CDDA 100%
Signature: 6667EDF0BF7123BAEF811C3C2E936231B61FED61
FILE: Clouds On Strings - The Strangest Thing We've Ever Seen - 07 Overboard.flac
Size: 50432281 Hash: FECD4FC54C6247C9075C03085ABE4D38 Accuracy: -m0
Conclusion: CDDA 100%
Signature: 2DEA714829E6801BD6DB48161F690663E079E1F8
FILE: Clouds On Strings - The Strangest Thing We've Ever Seen - 06 Hiding Spot.flac
Size: 18709371 Hash: 32626DE9EC659CCB55E15879A0500DE4 Accuracy: -m0
Conclusion: CDDA 99%
Signature: 8A2BCDA517A7AFA89B457F1FCC1307E28260941E
FILE: Clouds On Strings - The Strangest Thing We've Ever Seen - 05 Down To Alaska.flac
Size: 37697607 Hash: E92D0DE6735C1E236D7563B175D71711 Accuracy: -m0
Conclusion: CDDA 99%
Signature: E7D73728E7E7311B8BD45C1569EDDCCC8D160473
FILE: Clouds On Strings - The Strangest Thing We've Ever Seen - 04 Can't Live With 'Em.flac
Size: 28177141 Hash: 52D617150BC8F17828DD6B5728851DAF Accuracy: -m0
Conclusion: CDDA 100%
Signature: 4B41C3C9F4AAB6DE524EA2481A5DE4C6F138918B
FILE: Clouds On Strings - The Strangest Thing We've Ever Seen - 03 Dokdokwas.flac
Size: 34377517 Hash: 1205F7BF4033FBBBA732DEDCB71D1882 Accuracy: -m0
Conclusion: CDDA 100%
Signature: BA39FE155DF3FA56C57E6E3161E4019581F0CE2F
FILE: Clouds On Strings - The Strangest Thing We've Ever Seen - 02 The Strangest Thing.flac
Size: 26384207 Hash: 8519AFF3DA9C886B9EBA6635081120C2 Accuracy: -m0
Conclusion: CDDA 100%
Signature: 2880A5574F778BA4A16875BAEB4C736EE1475CBB
FILE: Clouds On Strings - The Strangest Thing We've Ever Seen - 01 Ortuo Ortni.flac
Size: 5520575 Hash: F65D6FF3A030FEABFA42AE8EA9A810BD Accuracy: -m0
Conclusion: CDDA 100%
Signature: EEEB412ED11EC957299BD9E2D6E71CA7200404D2
All thanks go to the verbiya