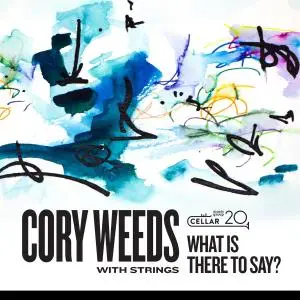 Cory Weeds - With Strings: What Is There To Say? (2021)
WEB FLAC (tracks) ~ 316.67 Mb | 48:51 | Cover
Post-Bop, Contemporary Jazz | Label: Cellar Live
What a perfect time for Cory to give us this album, What is There To Say?, his 18th record as a leader. It's his most ambitious project to date and, in my opinion, his most impressive. Ever since Charlie Parker recorded his iconic Bird with Strings album, the saxophone-with-strings format has become a sort of Mount Everest for those saxophonists brave enough to take on the challenge.
Cory has been climbing to increasingly greater heights for years now and he is clearly ready for this ''Everestine'' expedition. Listening to him interpret this carefully curated set of compositions, we really get to know him for the musician he has become: an expressive saxophonist with a unique and personal voice on his instrument. A visceral strength to his delivery on the tenor, while at times exposing a beautifully honest vulnerability as well.
Cory, as he is known to do, has surrounded himself with only the best company. Phil Dwyer's crafty lush string arrangements inspire Cory to search for new and ever more lyrical melodic lines while also giving him ample space to get lost exploring the nooks and crevasses of the music. Cory has compiled some real musical gems here including the somewhat obscure chestnut 1906 Ballad At Dawning (I Love You) while also contributing an eclectic trio of original compositions to round out an extremely enjoyable musical program.
Track List:
01 - At Dawning (00:05:43)
02 - The Phantom In The In Crowd (00:06:12)
03 - What Is There To Say (00:05:58)
04 - Love Is Wild (00:06:06)
05 - Waltz For Someone Special (00:04:46)
06 - Alana Marie (00:06:33)
07 - I Wish You Love (00:06:35)
08 - There's A Boat Leavin' Soon For New York (00:06:54)
Cory Weeds – tenor saxophone
Phil Dwyer – piano
John Lee – bass
Jesse Cahill – drums
Cam Wilson – violin (lead)
Llowyn Ball - violin
Elyse Jacobson - violin
Molly MacKinnon - violin
Jiten Beairsto- violin
Madeline Hocking- violin
Meredith Bates - violin
Andrea Siradze - violin
John Kastelic – viola
Genevieve MacKay - viola
Finn Manniche - cello
Doug Gorkoff – cello
Maggie Hasspacher - bass
All arrangements by Phil Dwyer
–––––––––––-
DON'T MODIFY THIS FILE
–––––––––––-
PERFORMER: auCDtect Task Manager, ver. 1.5.1RC3 build 1.5.1.4
Copyright © 2008-2010 y-soft. All rights reserved
http://y-soft.org
ANALYZER: auCDtect: CD records authenticity detector, version 0.8.2
Copyright © 2004 Oleg Berngardt. All rights reserved.
Copyright © 2004 Alexander Djourik. All rights reserved.
FILE: 08 - There's A Boat Leavin' Soon For New York.flac
Size: 48715966 Hash: 926FCCCF95FF03F7A5341554B4B5F595 Accuracy: -m40
Conclusion: CDDA 100%
Signature: DE3BFB2EA5017DB12F90509614E5268471A3C0BF
FILE: 07 - I Wish You Love.flac
Size: 43021073 Hash: 99AA385BC6B48FDF5EA9321F247EC20D Accuracy: -m40
Conclusion: CDDA 100%
Signature: 373C18B65AB56B609C019584C82694821421A9AD
FILE: 06 - Alana Marie.flac
Size: 44307758 Hash: 88177F4EBDE95B8479A1EC8CC34D9E32 Accuracy: -m40
Conclusion: CDDA 100%
Signature: 59D056FC3560C1E08A28E947825DBA2C656DED0D
FILE: 05 - Waltz For Someone Special.flac
Size: 34779366 Hash: C3C310A358A9657462C4A5C7DF078E8F Accuracy: -m40
Conclusion: CDDA 100%
Signature: 5F550B43A3B3F9B30277659B2B5840CF538380F6
FILE: 04 - Love Is Wild.flac
Size: 44380942 Hash: 8697D0BE4ADB0FD721CF71F20C5AC733 Accuracy: -m40
Conclusion: CDDA 100%
Signature: DF4373174AEBD98E69E15AEC8ECF9783F786BE2F
FILE: 03 - What Is There To Say.flac
Size: 37666996 Hash: 5525EAE6BF3DF8D807C53846AA773F85 Accuracy: -m40
Conclusion: CDDA 100%
Signature: 26B4DC111C274699AE870E63BEAABB8CEC64A38E
FILE: 02 - The Phantom In The In Crowd.flac
Size: 40877256 Hash: 7E46F7353AFB8E59990C40B101844FF5 Accuracy: -m40
Conclusion: CDDA 100%
Signature: 996F6285BA1220942FFD8C37439F0823FA118BFA
FILE: 01 - At Dawning.flac
Size: 37612481 Hash: 2264368C7B60617A334875A37F64B56F Accuracy: -m40
Conclusion: CDDA 100%
Signature: 3F8DDB1B87560F6480716B7FE1AFEB2BEBC307D7