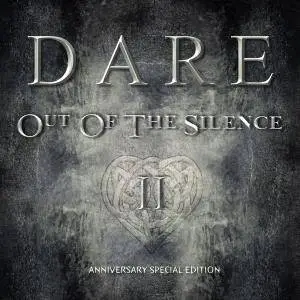 Dare - Out Of The Silence II (Anniversary Special Edition) (2018)
WEB FLAC (tracks) ~ 371.65 Mb | 51:42 | Cover
Melodic Hard Rock | Country: United Kingdom | Label: Legend Records
Amazing to think the classic album 'Out Of The Silence' is thirty years old, and also frightening to think where did the time go?! Like fellow melodic rockers FM did on 'Indiscreet', Dare have decided to re-record a classic album, mainly so they can get back the musical rights which the original record label are seemingly reluctant to release to the band.
Some fans when they heard the news thought it was going to be a sequel, however as Darren Wharton states the album has been re-recorded and "has taken on a new life." Darren Wharton is joined by original guitarist Vinny Burns, Kev Whitehead (drums), the 'Blood From Stone' album's bassist Nigel Clutterbuck and Marc Roberts (keys).
You just can't go wrong with this album from the opening keys on 'Abandon' through to the closing notes of 'Don't Let Go', it is as the oft used phrase says 'all killer, no filler'.
Darren's vocals are still in fine form as can be heard on the aforementioned 'Abandon', where his singing on the chorus is still a magical moment on the ears and senses. The keys still pomp it up on 'Into The Fire' (original keyboards player Professor Brian Cox is otherwise engaged!).
There are a few musical tweaks such as on the tribute to Phil Lynott 'King Of Spades' the band add a little more Celtic music to the song (as does 'Raindance'), something the band have done since 1998′s 'Calm Before The Storm'. The guitar outro on 'King Of Spades' is from Thin Lizzy's 'Black Rose'. Vinny Burns lays down a few rockier solos and the awesome ballad 'Nothing Is Stronger Than Love' has a bigger production and a stunning guitar solo that possibly tops the original.
The original album was a classic of its time and still sounds good today. With this re-recorded version it allows the band to celebrate the album's anniversary their way and add a few modern touches here and there, whilst keeping true to the original album's feel and sound. ****
~
Review by Jason Ritchie
Track List:
01. Abandon (4:50)
02. Into The Fire (4:43)
03. Nothing Is Stronger Than Love (5:06)
04. Runaway (4:39)
05. Under The Sun (5:55)
06. The Raindance (5:03)
07. King Of Spades (Special Edition) (6:30)
08. Heartbreaker (3:40)
09. Return The Heart (4:55)
10. Don't Let Go (6:23)
Darren Wharton - Vocal & Keyboards
Vinny Burns - Guitar
Kev Whitehead - Drums
Nigel Clutterbuck - Bass
Marc Robert - Keyboards
–––––––––––-
DON'T MODIFY THIS FILE
–––––––––––-
PERFORMER: auCDtect Task Manager, ver. 1.6.0 RC1 build 1.6.0.1
Copyright © 2008-2010 y-soft. All rights reserved
http://y-soft.org
ANALYZER: auCDtect: CD records authenticity detector, version 0.8.2
Copyright © 2004 Oleg Berngardt. All rights reserved.
Copyright © 2004 Alexander Djourik. All rights reserved.
FILE: 10. Don't Let Go.flac
Size: 45058062 Hash: CFC04C7FAFE6205A281A30748C275DD7 Accuracy: -m0
Conclusion: CDDA 99%
Signature: 5EED9DA80DCF0D64D19E9CF318EDFA622D2AF6CD
FILE: 09. Return The Heart.flac
Size: 36487066 Hash: FFC8DCEF161D0362E7EBD8ED540D0F2E Accuracy: -m0
Conclusion: CDDA 100%
Signature: 9199A8C837C74299DC6EB09C7EFA6790E8F2A29D
FILE: 08. Heartbreaker.flac
Size: 28154429 Hash: 6EA5AF7DE3FD0428EDFA0F6245869B57 Accuracy: -m0
Conclusion: CDDA 100%
Signature: 19950B73D5D6DA5F9651B90C47AFD7B8A08998B3
FILE: 07. King Of Spades (Special Edition).flac
Size: 47247479 Hash: 6D8AE094C09D57AEA73C6B9A5F0C5D59 Accuracy: -m0
Conclusion: CDDA 100%
Signature: FCED08AB66AA6F68CCD5BC4F707E935A4E719195
FILE: 06. The Raindance.flac
Size: 37287936 Hash: CC4A75BC924CB3CDC7AC164164B5E486 Accuracy: -m0
Conclusion: CDDA 100%
Signature: D2A2B0F4A77C960A84762271C75FBC09767B3CA0
FILE: 05. Under The Sun.flac
Size: 44526240 Hash: 8EA79CE5C7394B0EE81EADBDF104A4F8 Accuracy: -m0
Conclusion: CDDA 100%
Signature: 96180071C98009EC256EDA866375DDD95286A589
FILE: 04. Runaway.flac
Size: 35001794 Hash: 614D0D9DC2351023109C6364480147EC Accuracy: -m0
Conclusion: CDDA 100%
Signature: 783F55914A447D3CF078EFF92B22F2E5C5FF4648
FILE: 03. Nothing Is Stronger Than Love.flac
Size: 36773048 Hash: 6194AF81BBF86B82EC1DACA0C99DDB6D Accuracy: -m0
Conclusion: CDDA 100%
Signature: C3754CDEF8DDB0A303CF4B9697062A9ACE7355AD
FILE: 02. Into The Fire.flac
Size: 36787995 Hash: 9A753FCFA3DF2F912200A42408996AF6 Accuracy: -m0
Conclusion: CDDA 100%
Signature: 573B66471DE470C5756EB8070019A5B2B89CC0D5
FILE: 01. Abandon.flac
Size: 38165866 Hash: A13C181E7446801778272A7E7BEB413B Accuracy: -m0
Conclusion: CDDA 100%
Signature: 70F6295D9435EB0B8F69211D5B9B9F14720ADF20