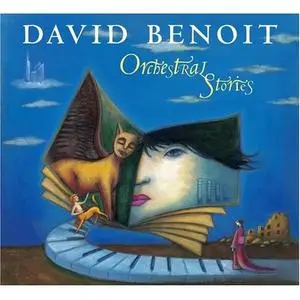 David Benoit - Orchestral Stories (2005)
MP3 CBR 320 kbps / 44.1 Stereo | 78 MB + 70 MB
Genre: Smooth Jazz, Jazz | total time: 63:26
Tracklist:
1. 9-11
2. Something's Gotta Give
3. LA Xperience
4. Prelude
5. Charon The Centaur
6. Carrie The Sphinx
7. The Party
8. Falling In Love
9. Discovery
10. Finale
11. Prelude
12. Kobe 1965
13. Keiko's Dream
14. Kimura Dansu Gakuin (Keiko's Dance Studio)
15. Earthquake Listen Listen Listen
16. Finale Listen Listen Listen
"Orchestral Stories" is truly a departure for Mr. Benoit, who has been known as an innovator and leader in the genre of Smooth Jazz. On this album, he displays his considerable talents as a composer, arranger, conductor as well as a pianist. The end result is a wonderfully thoughtful, creative, and memorable album that illustrates Mr. Benoit's incredible musical gifts.
The album begins with three pieces. Written in the wake of the World Trade Center disaster, "9-11" conveys a quiet strength that offers in it a sense of hope and renewal. "Something's Gotta Give" is a bit more tender and bittersweet, with a soul-searching quality. "LAXperience" creates a robust and dramatic mood which far outshines the pylons at LAX (which this piece was intended to characterize). Rather, this piece seems more appropriate to enhance the majesty of a spectacular IMAX film.
The next two compositions were recorded with the Czech National Symphony Orchestra. "The Centaur and The Sphinx", described as "a short fable", is a lovely, magical tale with a poetic grace. "The Party" is a joyful, jaunty piece midway through, and features Mr. Benoit's trademark keyboard work. The story surrounding "Kobe" is both tragic and amazing. The liner notes describe in great detail the story of Ms. Keiko Kimura who lived through the atomic bomb, the Kobe earthquake, and other personal tragedies. The music goes a long way to help tell this remarkable tale.
In "Orchestral Stories", Mr. Benoit redefines himself to his listeners by showcasing his talents and passions previously unheard on his prior albums. I hope his fans will appreciate this very special album as much as I do.
Download RS (New links)
Part 1
Part 2
Password if needed:
www.AvaxHome.ru
Enjoy the music !