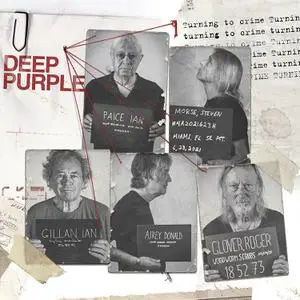 Deep Purple - Turning to Crime (2021)
WEB FLAC (tracks) - 356 Mb | MP3 CBR 320 kbps - 115 Mb | 00:50:00
Classic Rock, Hard Rock | Label: earMUSIC
With strong tailwind from last year's chart leading album "Whoosh!", DEEP PURPLE surprises with new album "TURNING TO CRIME" and new single "7 And 7 Is".

The new album, released by earMUSIC, will reach the worldwide community of Deep Purple loyal fans only 15 months after Deep Purple's latest studio album "Whoosh!", an album saluted by prestigious chart achievements (3rd consecutive #1 in Germany, as well as well as #4 in the UK) and acclaimed by critics who praised the creative strength of a band that continues evolving with every release.

"Turning to Crime" is the first studio album by Deep Purple entirely made of songs not written by the band and previously recorded by other artists.

The "time trilogy", consisting of "NOW What?!", "inFinite" and "Whoosh!" (2013, 2017 and 2020) have sold over 1 million albums, topped the charts 11 times and achieved more than 40 Top 10 positions worldwide.

Producer and friend Bob Ezrin, who worked with Deep Purple on the previous albums forming the "trilogy", was once again an important part of the new studio work.
Tracklist:
1.
7 and 7 Is
(02:28)
2.
Rockin' Pneumonia and the Boogie Woogie Flu
(03:15)
3.
Oh Well
(04:31)
4.
Jenny Take a Ride!
(04:36)
5.
Watching the River Flow
(03:02)
6.
Let the Good Times Roll
(04:22)
7.
Dixie Chicken
(04:43)
8.
Shapes of Things
(03:40)
9.
The Battle of New Orleans
(02:51)
10.
Lucifer
(03:45)
11.
White Room
(04:53)
12.
Caught in the Act (Going Down / Green Onions / Hot 'Lanta / Dazed and Confused / Gimme Some Lovin')
(07:49)
–––––––––––-

DON'T MODIFY THIS FILE

–––––––––––-

PERFORMER: auCDtect Task Manager, ver. 1.6.0 RC1 build 1.6.0.1
Copyright © 2008-2010 y-soft. All rights reserved

ANALYZER: auCDtect: CD records authenticity detector, version 0.8.2
Copyright © 2004 Oleg Berngardt. All rights reserved.
Copyright © 2004 Alexander Djourik. All rights reserved.


FILE: 12 - Deep Purple - Caught in the Act.flac
Size: 58626413 Hash: F510399319F7FC5C54C4B949EA761C24 Accuracy: -m8
Conclusion: CDDA 100%
Signature: A9A90DAAECE990A98AF030A3867BF7FC764408D3
FILE: 11 - Deep Purple - White Room.flac
Size: 37742403 Hash: CFEEC511F4883F65D4CA697F75AC6F28 Accuracy: -m8
Conclusion: CDDA 100%
Signature: BF9FFF4F426A7B61494D3F15F162F97700DA51CE
FILE: 10 - Deep Purple - Lucifer.flac
Size: 29751949 Hash: 19EFB5B1901D728CEAE1DCDB974B4A52 Accuracy: -m8
Conclusion: MPEG 95%
Signature: 7C43C0D6CC5DDCA0D469BA4DF81BCB14B247B7EC
FILE: 09 - Deep Purple - The Battle of New Orleans.flac
Size: 20918662 Hash: 747C91957827E68224B6AF5A4B735CF2 Accuracy: -m8
Conclusion: CDDA 100%
Signature: A8C3EB814D7830B84E50B958A20D7E9648F5D402
FILE: 08 - Deep Purple - Shapes of Things.flac
Size: 28418679 Hash: AC1BD4E695FC81BE23B60EB94A054322 Accuracy: -m8
Conclusion: CDDA 100%
Signature: 1E2327EDDB538CBBEFB7C62B4C78E6DFFDEE85A5
FILE: 07 - Deep Purple - Dixie Chicken.flac
Size: 35820621 Hash: 2214908881E5FEF1CE840C4DF6862D5D Accuracy: -m8
Conclusion: CDDA 99%
Signature: 356F63F186F28EF2D4C67360A141572B2B8F0411
FILE: 06 - Deep Purple - Let the Good Times Roll.flac
Size: 31049470 Hash: C124302BC9A57B29BDF66E981D1FE228 Accuracy: -m8
Conclusion: CDDA 100%
Signature: 9660700783268F75DAAFAAC2CD7BD06E7403658C
FILE: 05 - Deep Purple - Watching the River Flow.flac
Size: 22506293 Hash: 9AF953FB574704F65FCC9025CEF6EE29 Accuracy: -m8
Conclusion: CDDA 100%
Signature: BDCFAF6CABBC75A95E66B0D89D3A28814A2F8295
FILE: 04 - Deep Purple - Jenny Take a Ride!.flac
Size: 34307195 Hash: FA9AB671394CD37ACC5AD513903999D1 Accuracy: -m8
Conclusion: CDDA 99%
Signature: B3058BDC42A8049D71A3D1239BBCF768C3345D34
FILE: 03 - Deep Purple - Oh Well.flac
Size: 31427469 Hash: D704B43BF6CB446DF37218C3A76AD172 Accuracy: -m8
Conclusion: CDDA 100%
Signature: DBE58812B1E2C6624DCFDCD3C08776AE90055CA1
FILE: 02 - Deep Purple - Rockin' Pneumonia and the Boogie Woogie Flu.flac
Size: 24689956 Hash: EDFA75CB8C42A12DF9A8DF409E57DA31 Accuracy: -m8
Conclusion: CDDA 100%
Signature: 3873705C238809E4D8457E2432A43FC61C312497
FILE: 01 - Deep Purple - 7 and 7 Is.flac
Size: 18191184 Hash: 7720D0F98482A30809D0C2CF1A1F794B Accuracy: -m8
Conclusion: CDDA 100%
Signature: 0AEF741EACC6881BE421941B86CC7BE10D0F33BA