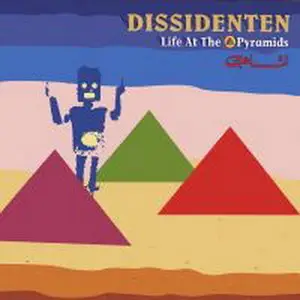 Dissidenten - Life At The Pyramids (1975)
World Music | mp3 - 320kbps | 75 mb | Audio Cassette rip
The third album from the German worldbeat trio Dissidenten, Life at the Pyramids stems from a period of time spent in North Africa (but was recorded largely across the Straits of Gibraltar in Spain). The lyrics are performed largely in Arabic, though, as usual, there are variations. Despite the obvious emphasis on Middle Eastern and North African formats, there are strong ties to much of the Sub Saharan African styles, especially soukous (which lends itself well to basic worldbeat equations quite often). The keyboard riffs of rai are present here and there (most notably in "Telephone Arab"), as are the more common guitar and keyboard riffs, and hooks of basic Arabic pop. This reliance on Arabic pop suits the band well throughout, supplementing the core trio's compositions with a large load of guest artists lending a hand toward the finished product. A layering of neys gives the relatively short "Blue Nile" a mystic quality, and the ginbri sets a soft but deep foundation for the title track. The borrowed instruments aren't used in their usual manners here, but the tonal qualities of the various items lend the music an exotic feeling that couldn't be achieved with the traditional guitar and keyboard lineups. For progressive directions in Arabic music, one could easily find the more authentic items from Rachid Taha and Amr Diab (among others), but the carefree synthesis of styles used here is almost tantalizing. The listener can enjoy the music, conscious of its limitations in authenticity, but still enjoy its broken boundaries in experimentation (especially given its production prior to the worldbeat phenomenon).