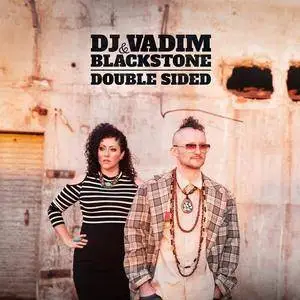 DJ Vadim And Blackstone - Double Sided (2017)
Broken Beat, Nu Jazz, Funk, Soul | 57:49 min | WEB FLAC (tracks) & front cover | 359 MB
Label: BBE
BBE unveil the long awaited new album by the legendary DJ Vadim and Californian songwriter Katrina Blackstone. Vadim has been working with BBE since 2007's Soundcatcher LP where he has built a formidable reputation as one of the world's hardest working DJs and producers. 10 years later, Double Sided will be his seventh album on the label. Tennessee born Blackstone has previously worked with cult downtempo artists Bluetech & Dr Israel among others. She studied vocal performance and jazz at the New School University in New York, before moving to San Francisco where she continues to record and perform tirelessly. The duo has been recording on and off for several years and after providing guest appearances on Vadim's Dubcatcher LP, Blackstone joined him on tour. Vadim's compositions on the new Double Sided LP range from dubby downtempo grooves to upbeat afro-boogie business. Katrina's crystal clear vocals, catchy melodies and highly relatable lyrics provide the perfect foil for Vadim's raw productions.
Tracklist:
01. DJ Vadim And Blackstone - Burning Love
02. DJ Vadim And Blackstone - Double Sided
03. DJ Vadim And Blackstone - Luv 2 Luv
04. DJ Vadim Blackstone And Aima the Dreamer - Choose
05. DJ Vadim Blackstone And Tiggy Tafari - No No No
06. DJ Vadim And Blackstone - Re Run
07. DJ Vadim And Blackstone - Been Waiting All Night
08. DJ Vadim Blackstone And Parly B - Stand Up
09. DJ Vadim And Blackstone - Ride Slow
10. DJ Vadim Blackstone And Aima the Dreamer - That's Not Me
11. DJ Vadim Blackstone And Dakini Star - Magnetic
12. DJ Vadim And Blackstone - How Long
13. DJ Vadim Blackstone And Pugs Atomz - Shoop Shoop
14. DJ Vadim And Blackstone - Rewind
fooCDtect - foobar2000 + auCDtect, baralgin.

auCDtect: CD records authenticity detector, version 0.8.2
Copyright © 2004 Oleg Berngardt. All rights reserved.
Copyright © 2004 Alexander Djourik. All rights reserved.

mode: 0

===========================================
Track: 04. DJ Vadim Blackstone And Aima the Dreamer - Choose
Quality: CDDA 100%
===========================================
Track: 03. DJ Vadim And Blackstone - Luv 2 Luv
Quality: CDDA 100%
===========================================
Track: 01. DJ Vadim And Blackstone - Burning Love
Quality: CDDA 100%
===========================================
Track: 02. DJ Vadim And Blackstone - Double Sided
Quality: CDDA 100%
===========================================
Track: 05. DJ Vadim Blackstone And Tiggy Tafari - No No No
Quality: CDDA 100%
===========================================
Track: 06. DJ Vadim And Blackstone - Re Run
Quality: CDDA 100%
===========================================
Track: 07. DJ Vadim And Blackstone - Been Waiting All Night
Quality: CDDA 99%
===========================================
Track: 08. DJ Vadim Blackstone And Parly B - Stand Up
Quality: MPEG 95%
===========================================
Track: 09. DJ Vadim And Blackstone - Ride Slow
Quality: CDDA 99%
===========================================
Track: 10. DJ Vadim Blackstone And Aima the Dreamer - That's Not Me
Quality: CDDA 100%
===========================================
Track: 11. DJ Vadim Blackstone And Dakini Star - Magnetic
Quality: CDDA 100%
===========================================
Track: 12. DJ Vadim And Blackstone - How Long
Quality: CDDA 100%
===========================================
Track: 13. DJ Vadim Blackstone And Pugs Atomz - Shoop Shoop
Quality: CDDA 100%
===========================================
Track: 14. DJ Vadim And Blackstone - Rewind
Quality: CDDA 100%
===========================================