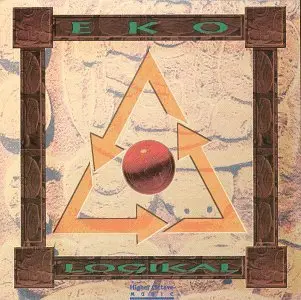 EKO - "Logikal" (1992)
MP3: 320 Kbps (CBR) | 95.7 MB + 4.69 MB + Cover
Original Release Audio CD (October 1, 1992) | Label: Higher Octave Music
New Age
This is EKO's finest CD!!! Their is a combination of jazz, rock, new age, and world music on this set. My favorites are Morning In Martinique and Navajo White. EKO receives almost no airplay in most parts of this nation…yet have a following of devoted fans. I am glad to be one of them!
Logikal is the second release from Irish guitarist John O'Connor's eclectic group Eko. The sound centers around O'Connor's guitars as he cooks up an old-world folk music hybrid that extends to Andean, Celtic, Irish and Caribbean influences. Gutsy finger-picking gives way to laidback island flavorings and easygoing changes. Several musicians with rock and folk backgrounds are heard, like percussionist Hossam Ramzy, Bob Loveday from Penguin Cafe Orchestra and the versatile Danny Thompson on double bass. The sound is ethnically based and highly charged with large doses of clean, lighthearted fun.
Track listing
1. Morning in Martinique
2. Eclipse
3. Prairie Spring
4. Mango
5. Navajo White
6. Hannie
7. Epiphany
8. Hebrides
9. Mosaic
10. Mirage a Trois
Details
Playing time: 46 min.
Producer: John O'Connor, Paul Ellis
Distributor: EMI Music Distribution
Recording type: Studio
Recording mode: Stereo
SPAR Code: ADD
Album notes
Eko: John O'Connor (guitars, charango, bouzouki, mandolin), Bob Loveday (violin, recorder, penny whistle, kalimba, mandolin), Geraint Watkins (accordion), Paul Ellis (synthesizer, programming), Danny Thompson (bass), Peter Thomas (drums), Hossam Ramzy (percussion), Simon Bates (wind synth controller).
Recorded at Habana Studio, London, England in April 1992.
All songs written by John O'Connor except "Hebrides" (O'Connor/Bob Loveday).