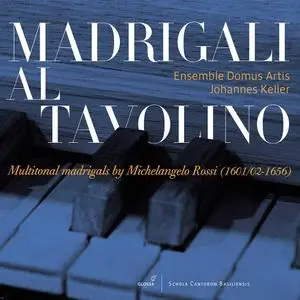 Ensemble Domus Artis & Johannes Keller - Madrigali al tavolino (2021)
WEB FLAC (tracks) - 261 Mb | MP3 CBR 320 kbps - 130 Mb | Digital booklet | 00:56:24
Classical, Vocal | Label: Glossa
The thirty-two polyphonic madrigals by Michelangelo Rossi, which are preserved only in manuscript in a score and a set of partbooks, have only recently become known. These pieces are unusual in a number of ways: on the one hand, for music from the second quarter of the seventeenth century, they seem "conservative", composed in five parts with two tenor voices instead of two sopranos. On the other hand, they appear to be avant-garde in their vertiginous harmony (chromaticism and modulations), which lead them, in spite of the traditional counterpoint, far beyond the borders of harmonic tonality. And they are strikingly "vieltönig", as this was especially cultivated in Rome of those years. The term "vieltönig" can perhaps be translated as "multitonal" in the literal sense of using many pitches and refers to a conscious use of more than twelve notated pitches per octave. This recording tries to reproduce the intimate setting in which such madrigals were sung in their time, with the singers sitting around a big table, studying, discussing and singing. Thus the term madrigali al tavolino that was chosen to title the album. A crucial aspect of this project is the use of an arciorgano, which has 36 pitches per octave (instead on the usual 12) and provides the background to the performance of these highly sophisticated vocal pieces. The specialist Johannes Keller leads the Ensemble Domus Artis, a group especially created for the study and interpretation of madrigals intended originally to be performed in tavolino conditions.
Tracklist:
01. Rossi: O miseria d'amante
02. Rossi: O prodighi di fiamme
03. Keller: Improvisation
04. Rossi: Con che soavità
05. Rossi: Occhi, un tempo mia vita
06. Rossi: Alma afflitta (Arr. for Harpsichord)
07. Rossi: Pallida gelosia
08. Rossi: O donna troppo cruda
09. Keller: Improvisation
10. Rossi: Credete voi
11. Rossi: Voi volete (Arr. for Harpsichord)
12. Keller: Improvisation
13. Rossi: Or che la notte
14. Rossi: Langue al vostro languir
15. Rossi: Come sian dolorose
16. Rossi: Cura gelata e ria
17. Rossi: Per non mi dir
18. Keller: Improvisation
19. Rossi: Ohimè, se tanto amate
–––––––––––-

DON'T MODIFY THIS FILE

–––––––––––-

PERFORMER: auCDtect Task Manager, ver. 1.6.0 RC1 build 1.6.0.1
Copyright © 2008-2010 y-soft. All rights reserved

ANALYZER: auCDtect: CD records authenticity detector, version 0.8.2
Copyright © 2004 Oleg Berngardt. All rights reserved.
Copyright © 2004 Alexander Djourik. All rights reserved.


FILE: 19 - Ensemble Domus Artis & Johannes Keller - Rossi- Ohimè, se tanto amate.flac
Size: 12462462 Hash: 9115EC19D16A01D6045148DC86224B1D Accuracy: -m8
Conclusion: CDDA 100%
Signature: 41E820C7C31C3B22C7DADB145086C0F46C7ED8B1
FILE: 18 - Ensemble Domus Artis & Johannes Keller - Keller- Improvisation.flac
Size: 3013535 Hash: EDF5E246E293D76432C0CCACD4C7EB31 Accuracy: -m8
Conclusion: CDDA 100%
Signature: 0C34B2F8F541013EEC7294C0A5C01C7E60D306E2
FILE: 17 - Ensemble Domus Artis & Johannes Keller - Rossi- Per non mi dir.flac
Size: 19374950 Hash: 78F50F74E9C16DF86A3E01E3FD1C6ED3 Accuracy: -m8
Conclusion: CDDA 100%
Signature: 284E3B9F79A23B37F6E9F03ADE61FCD24FE04F00
FILE: 16 - Ensemble Domus Artis & Johannes Keller - Rossi- Cura gelata e ria.flac
Size: 14234586 Hash: AF026B71669BBA4B6EF296787323F987 Accuracy: -m8
Conclusion: CDDA 100%
Signature: 8A3A196A88E99073FE466398AFE36DAFB40DFDA7
FILE: 15 - Ensemble Domus Artis & Johannes Keller - Rossi- Come sian dolorose.flac
Size: 16390267 Hash: AD6AAE233679262D47109FF412593337 Accuracy: -m8
Conclusion: CDDA 100%
Signature: F76FEB505B58C5F110C11C683C2B6FCD87D5D6FA
FILE: 14 - Ensemble Domus Artis & Johannes Keller - Rossi- Langue al vostro languir.flac
Size: 17545118 Hash: A594BBBC6489740EB131848723CB10C6 Accuracy: -m8
Conclusion: CDDA 100%
Signature: 5CF1126424503B15ECFBE1258083FF7B664E1AF3
FILE: 13 - Ensemble Domus Artis & Johannes Keller - Rossi- Or che la notte.flac
Size: 27068663 Hash: D58F2B695ED9D3635DF84881A6619B21 Accuracy: -m8
Conclusion: CDDA 100%
Signature: B714F29DB2175583BCC5D46D5A9468C40FF69933
FILE: 12 - Ensemble Domus Artis & Johannes Keller - Keller- Improvisation.flac
Size: 2314937 Hash: 76F1367DDDD53272EAA27269581D56DB Accuracy: -m8
Conclusion: CDDA 100%
Signature: AEBFE73F2302BC611FA3115B1C8C6BC35F022EAF
FILE: 11 - Ensemble Domus Artis & Johannes Keller - Rossi- Voi volete (Arr. for Harpsichord).flac
Size: 17288254 Hash: 430CD0A895F46BFDCE8071229B96847D Accuracy: -m8
Conclusion: CDDA 99%
Signature: 7F0D2D79FD9D37200713B633E67B10C5DA186B9B
FILE: 10 - Ensemble Domus Artis & Johannes Keller - Rossi- Credete voi.flac
Size: 14700537 Hash: 3B7B7EBB8FCF00B722B12AAD4E7DE915 Accuracy: -m8
Conclusion: CDDA 99%
Signature: 6B9ADFE820531688B58EB5F18A66486A624F52F2
FILE: 09 - Ensemble Domus Artis & Johannes Keller - Keller- Improvisation.flac
Size: 3260057 Hash: 45B98F26A1DCC1202BE1EC3AE2D01480 Accuracy: -m8
Conclusion: CDDA 100%
Signature: 8886B14792CF5DC9E9D14EA7491CFC4B3CBED575
FILE: 08 - Ensemble Domus Artis & Johannes Keller - Rossi- O donna troppo cruda.flac
Size: 11393750 Hash: AE3472915C8F7425A826BFC1BA91F082 Accuracy: -m8
Conclusion: CDDA 100%
Signature: B86C9004B9CE112FC061F3AABA5762C0CD901C34
FILE: 07 - Ensemble Domus Artis & Johannes Keller - Rossi- Pallida gelosia.flac
Size: 24027535 Hash: ACB6F3DC6028575BE7DFE675918339E8 Accuracy: -m8
Conclusion: CDDA 99%
Signature: 223C7EBDB93507F9505C44258B27EBF28A172233
FILE: 06 - Ensemble Domus Artis & Johannes Keller - Rossi- Alma afflitta (Arr. for Harpsichord).flac
Size: 13737787 Hash: 0BF5D359F9ECE0DE46AEFB6A2CB268AA Accuracy: -m8
Conclusion: CDDA 100%
Signature: 1462AE545F7FC01EEDD0DBA8D46AE89791156B0A
FILE: 05 - Ensemble Domus Artis & Johannes Keller - Rossi- Occhi, un tempo mia vita.flac
Size: 17424820 Hash: 48D9158376E91F90975C49B96A2C9AFC Accuracy: -m8
Conclusion: CDDA 100%
Signature: 94ABB6288531666112A75D2ABED155C3FC9D32F7
FILE: 04 - Ensemble Domus Artis & Johannes Keller - Rossi- Con che soavità.flac
Size: 13642281 Hash: 5470353A6F128FF025CCE76913DCDAAF Accuracy: -m8
Conclusion: CDDA 99%
Signature: 9F1B4799220E258831B7B2FD85E5C7C55BE6667B
FILE: 03 - Ensemble Domus Artis & Johannes Keller - Keller- Improvisation.flac
Size: 3649391 Hash: 3396DD6260C7B0D79B4DCDB843AD3127 Accuracy: -m8
Conclusion: CDDA 100%
Signature: 4B719E55F14E22C6EA63860AC81076C08A34E796
FILE: 02 - Ensemble Domus Artis & Johannes Keller - Rossi- O prodighi di fiamme.flac
Size: 22022501 Hash: 0B580E384AB86A7474EA26CE7FB92229 Accuracy: -m8
Conclusion: CDDA 100%
Signature: E6DE66F381BCEB8DE882236651BAB406C1EB8BAE
FILE: 01 - Ensemble Domus Artis & Johannes Keller - Rossi- O miseria d'amante.flac
Size: 18880281 Hash: 9FC15F073188519E9514F68B8C9FDD77 Accuracy: -m8
Conclusion: CDDA 99%
Signature: CA93474BBCB49CA4D3F5296477A2E70F4E4BAE39