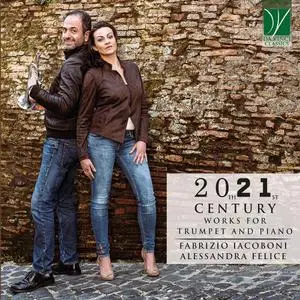 Fabrizio Iacoboni & Alessandra Felice - 20th 21st Century Works for Trumpet and Piano (2021)
WEB FLAC (tracks) - 206 Mb | MP3 CBR 320 kbps - 127 Mb | 00:53:08
Classical | Label: Da Vinci Classics
The trumpet has a curious fate. On the one hand, it is one of the oldest instruments created by humankind, and, with its many variants (in shape, matter, size and sound) it is found in most cultures through time and space. On the other hand, its standing as a solo instrument has been recognized only relatively recently in Western music, although the twentieth century saw a sudden and magnificent flowering of solo works for this instrument, not only in the classical repertoire but also in a wide range of other musical styles.

Another ironic aspect is that the trumpet has almost always been used in a "soloistic" fashion: indeed, in many cultures it was crafted and employed mostly as a source for aural signals. Its penetrating and intense sound, and the high pitch achieved by many forms of trumpet, encouraged its use on the battlefield and in other equally noisy contexts. In spite of the surrounding clamour, the trumpet's sound could almost always be heard, and thus convey significant communications to the armies and soldiers. Of course, music is in general a form of communication; however, it is normally understood as conveying an affective and emotional meaning, one that cannot be expressed in words. By way of contrast, the sounds produced by many trumpets throughout the ages were meant to transmit a very precise meaning, and one which had a very clear verbal translation: it sounded attacks, retreats, alarms and other important message for the human community.

This association with the military sphere quickly translated into cognate fields, and the trumpet's sound acquired a symbolic value of its own. While it is possible to play both a lullaby and a triumphal march on a piano (and thus the symbolic value of piano music emerges from the musical contents rather from the sound in se), the trumpet immediately evokes some particular symbolic features. They range from heroism to pomp, from virility to majesty, and the trumpet evokes parades, solemn festivities, anthems and musical banners or flags.

The trumpet is also found, with similar meanings, in the Bible, and here a curious phenomenon is observed. In the Latin and Catholic countries, which employed the Latin translation of the Bible until very recently, the trumpet was normally understood as the "modern" equivalent of the Latin word tuba. Thus, Southern European composers frequently employ the trumpet also as a symbol of religion, of the "numinous", of transcendence and of God's majesty. By way of contrast, this same role is played by the trombone in the German-speaking countries, where Luther's translation of the Bible was used and where the word Posaune (the trombone) was employed to translate the same Greek or Hebrew originals.

The emergence of the trumpet as an orchestral instrument, and as an instrument capable of complex solo parts, was a relatively slow conquest. The technical limitations of the natural trumpet (employed roughly between the 16th and 18th century) did not prevent certain types of spectacular virtuosity to be practised, as happens in some solo parts written by Bach or Handel; however, excellent performers were only seldom found, and many composers did not regard the trumpet as a solo instrument. (Unfortunately, Mozart reportedly hated the trumpet's sound, so he used it only rarely). In 1815 the modern valve trumpet was invented, and the use of the trumpet as a solo instrument became gradually widespread; various versions of this instruments were also created, allowing for a greater flexibility in terms of range and of timbre.

The present album, 2021, represents therefore a welcome exploration of how the trumpet repertoire evolved during the period of the instrument's full maturity. In the words of the recording artists themselves, "We are extremely glad to share our debut album with our audience. It is a kind of a musical journey throughout the twentieth and twenty-first century. It crosses a combination of better and lesser-known musical genres and pieces; it finally reaches another mix, i.e. Mestizaje, written for Fabrizio Iacoboni".

The itinerary begins with a Solo de concours, written precisely at the farther border of the twentieth century by Théophile Noel Charlier (1868-1944), who is remembered as an imaginative composer and as a great trumpet teacher. He mentored a number of students at the Conservatory of Liege (1901-1943), and no less than 47 of them won first prizes at the French competitions of the era. This piece was enormously popular both at Charlier's own Conservatory and in the immensely prestigious Conservatoire of Paris; it samples many difficulties typical for trumpet technique, and it allows the performer to demonstrate both technical proficiency and musical depth. It opens with a solemn statement, in which the trumpet reveals itself as the quintessential "heroic" instrument and is punctuated by a series of challenges in terms of range and flexibility. It is a vivacious piece, characterized by a variety of tempi and feelings, and closing on a brilliant "vivo" section.

Also the German Oskar Böhme (1870-1938) was a famous composer and trumpeter, son of another player of the same instrument. After some years in Germany, he moved first to Budapest (1894-6), where he played at the Opera House, and later to St. Petersburg, where he played the cornet for nearly a quarter of a century at the Mariinsky Theatre. His last years, following a successful career as a performer and teachers, were very hard: due to his German origins and to his anti-Communist stance, he was exiled into a remote area of the URSS during the Stalinist period, and died probably a victim of forced labour on the Turkmenistan canal. His Liebeslied, written in 1902 when no Soviet policies could be foreseen, is a serene testament to his generous musical nature, with a touching cantabile melody occasionally rising to virtuoso passages and to heights of expressive power, before receding into the sweetness of the opening bars.

With Légende written by George Enescu (1881-1955) we are led back to French atmospheres. This work reveals Enescu's full mastery of the secrets of the trumpet (although he was no trumpet player himself). This is possibly due also to Enescu's cooperation with Merri Franquin (1848-1934), who taught cornet at the Conservatoire of Paris and who was considerably influential in determining the universal adoption of the modern trumpet. In its musical features, Légende demonstrates Enescu's debt to his former teachers, Jules Massenet and Gabriel Fauré; this is revealed also in the abundance of performance indications, tracing a complex musical itinerary throughout a series of different moods.

Joseph Jongen (1874-1953) was in turn no trumpet player; indeed, his fame is connected to his activity as an organist and a composer of organ and sacred works. However, Jongen first studied and later taught, for years, at the Conservatory of Liege, where he was a colleague of Charlier. Although the style of their works is pronouncedly different, doubtlessly the presence of such a virtuoso and pedagogue as Charlier encouraged Jongen to create his masterful Concertino for trumpet. This piece exists in three versions: with symphony orchestra, chamber orchestra or with piano accompaniment (as in the present recording); it is a charming and challenging work, allowing the performer to display a wide range of technical and musical abilities.

The figure of Vladimir Peskin leads us back to the USSR: born in Geneva, this musician went back to Russia at the time of the Revolution, but his family was persecuted by the regime; so he had to work as a pianist in the balalaika orchestra of the Red Army. There and then, he met a young promising trumpeter, Timofey A. Dokschizer (1921-2005), and became his piano accompanist, writing for him many fascinating pieces, including this short, expressive Romance characterized by a languid tune and intense climaxes.

The skill of the Russian trumpeters is also revealed in the impressively difficult Etude no. 1 by Vjacheslav Schelokov (1904-1975): this is a true tour de force representing a catalogue of technical challenges in terms of range, dynamics, articulation and power.

By way of contrast, the Intrada by Arthur Honegger (1892-1955) shows us a glimpse of Spanish music as seen by a Swiss musician. An Intrada is an overture-like work, in which the trumpet demonstrates its vocation as an instrument for "summoning" the listeners, with irony, brilliancy and a true musical dialogue with the piano.

With Raymond Gallois Montbrun (1918-1994) we are led back, once more, to the Paris Conservatoire, of which he was the director for years; his musical training had been as a violinist. This pairing of pieces, alluding to the Baroque atmospheres of the Suites, contrasts the slow expressive Sarabande with a lively and virtuoso Finale.

Although Jacques Ibert (1890-1962) was in turn one of the protagonists of the French musical scene, his Impromptu for trumpet and piano originates from an American commission: it was requested by the Serge Koussevitsky Music Foundation as a homage to the memory of Natalie Koussevitzky, and belongs to a small collections of works with the same destination, including a Caprilena for solo violin and a Ghirlanzana for solo cello. The piece is in the typical Ibert idiom, whose Neoclassical traits translate into frequent irony, good humour and wide-ranging climaxes.

In the Lied written by Eugène Bozza (1906-1991), we encounter once more the lyrical power of the trumpet, and its capability to evoke the human voice. It is a piece whose melodic component is built in progressive waves, construing a dynamic of tension and distension which will not fail to touch the listener.

Finally, the album closes with a piece written by Carlos Alberto Cárdenas Gonzalez and dedicated to Fabrizio Iacoboni. In the young composer's words, "The history of music in Latin America is a fusion (Mestizaje in Spanish) of the different cultures from Europe, Africa, and the indigenous peoples of the Americas. Moving rhythms and colorful textures inspired my piece 'Mestizaje', in which asymmetric rhythms, different harmonies, and melodies unfold. As a composer, I am interested in the dialogue between traditional and modern aesthetics, as well as in the pluralism of musical language".
From 1900 to 2020, then, we are offered a beautiful demonstration of how the trumpet mirrored and influenced the history of Western music, and how it projects this history into the future.
Tracklist:
01. Charlier: Solo de Concours
02. Böhme: Liebeslied, Op. 22 No. 2
03. Enescu: Légende
04. Jongen: Concertino, Op. 41
05. Peskin: Romance
06. Schelokov: Etude No. 1
07. Honegger: Intrada
08. Montbrun: Sarabande et Finale
09. Ibert: Impromptu
10. Bozza: Lied
11. Gonzalez: Mestizaje
–––––––––––-

DON'T MODIFY THIS FILE

–––––––––––-

PERFORMER: auCDtect Task Manager, ver. 1.6.0 RC1 build 1.6.0.1
Copyright © 2008-2010 y-soft. All rights reserved

ANALYZER: auCDtect: CD records authenticity detector, version 0.8.2
Copyright © 2004 Oleg Berngardt. All rights reserved.
Copyright © 2004 Alexander Djourik. All rights reserved.


FILE: 11 - Fabrizio Iacoboni & Alessandra Felice - Gonzalez- Mestizaje.flac
Size: 18414369 Hash: 757D8D9FC626C75F7C4B09674452399E Accuracy: -m8
Conclusion: CDDA 100%
Signature: 0ACD8B33D2BA82406E65B0DF2A3E783A9644DC89
FILE: 10 - Fabrizio Iacoboni & Alessandra Felice - Bozza- Lied.flac
Size: 9061877 Hash: 203573279740F8B8540D72BB841AE40D Accuracy: -m8
Conclusion: CDDA 100%
Signature: 2E144F725669D95E39D70DCC9A8948C95377EEB6
FILE: 09 - Fabrizio Iacoboni & Alessandra Felice - Ibert- Impromptu.flac
Size: 7144161 Hash: 402EB517C7F5511F41B8E9D2911DBE25 Accuracy: -m8
Conclusion: CDDA 100%
Signature: 2AFB82DA2CD30CA2EF8AFA6F199DF4E14DCE6E3B
FILE: 08 - Fabrizio Iacoboni & Alessandra Felice - Montbrun- Sarabande et Finale.flac
Size: 25932004 Hash: F14974612551738BA0EB55484443C8A9 Accuracy: -m8
Conclusion: CDDA 100%
Signature: 73D96DFCCBDD45BAC478AF80939D9544C52DA326
FILE: 07 - Fabrizio Iacoboni & Alessandra Felice - Honegger- Intrada.flac
Size: 18205879 Hash: 97ECE574B7FC912BFA5FEFC7D17973F5 Accuracy: -m8
Conclusion: CDDA 100%
Signature: FD94A24D58A314DC3FD109B21274E13C85675F15
FILE: 06 - Fabrizio Iacoboni & Alessandra Felice - Schelokov- Etude No. 1.flac
Size: 17468028 Hash: 4B315ED680C049F35E3703D714376CB3 Accuracy: -m8
Conclusion: CDDA 100%
Signature: 74ABBAF373CCBC7B3B1D6D27330613DB59F3C633
FILE: 05 - Fabrizio Iacoboni & Alessandra Felice - Peskin- Romance.flac
Size: 9176756 Hash: B26629363B6BC859BA673D5B118A510E Accuracy: -m8
Conclusion: CDDA 100%
Signature: 61AED74C1014336640362EF0B30524585C10D203
FILE: 04 - Fabrizio Iacoboni & Alessandra Felice - Jongen- Concertino, Op. 41.flac
Size: 36673315 Hash: 65FB2745E6208C355A80CE7E1B63162C Accuracy: -m8
Conclusion: CDDA 100%
Signature: B1FCE1AF17AD622246FA6A6ADBD9A8D2AC8D8D50
FILE: 03 - Fabrizio Iacoboni & Alessandra Felice - Enescu- Légende.flac
Size: 24551627 Hash: 3C8DEC1FBB34B344999BDE6C3B7D901B Accuracy: -m8
Conclusion: CDDA 100%
Signature: AD200DDB5EC7D25C7B447376140E6A43AE239FE8
FILE: 02 - Fabrizio Iacoboni & Alessandra Felice - Böhme- Liebeslied, Op. 22 No. 2.flac
Size: 15962372 Hash: 30A030F91DD15540273EE70556905F60 Accuracy: -m8
Conclusion: CDDA 100%
Signature: 39EBE545DECEFC0FFD3539F993809A82749B9333
FILE: 01 - Fabrizio Iacoboni & Alessandra Felice - Charlier- Solo de Concours.flac
Size: 28430876 Hash: 090F457A0AA4EA53C54C2EB1168B57A2 Accuracy: -m8
Conclusion: CDDA 100%
Signature: 7AAB82D1C74D455E79F2D6A07A29F9806E5642AC