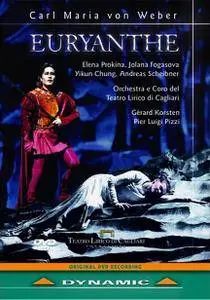 Gérard Korsten, Orchestra e Coro del Teatro Lirico di Cagliari - Weber: Euryanthe (2004)
NTSC 4:3 (720x480) | Deutsch (LinearPCM, 2 ch) | (DTS, 5 ch) | (Dolby AC3, 6 ch) | 5.69 Gb (DVD9) | 169 min
Classical | Dynamic | Sub: English, Italiano, Francais, Deutsch, Espanol
After his success with Freischütz, Weber wanted to write a grand romantic opera and in the end the subject of Euryanthe was chosen, a tale inspired by a legend going back to the thirteen century. Euryanthe is music of inspiration and originality such as is rarely found in the history of German opera in the first half of the nineteenth century. The Italianisms that are occasionally glimpsed in Freischütz are eliminated almost completely. Euryanthe is set to music in its entirety, with accompanied recitative passages that are often of great beauty. We may say that in an opera that has many experimental features Weber sought for the first and only time in his life to overcome the traditional dichotomy between spoken and sung parts, between recitative and closed numbers, creating a highly supple musical structure. The present production features a cast of specialists of German opera and the outstanding direction of Pier Luigi Pizzi.