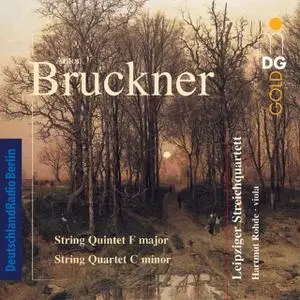 Leipziger Streichquartett, Hartmut Rohde - Bruckner: String Quintet in F Major & String Quartet in C Minor (2005)
WEB | FLAC (tracks) - 305 MB | 01:06:33
Genre: Classical | Label: MDG Gold
Very beautifully, very powerfully, very affectionately played, the Leipziger Streichquartett's 2005 recording of Bruckner's String Quintet and String Quartet just misses being a great recording. While the Leipzig quartet has made tremendous recordings in the past – Beethoven and especially Schubert recordings are as fine and as deep and as true as the best in the postwar period – its Bruckner has everything going for it except profundity. In the quintet, its structure in the opening Gemässig, while wonderfully controlled, misses the sense of expansive inclusiveness it needs to convince.