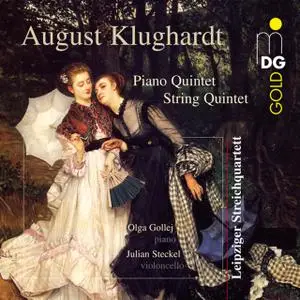 Olga Gollej, Julian Steckel, Leipziger Streichquartett - Klughardt: Piano & String Quintet (2010)
WEB | FLAC (tracks) - 321 MB | 01:10:00
Genre: Classical | Label: MDG Gold
Largely forgotten now, composer August Klughardt was active during the last half of the 19th century, a time of much diversion and expansion of musical ideas. Rather than following any one of these emerging schools of composition, Klughardt incorporated concepts and trends from a variety of sources into an eclectic but unfocused compositional style. This MDG Gold album begins with his Piano Quintet in G minor, Op. 43. Spun, singing melodies of Schumann can be heard, along with sometimes rich harmonization of Brahms and folk-like idioms of Dvorák.