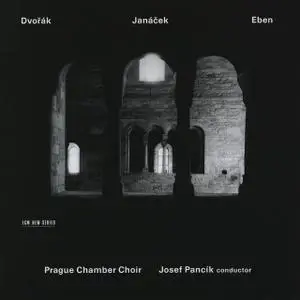 Josef Pancík, Prague Chamber Choir - Dvorák, Janácek, Eben (2008)
WEB | FLAC (tracks) - 273 MB | 58:55
Genre: Classical | Label: ECM New Series
The Prague Chamber choir was launched in 1990 and was largely encouraged by the new climate of artistic freedom which accompanied Czechoslovakia's reclaimed political independence. The repertoire of Bohemian and Moravian religious music brought together on this album includes works by two of the greatest composers of the nationalist movement during the late-19th and early 20th Centuries. The third piece is a contemporary work by a composer who witnessed first-hand his country's oppression during World War II. Collectively, these pieces by Dvorak, Janacek and Eben add up to a sustained thanksgiving-underlined by a certain pride in the enduring strengths of the Czech tradition of sacred music.