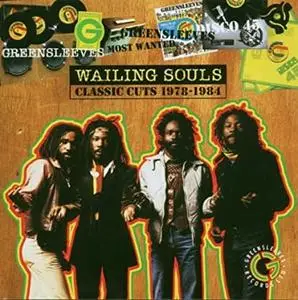 Wailing Souls - Most Wanted: Classic Cuts 1978-1984 (2007)
WEB FLAC (tracks) - 492 MB | 01:18:32
Roots Reggae, Reggae | Label: Greensleeves Records
Greensleeves' 2007 release Most Wanted: Classic Cuts 1978-1984 isn't the definitive Wailing Souls compilation, but with the band's discography sprawling across labels, decades, and many flavors of reggae, a one-disc wrap-up is a bit too much to ask. Most Wanted focuses on the transitional years of 1978-1984, just missing their seminal 1977 hit "Bredda Gravalicious," but displaying their evolution from rugged roots music to more mature roots and on to dancehall. "Bredda"'s successor, "War," is here, and like every other cut save "Fire House Rock," it's presented in its desirable 12" mix, which in this case stretches the infectious groove past the five-minute mark. Even better, "Kingdom Rise & Kingdom Fall" is rightfully epic at over ten minutes and "See Baba Joe" makes it to almost nine with its easy-strolling dub tacked on. Almost all of these extended mixes are previously unreleased on CD and extremely hard to find in any format, so it's a bit odd that Greensleeves doesn't crow about it on the cover, deciding instead to market this as a mere "best-of." For hardcore fans, this is the logical follow-up to Pressure Sounds' The Wailing Souls at Channel One, and it would be just as revelatory if didn't overlap that set by a couple tracks.